I've been wondering about this question a lot lately. Whenever you compare a mod to Counter-Strike, as successful as that product is, it inevitably draws out complaints and groans from everyone around. Why does every mod that features the ongoing war between Terrorists and Counter-Terrorists have to be compared to what some might consider to be the mother game? And is it really that insulting to be compared to a mod that has done so incredibly well over the years?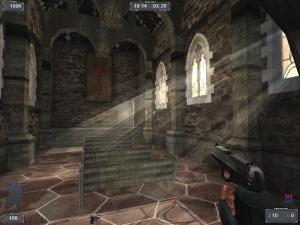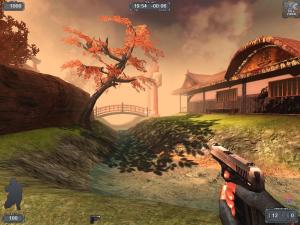 TO: Crossfire is a Unreal Tournament 2004 update of TacticalOps: Assault on Terror. Featuring plenty of realistically modeled guns, pretty environments, and lots of fast-paced, terrorist-shooting game play: this mod is looking to become one of the most played mods to come out for UT2004, possibly even rivaling Red Orchestra in the times to come (especially since Red Orchestra is switching away from Mod status over to a fully release game via STEAM).
And the first thing I noticed, above any and all else in this mod, was how awesome it looks. While the preview build we were given is supposedly still rough around the edges, needing lots of little tweaks and fixes to make it all come together into a cohesive whole, this mod just looks fantastic. Graphics don't make a game, but I still spent several minutes of my first match ignoring the action, wandering through a beautiful autumn in Japan. Little streams run beneath the buildings, the wind blows and leaves dislodge, fluttering past your field of view....then you start buying weapons to kill some people.
At its heart, TO: Crossfire plays a lot like Counter-Strike does. You start the match and buy some weapons, completing whatever load out of realistic weapons benefits your play style, then proceed to either bomb a location on the map (if you are a terrorist) or kill off all of the opposing team members. While some of the documents included with the build and on the official website allude to assassination missions and hostage rescues, I didn't see hide nor hair of either of them.
But what I did see was a lot of fun. The four maps already finished in the game are incredibly well done, not only from an aesthetic point of view, but also in providing people with a wide variety of options for how to maneuver about. In the Japan level, I spent a lot of time crawling around beneath houses in the little steams, waiting for unsuspecting rival team members to step out and get plugged in the back of the head. But, if I wanted to, I also could have crouched on a distant hill and sniped, or gone inside the numerous buildings and sat with my shotgun out in wait, or whatever I wished. TO: Crossfire has been built from the ground up to cater to whatever multiplayer style you prefer, and it shows.
Unfortunately, it also shows in the Instant Action side of things too. While offline play is supported with bots, I only recommend you play it to hone your sense of direction on the maps and how the weapons handle. Bots in TO: Crossfire are not just dumb, but borderline on being useless as well. When you find them in a level, typically the poor saps will be standing together in a cluster, aiming their guns at one another from inches away and just standing there, confused. Or, if they aren't congregating as a unit, they can be found facing walls and corners as if on time-out, or purchasing heavy machine guns and firing them wildly at walls, furniture, and presumably people on the other side (though it just as easily could have been nothing).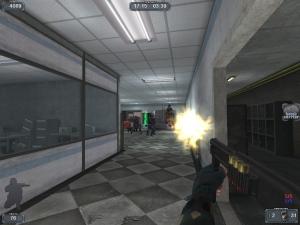 Still, this isn't the focus of the mod, nor was it probably ever intended to be.
And in all honesty, a lot of TO: Crossfire just makes me wish for more. It almost feels as though the developers decided to go with a safe and secure path, rather than branch out and try anything new or different. Why not utilize some different tactical abilities, like SWAT 4 did? How about some new and engaging game modes, aside from the trademark bomb planting mission? What makes this frustrating is that the team behind TO: Crossfire is obviously extremely talented and dedicated, but it feels like a retread of past games rather than a new and unique experience.
But, if you can get past that, TO: Crossfire is a solid mod. The levels are well designed, the weapons are varied and numerous, sounds are plentiful, and graphically the game looks awesome. And all of this is coming from a supposedly rough, unfinished preview demo of the final release! The people behind this mod know what they are doing and surely have plans to astound us all in the near future, so push the doubts aside like I am, and count the weeks until the final version of this mod hits the internet.