Hello guys.
We, or shall I say "I"?, have now completely finished the first two models for Tiberian Apocalypse. The GDI Mammoth Heavy MBT and the GDI Leopard 2A7.
Lets start with the Mammoth.
The Mammoth Tank is the GDI Heavy MBT (Main Battle Tank). It turn vehicles with its 250 mm cannon and aircraft and infantry with its medium range missile launchers into shredds and levels buildings in a matter of seconds. It is the most resistant, but also the slowest tank on the battlefieldfield.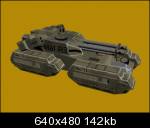 An as second and last one, the Leopard 2A7.
The Leopard 2A7 is a nearly 37 years old tank, it can be bough at civillian vehicle shops. It wields around with a 50mm MG and a 175mm smoothbore cannon. It has a pretty bad armor, but each single 2A7 can be upgraded with an Active Defense system, it has to b bough from the tank itself.