Tiny.cc
Posted: December 25, 2017
Last Edited: February 6, 2019
Monthly Walking Dead Mod Hacks for 2019 = Newsletter.swbfspy-organization.cf
newsletter.swbfspy-organization.cf/!TWDModHacks/
Build 0.97 drops on March 31st 2019

TWD Battlefront is the greatest mod ever created for SWBF, based on The Walking Dead TV series and comics. It follows the story of Rick Grimes, the main character in the campaign, just like the source canon. It also includes other elements from the zombie entertainment genre such as NOTLD and World War Z. In Season 5 there is a Z Nation character crossover, and by Season 9, there will be several FTWD crossover characters added to the mod campaign! There are multiple game modes supported such as Deathmatch, Capture The Flag, and Undead Assault, but the biggest game mode by far is the Apocalypse Campaign, currently planned to span 12 or 13 seasons, about 100 levels total.
TWD + ZeroFront combined is the greatest and most epic SWBF expansion mod that has been undergoing development for many years. It combines elements of the The Walking Dead with Star Wars Battlefront. Several new game modes are added, including a Campaign based on the TV show. This mod is extremely fun and offers exciting new features for Battlefront players, along with integration of all the stock maps for SWBF and BFII.
Playable factions include zombies, human survivors, military, bandits, villians, and much more! Every new patch improves the balance and realism of the combat elements. Some of the stock .LVL files are overwritten, though an easy to use Uninstaller is provided to restore the original game files if needed.
This mod is designed to support USB controller autoaim by default, though it can be disabled by server hosts. Existing mod maps for SWBF are featured, as well as brand new custom maps based on the show, such as the Farm, Prison, Terminus, etc.
News: The Star Wars Battlefront Community has built many great mods and maps, far beyond the limits planned by the original game developers. ZeroFront supports compatibility for expanding custom mods like TWD Battlefront as one of the ultimate milestones. ZeroFront updates will be released every year, with the collaboration of much effort from SWBFModders helping to continually expand the boundaries of the game, as we've been doing for many years. Long live SWBFModders!
Update from the v0.97 design document: Currently there are plans to build 13 seasons of the mod, which will be 100 missions in the campaign, plus all the other game modes. If the TV show goes longer than 13 seasons, the mod will be expanded too. Over 50+ main characters have already been designed, along with several generic unit classes such as bandits and various types of zombies. There are also many weapons, vehicles, maps, and other features from both the source material and my own ideas. The first 2 seasons are 6 levels, and every season thereafter is 8 levels each. Every four seasons the mod is being released on www.SWBFModders.com as the next version of TWD Battlefront Mod, which contains all the previous seasons (and bugfixes if needed). The Walking Dead Battlefront v2.0 features the first 8 seasons. v3.0 is the planned final version of this epic mod and will include an extra season, being 13 seasons total. Also, now that Morgan is crossing over to FTWD, I will be adding some FTWD characters and missions to TWD Battlefront.
The Atlanta OGs = Rick, Shane, Morgan, Glenn, Andrea, Morales, T-Dog/Tyreese, Merle, Lori, Jim, Dale, Carol, Daryl, Guillermo, Edwin
Season 1 of the mod introduces 15 playable main characters. Most of them won't survive all 13 seasons of the campaign. In the comics there are currently only 3 Original Atlanteans still alive (as of Issue 175), and in the show there are 4 (as of S08E09). The Walking Dead Battlefront is about as different to the show as the show is to the comic, so it features both iconic similarities and unique remixes to The Walking Dead storyline. From what I have planned in TWDBF Design Document, by the time the Mod gets to halfway through Season 8, there will be 6 Atlanta Originals still alive (though I won't spoil who they are).
News: In January 2017 I released the first alpha build for public testing. Then in May 2017 I released build 0.94. The mod has been widely praised by reviews. Since June 2017 I've been the only active developer on the project. v0.96 was released on Halloween. Currently I'm working on v0.97 which is going to feature over a hundred improvements/bugfixes/additions. Only members of www.SWBFModders.com can play the newer builds. This lockdown policy wasn't what I had originally intended, but due to reasons explained on TWD.SWBFModders.com and Info.SWBFSpy.org it became necessary. Also this should help keep away the haters of this mod project.
Multiplayer: The SWBFSpy Master Server was finished in May 2018, now we host Walking Dead servers 24/7 on it once again, as we used to with OpenSpy. Currently the MP server for the most recent mod build is being hosted on the Official SWBFSpy.org Server at 60tps. Seasons 3-4 are finished, including the Prison map, and will be released with v0.97
New characters, weapons, vehicles, mod maps, etc. are being added. As of December 2017, Seasons 1-4 are almost finished and will be released as v1.0 when it's done, probably in 2018. Check the official TWD mod page to learn more and see the updated credits.
Download TWD v0.94 (latest public edition) to enjoy the awesome mod content created by the SWBF Community, but make sure to ignore the credits in the mod installers for 0.91 and 0.94, because they are incorrect and gave credit to trolls who didn't deserve it. Proper updated credits are in the moddb description at the top of the moddb page (click READ MORE)

Featuring 6 Unique Game Modes!
This mod adds several new gameplay modes to SWBF1 for a variety of replay value. Currently Deathmatch and TDM are only supported in SP, though support for MP could be added in a future patch using era script mods.
Apocalypse Campaign - The main mode featuring playable missions from the TV series. Includes non-canon special zombies such as brutes, bloaters, runners, and Z dogs. In singleplayer, maps are beaten progressively and certain bonuses can be unlocked. In multiplayer, maps can be played out of order as chosen by the server host, up to 24 maps per session.
Capture The Flag - Ideas for CTF mode are being tested, one-flag mode should be possible using a new workaround idea, though it might not function exactly as SWBF2 and only on a limited number of maps.
Deathmatch - Every player and AI fights for themselves on randomized stock maps, with the main factions being randomized TWD characters and bandits. Zombies are featured on stock maps with native support.
Skirmish - Combat on a randomized stock map, with randomized main factions and native factions, such as survivors vs zombies, bandits vs zombies, survivors vs bandits, etc.
Infected Mercy - Everyone in your group has been bitten by zombies and infected with the virus. All your friends have already died and become zombies; they must be given a final mercy shot before either you turn into a zombie or kill yourself. You're on a timer and only have five minutes before dying from infection and blood loss. Additional injuries from zombies reduce your lifespan even further.
Undead Assault - Survive 10 increasingly difficult waves of undead siege on iconic maps such as The Farm, Prison, Woodbury, and Terminus. This is the hardest mode and can only be featured for a few maps.
12 Main Zombie Types:
Shambler, Walker, Runner, Brute, Crawler, Boomer, Bloater, Z Dog, Z Lion, Z Bear, Z Rhino, Z Elephant

Featured Vehicles:
Admiral Kuznetsov Class Carrier, AH-6 Helicopter, Airplane, Astronaut Suit, Bicycle, Bombshell, Car, Chinook Helicopter, Discovery One, Forklift, Gyrocopter, Hazmat Suit, Hippy Van, Hummer +Turret, International Space Station, Jetpack, Jet Ski, Limousine +Turret+PropaneTank, Motorcycle, Motorhome/RV, Paraglider, Quad, Police Cruiser, Sailbarge, Snowmobile, Submarine, SUV, Tank, Tractor, Truck Wreckage, UFO, U-HAUL

Featured Weapons:
Bows: Wooden Longbow, Deflex Compound Bow, Reflex Compound Bow, Horton Scout HD 125 Crossbow, Black Ops Explosive Crossbow
Handguns: Flintlock Pistol, Luger Parabellum 1908, Walther PPK, Beretta M9, Heckler & Koch P30, M93R Burst, Smith & Wesson M1917 Revolver, Colt 1851 Navy Revolver, Desert Eagle Mark VII (silver & black variants)
Submachine Guns: MAC-10, MP5A3, Tommy Gun, Lettet-Forsøgs, Uzi
Assault Rifles: AK-47, AK-74S, M16A2, M16A4, M4A1 Carbine, XM8, Steyr AUG, M249 SAW, M4 Carbine + attached M203 Grenade Launcher
Sniper Rifles: Flintlock Musket, Winchester Model 70 Bolt-Action Rifle, Winchester Model 94 Lever-Action Rifle, M40A3 Tactical Sniper Rifle, Dragunov SVD Sniper Rifle, Barrett M82A1 .50 Cal Sniper Rifle
Shotguns: Remington 1100 Tactical Shotgun, Remington 870 Marine Magnum, Winchester 1897 Trenchgun, Atchisson Assault Shotgun (AA-12)
Demolitions/Fire: Explosive Bolts, Molotov Cocktails, M-67 Grenades, Landmines, Propane Tank Bombs, Dynamite, WW2 Flamethrower, MultiMortar Grenade Launcher, RPG-7 Launcher
Misc: Caltrops, Javelins, Log Traps, Catapult, Chainsword, Gravity Gun, Chaingun/Minigun, Sentry Turret, Viking Shield, All Vehicle Weapons
Melee: ~ 40 weapons as of v0.97 I.imgur.com
Barbed Wire Bat, Baseball Bat, Bastard Sword, Bladed Brass Knuckle, Camp Axe, Chainsword, Climbing Axe, Cricket Bat, Crowbar, Fireaxe, Flanged Mace, Gator Machete, Gator Machete Pro, Gladius, Glaive, Halberd, Hammer, Hatchet, Ice Axe, Javelin, Katana, KBAR Knife, Kitchen Knife, Knife, Long Sickle, Lumphammer, Ox Tounge Spear, Parang, Pickaxe, Pitchfork, Reclining Moon Blade, Scythe, Shaolin Monk Spade, Shovel, Sickle, Sledgehammer, Trenchknife, Viking Battle Axe, Warblade, Wrench
Thanks to our fans who have supported us all through 2017, and we look forward to bringing more new mod content in 2018! Our SWBFSpy Master Server has been operational since May 2018, and we are taking this game to new heights every month with tons of new awesome creations!
- SWBFSpy Founder / CEO | Phobos [FC]


Some of the newest maps I've been working on: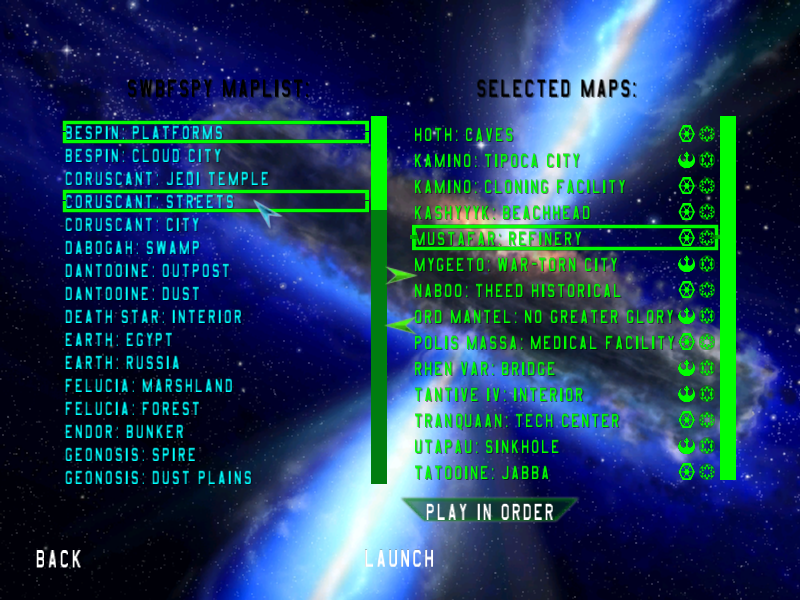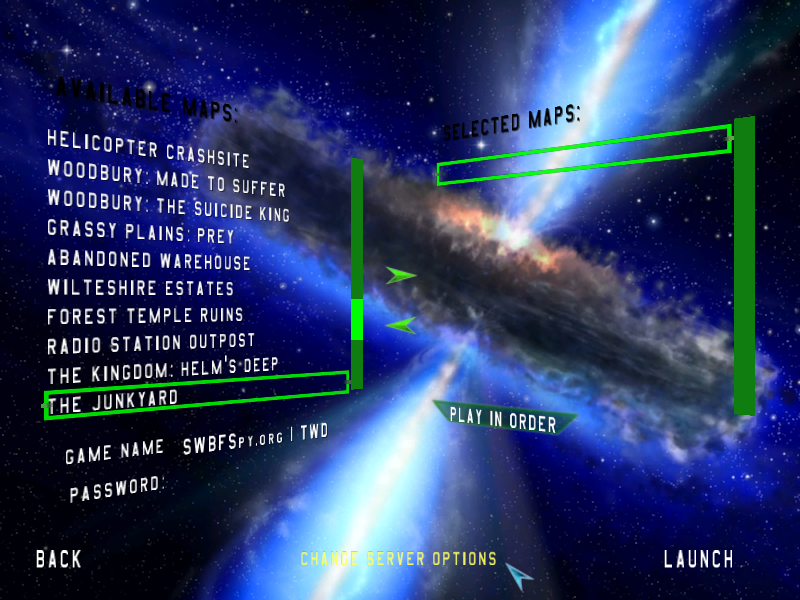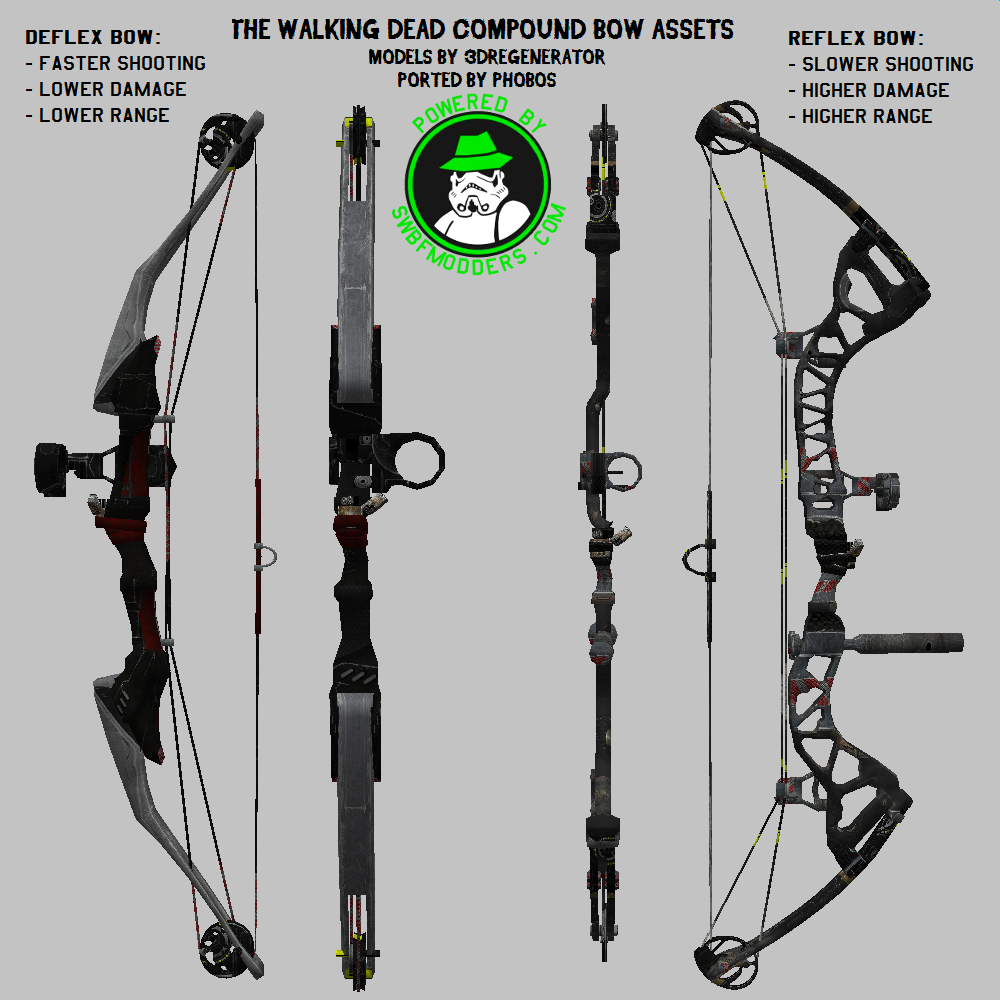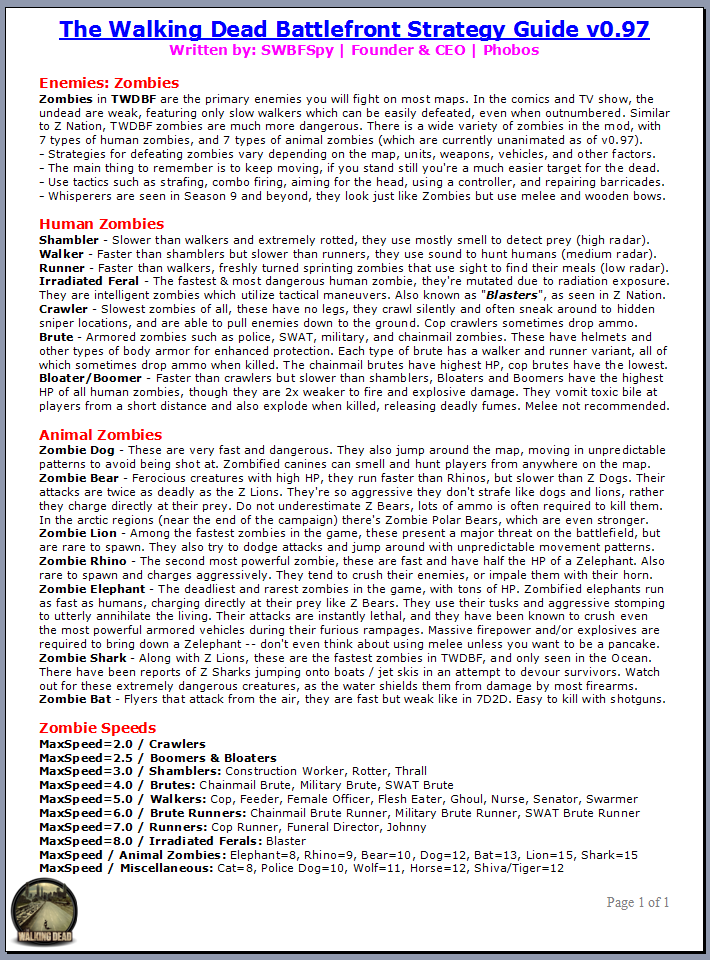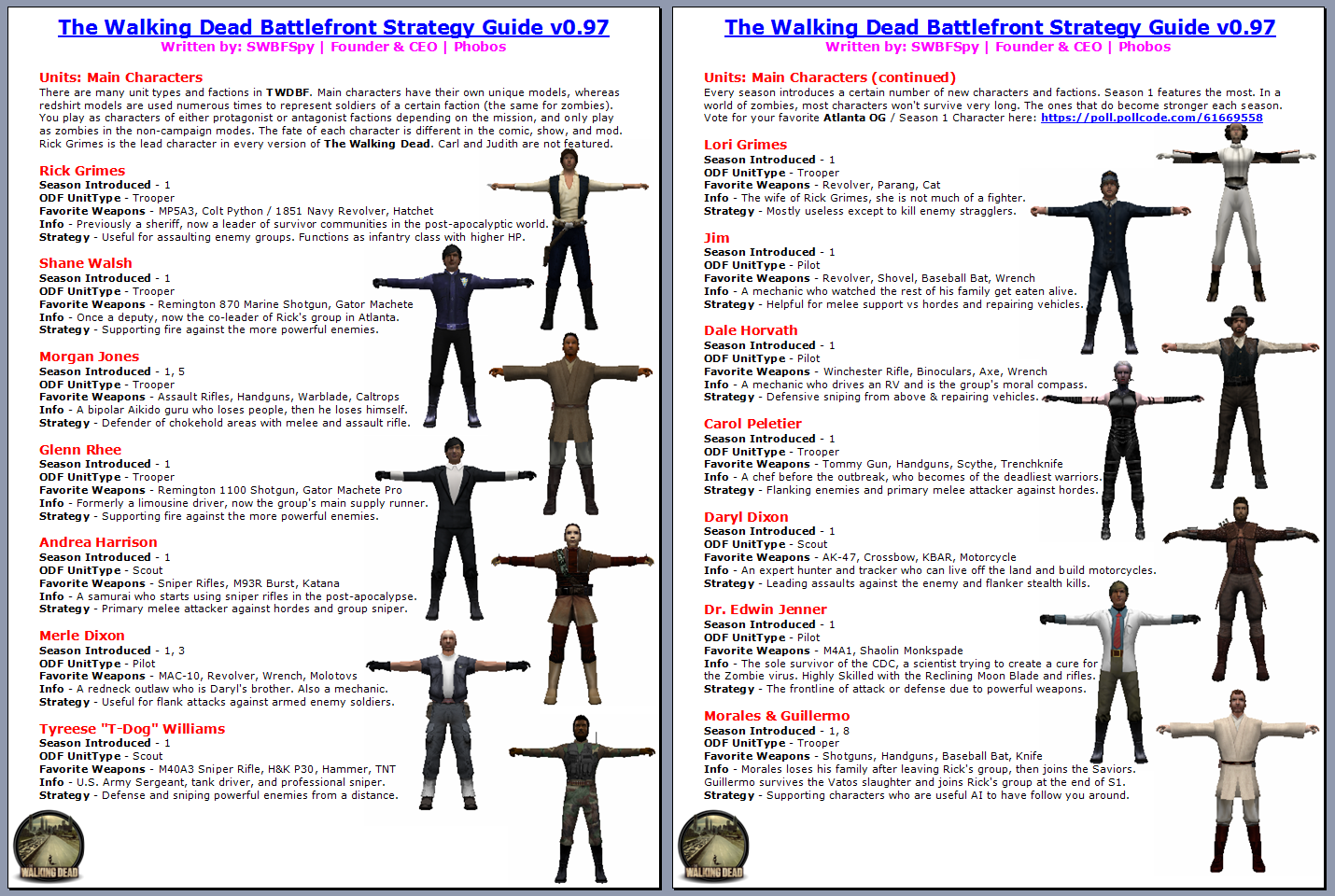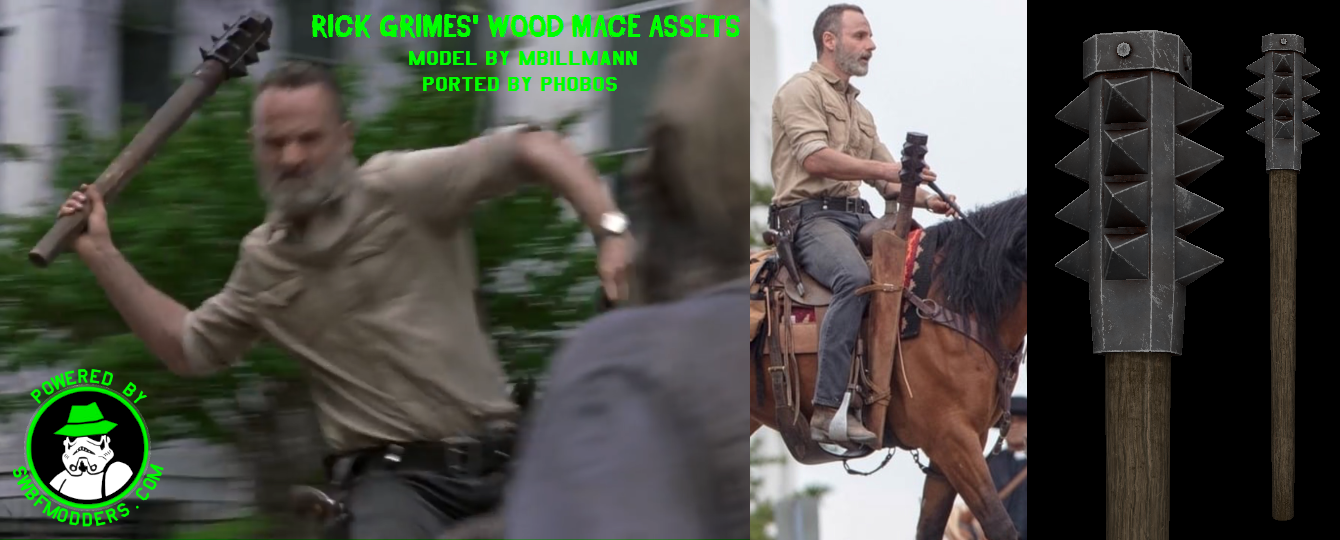 Updated Roadmap:
TWD ZeroFront v0.97 is the first major upgrade patch to include all of the best stock SWBF game file upgrades and other innovative mods by Phobos from the collective expansion project known as ZeroFront. This is a combination of my 2 greatest mod projects into one major update installer, which will be updated about once a year until v1.0 is finished

----- MOD DEVELOPMENT TIMELINE -----
April 2013 - Ideas about TWD mod first discussed by Phobos and Wolf in the Zombie Conquest mod OpenSpy server
July 2013 - Ideas about the mod discussed publicly by Phobos and Helios
September 2013 - SWBFSpy master server project created by Phobos and Wolf
March 2014 - Development begins as a private mod project
Halloween 2014 - (Build 0) NOTLD released publicly
November 2014 - Mod development announced publicly
January 2015 - v0.50 (Build 1) First demo & Private development board added for mod discussions
June 2015 - v0.60 (Build 2)
July 2015 - v0.65 (Build 3)
October 2015 - v0.75 (Build 4)
June 2016 - v0.84 (Build 5) Launch of fake sites which no longer exist
July 2016 - v0.85 (Build 6)
August 2016 - v0.86 (Build 7)
September 2016 - v0.88 (Build 8)
October 2016 - v0.90 (Build 9)
November 2016 - v0.905 (Build 10)
December 2016 - v0.907 (Build 10.5)
January 2017 - v0.91 (Build 11) Early Access mod demo released to the public
March 2017 - v0.92 (Build 12)
April 2017 - v0.93 (Build 13)
May 2017 - v0.94 (Build 14) Final mod build released to the public due to hostility towards SWBFModders
June 2017 - Previous fake domains are deleted permanently, Launch of real main websites TWD.SWBFModders.com and FCBF.tk/TWD, Mod distribution becomes private only forever
July 2017 - v0.95 (Build 15)
Halloween 2017 - v0.96 (Build 16)
December 2017 - v0.963 (Build 17)
February 2018 - v0.967 (Build 18)
May 2018 - SWBFSpy master server becomes fully operational, official TWD server upgraded
March 2019 - v0.97 (Build 19) First build to merge both TWD and ZeroFront mod projects
**Release dates for future builds subject to change**
January 2020 - v0.98 (Build 20)
January 2021 - v0.99 (Build 21)
Halloween 2022 v1.0 (Build 22) Final mod build of all 13 seasons