Making news is not an easy task, but here we go now. There is been so much about Star Wars in the past several months (both rumours and true facts), that one can actually get crazy. One of these was that the originally established stories wouldn't be followed in Episode VII, including the JKO series. Hopefully, this was another rumour and nothing else. Nevertheless we continue our work and stay true to our principles and story. ;)
There are several things I would like to mention here, first being that we've finally found a new mapper for our project, which means we are moving forward. The new member of our team – Rage – is working on one of the Imperial worlds, and he has already shown very good results. I'll post screenshots of his work in one of the next news.
Secondly, a lot of people have been asking about the Demo version and Beta testing. It is true, that we are working on the first several maps right now, and thus we are indeed planning to release our second demo, which will include a very much reworked first mission of Kyle Katarn in DP.
I said, we are working on the demo, but we also have an important decision regarding the mod as a whole. We've decided to release the project in episodes. Some people would argue on whether or not it is a good idea to split the story into several parts, but I see some benefits here, one
of which is that the project would enter a new stage of development. It will be possible to download those parts, which are complete, but in the end they will all fit together to be united into one big story.
Currently we are completing Part 1, which will include 3 missions and 2 planets. After that we'll release the second part. After all parts are released a complete version will be available to download.
As for Beta testing – that's yet to be decided. Though one person not from our team has already tried the mod, and well, I was glad to hear his opinion on the gameplay, characters and Star Wars iconic things to be seen in DP (particularly Dark Forces elements). We are really working hard on making DP correspondent with very different Star Wars traditions.
There is also something to show today. Maps is just one thing we are working on, but so are the models. The latest addition this time are the Bothans. Most of us will remember the well-known phrase of Mon Mothma in Episode VI, though until some time the appearance of them was unknown. Since the release of the ROTJ, the species could be seen in several books, comics and games, e.g. SW Battlefront II, SW Empire at War and the latest addition – SW The Old Republic (surprisingly).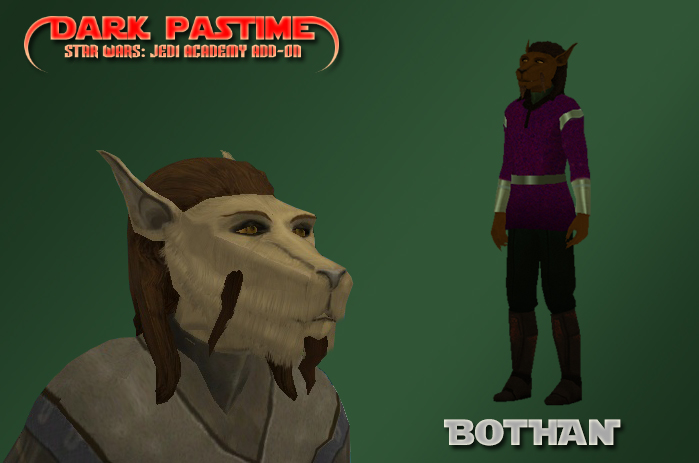 Just as most of our characters, Bothans have quite a variety of skins, which differ by clothes, skin color, hair style and some other things. A lot of switchable surfaces help easily change the appearance of Bothan up to the image we want.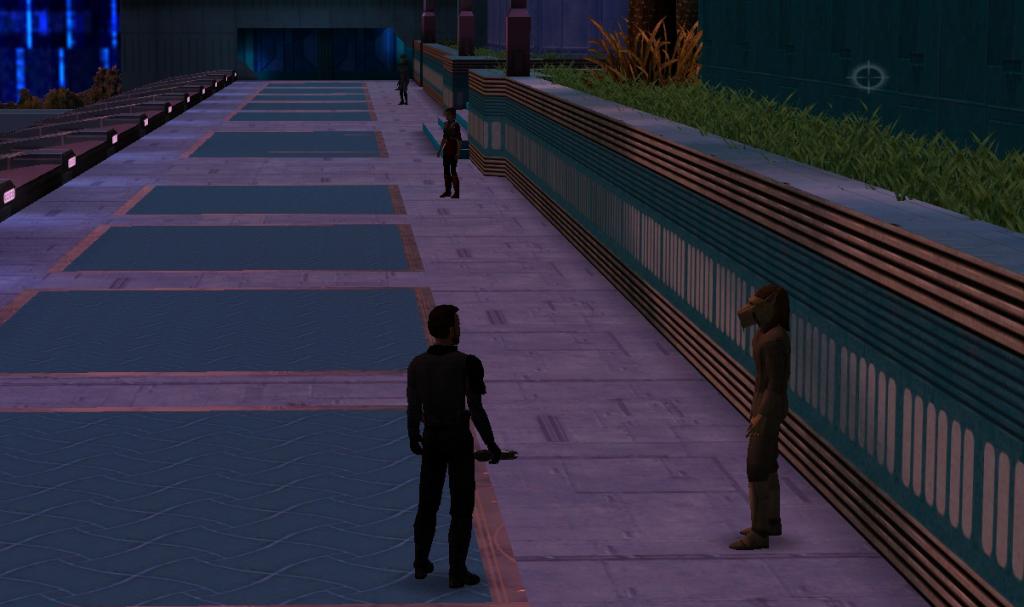 I also wanted to make a post about two more new models, including one new droid, but we'll present them next time.
However for today I have a little more to show. Here is the minor concept-art of one of the enemies, Kyle would encounter in of the later missions. The Empire feels, that stormtroopers are a necessity, but understands, that with other growing powers, including the Jedi Order (and others, which it is up to you to meet them), there is need in new kind of army. This particular soldier is the result of work of the Imperial Dr.Lekett, who is known to have very anti-Republic feelings.
Devoted to his work and the Empire, Dr.Lekett is positive, that the Republic should be dealt with, and not through diplomatic or solely political methods. That's one of the reasons he had disagreements with the current Moff Council and now he seeks Imperial allies elsewhere.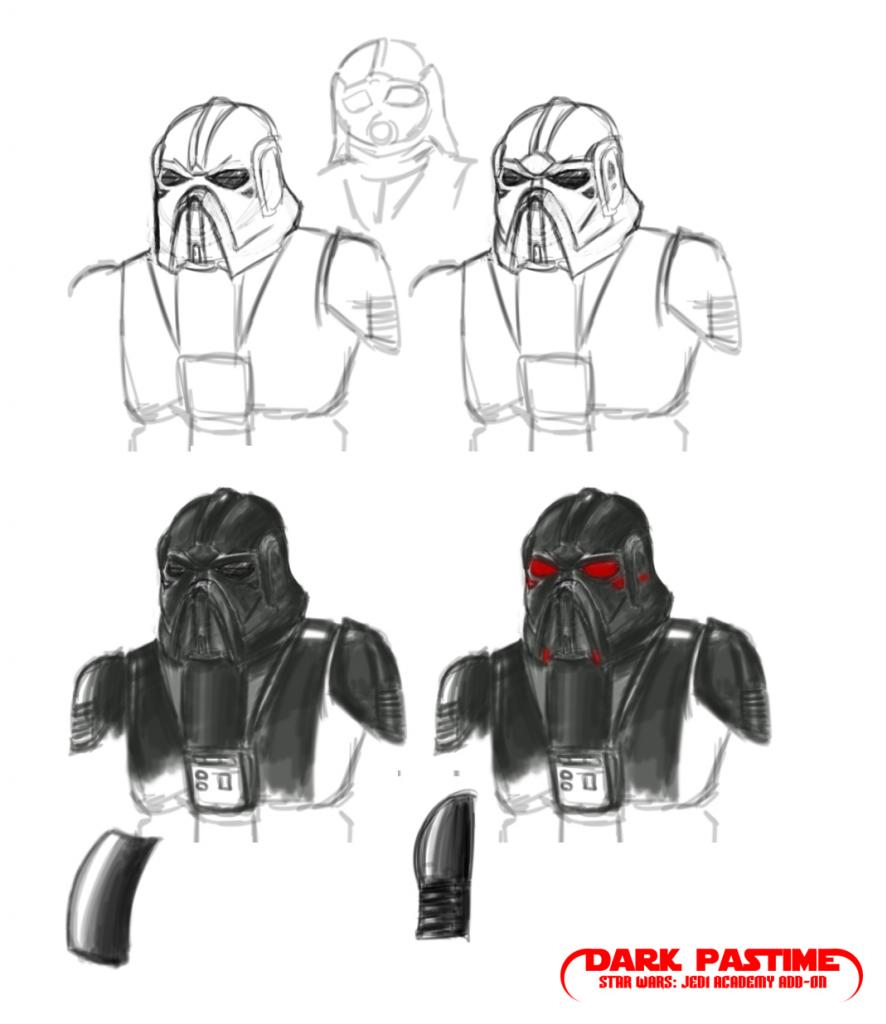 The Phefar Trooper is a special unit soldier, capable of wielding a melee weapon, as well as conventional arms. They use heavy armour, as well as an energy shield. Being the principal security force on Phefar, they are preparing for the battle with the Jedi. Still it is believed they are to be accompanied by other Imperial forces, like stormtroopers, Imperial officers, Imperial marksmen, technicians, as well as new Imperial droids and saboteurs.
With the release of CamSP making screenshots became so much fun, the game just changes a lot, and I tried to make some using this utility. I guess, if the author Therfiles has no objections, I will post them later. You can download it at JKHub.org.
Next time we plan to present two more models, which are complete, as well as some new locations. I also prepare the second download (not a demo), which is to be tested tomorrow. Stay tuned. ;)