The Battle of the Pelennor Fields map.
The official map of this mod is a larger, 8 player, version of the original Minis Tirith map. To play the map historically, you need only have 5 players but if want to spice things up, there's room for 3 more.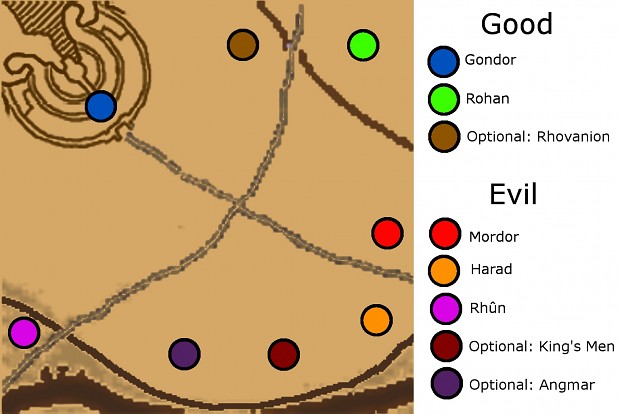 Starting Positions.
Cook tents, weapon stores and supply camps spring up all around the Rohan, Rhovanion, Mordor, Harad and Rhûn fortresses as soldiers from all sides prepare for the ensuing battle.
As the Horse-Lords of Rohan and free folk of southern Rhovanion arrive from the north, their soldiers set up camp behind them.
The Hosts of Mordor and Armies of Harad pour out of Osgiliath and bunker in for the duration of the siege.
Easterlings make camp outside gates of the Rammas Echor and await the arrival of the Corsair ships at Harlond.
The Corsair Ships arrive in Harlond after travelling up the river Anduin.
Choose your side, pick an army and fight for the fate of Arda!