Given the immense scale of the ark, it's only fitting that the engines be similarly massive.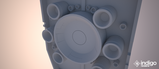 The ship has a double hulled design, so there is also another identical set of engines on the other side. The sound from the engines will undoubtedly have an effect on the world around you. ;)
Stay tuned! More to come!