Hey all! Alex here, I know it's been a while since I've posted but this next feature I've been working on has taken quite a bit of time to get the proper infrastructure in place so here goes.
I've been working on implementing an online highscore system in for Tension to be used in time trial maps. This system would allow users to compare themselves to other players around the world and try and achieve recognition as top of the food chain.
Without further adieu here is an early screenshot of the post-game screen: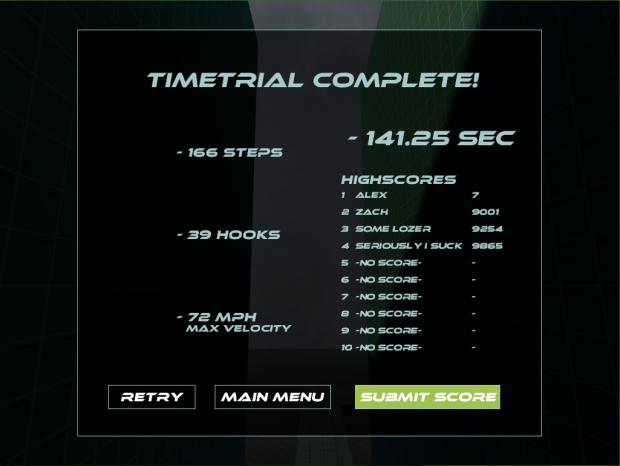 Name submission: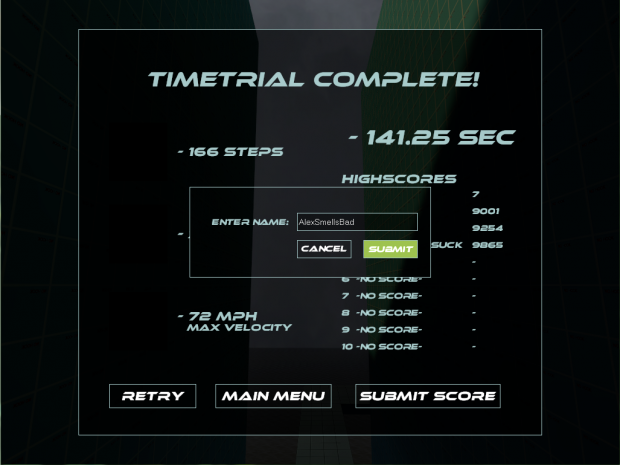 As you can see it will automatically retrieve the global times for the map you've completed, and clicking on any name in the list will show more detailed stats (steps, hooks and max speed).
If you've placed you can then submit the name of your choosing to the server and have it the envy of players everywhere, we are also actively looking into the option of allowing players to load "ghosts" of top players in game to view their route, or perhaps try a footprint/hook scheme similar to mirrors edge.
Or just let the player fend for themselves, since we've found that the most shall we say.. Creative (read: borderline cheating) solutions are found without prompting.
As always, comments and feedback are awesome!
Cheers,
-Alex