Some of you have certainly read about this new mod for Quake III Arena but for everyone else here is a short description about the mod.
In Tanks and Rogues you can either play as a tank or a rogue. The former one is slow and can both deal a lot of damage and withstand a lot of damage. The rogue is fast and agile and has the unique possibility to disable enemy tank's shields. When a tank's shields are down he is extremely vulnerable and other tanks can easily take him out.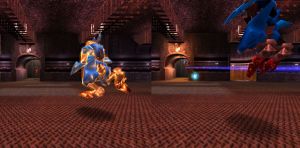 This makes soloing or ramboing impossible. If you want to succeed you'll have to work close together with your teammates, know their positions and trust them.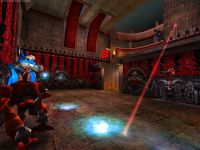 Tanks and Rogues works both in Capture the Flag and Team Deathmatch but CTF is probably the most fun. There are more features in Tanks and Rogues designed to break up the gameplay and create variation. You can read more about them on the official boards.
One of the cool things about Tanks and Rogues is that it has been implemented purely serverside so there's no need to download. You can play right away! Just use your favourite server browser and look for servers with gamename "TnR-1.0.0.0". From now on there will be two official public servers in northern Europe. If you want to run your own you'll have to download the TnR server package and install into your Quake III Arena (or Q3A compatible) server.
The official servers are at lockecole.ath.cx:27960 and lockecole.ath.cx:27961. Find someone to play with and try it out, no download required. You can also try it with bots but then you'll have to download the server package and install that into your Quake III Arena (or compatible) client.
If you rather watch some videos before you try the game, we have made two so far. One instructional:
...and one a little bit more awesome.
You are also welcome to join our forums to tell us how good or bad the mod is and possibly contribute with a suggestion or two. I'm Locke, I do the programming for Tanks and Rogues and I very much hope to see you on the servers or in the forums.