Hello, friends! It's time for a minor update report today.
We're happy to announce that our mod made it to Top 100 mods of ModDB to participate in 2019's Mod of the Year competition! Thanks to everyone who voted!
You still have time to vote for us in Mod of the Year, you can do it here: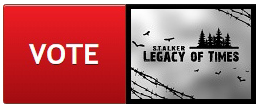 Slowly, but surely we continue working on the mod. Currently we are focused on the location design. We're improving and elaborating the existing sections of the level, as well as creating new interesting places.
We plan to finish all the new parts, then fill the space between them to shape the complete picture of the game world.
Along with that we're working hard on the game programming. The RPG Inventory System is under active development, and will be the next major thing to announce in future updates.
Thank you all so much for getting this project to the Top 100, and we thank you in advance for your votes!
Stay tuned, leave your comments and don't forget to spread the word!