The People's Republic is back in all of it's glory, sporting a wide range of nuclear, napalm and EMP weaponry plus strength in numbers. Firstly, one of the changes we've made is regarding to the Nuke Cannon. Nuke Cannons will now eject Nukeneers on their death to continue the fight even after death. Nukeneers will also keep the veterancy of the Nuke Cannon after death.
Look familiar? War Airships can be upgraded with either propaganda speakers, transport facilities or napalm armaments. This War Airship has napalm armaments that explode in a fiery blaze over your enemies!
If you look closely, you'll see that War Airships can also be upgraded with Nuclear Engines, increasing the speed, and allowing them to explode in a nuke once upgraded - useful to do extra damage on death but can have unintended side effects if they die over your own army or base.
They are not affected by Isotope Stability.
This unit was obviously heavily inspired by a similar unit from Red Alert ;)
Liked the horde bonus for vehicles and infantry? Now take to the skies with Horde Bonus aircraft.
This type of horde bonus is in effect in groups of 3 or more with only aircraft. This is a great bonus for the War Airships and Han Gunships due to faster fire rate. Fixed Wing aircraft can also provide Horde Bonus with helicopters, as shown in the image.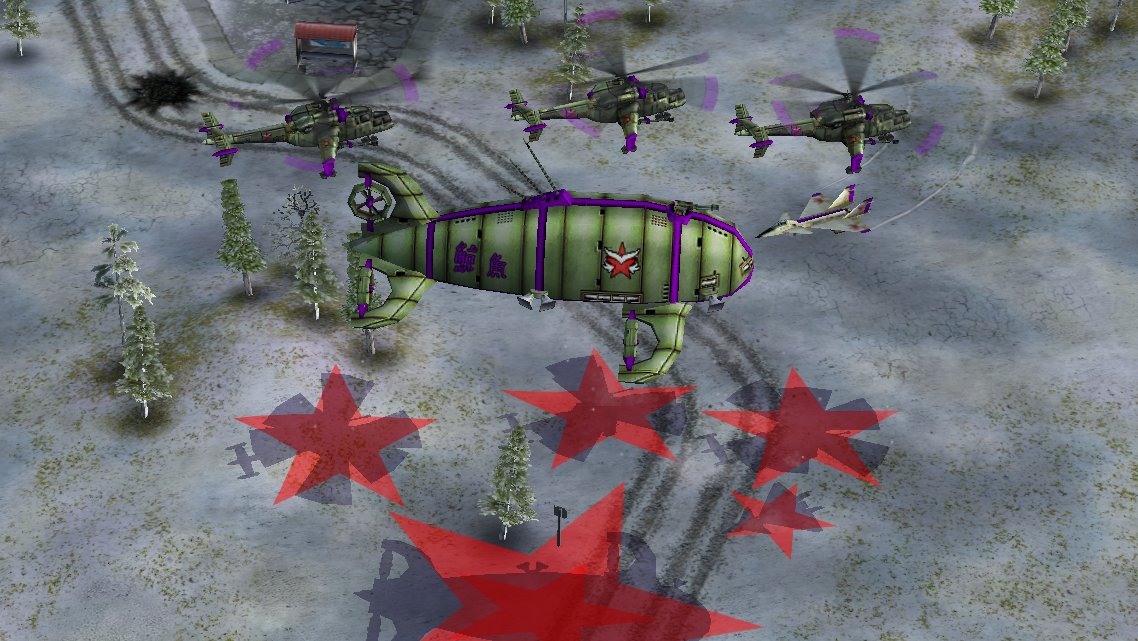 Other changes include cheaper infantry, and isotope stability now affects standard nuclear reactor! How fun is that? More is incoming, and next is the USA Changes article.
------------------------------------------------------------------------------------------------------------------------------------
Our mod is now officially an NLS mod! That means you can follow my mod and others on Discord through this link:
Here you can give me feedback personally in my channel, called Babushka's Mod. Find something is balanced, unbalanced or seen a bug you don't think should be there don't be afraid to contact me (Enigma) there.
Have a good one and the next build should come soon!