In Babushka's Mod, urban gameplay is even more interesting when you remember that cars can now be garrisoned and shot from inside, similar to fragile bunkers. This somewhat mirrors real life and makes out-smarting your opponent even more precious.
This is one of the many intelligent ways that Babushka's Mod makes ROTR gameplay more varied and fun. Another example of this is the Cryocopter for ECA, which replaces the old boring Marksman allows ECA to apply pressure by disabling buildings and vehicles from far away and killing infantry slowly with it's ice beam.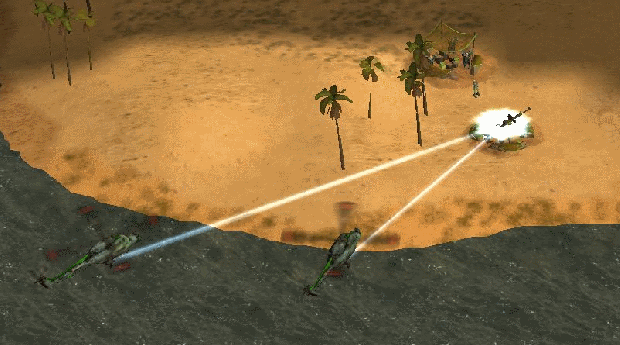 Tired of not being able to sneak attack as much as you want in ROTR? Always get your smartest of plans foiled by large stealth detection radius? Well never fear because Babushka's mod includes a complete revamp of the current stealth detection system:
Basic Stealth Detection: Infantry, Mines, Explosives (dog, conscript etc.)
Advanced Stealth Detection: Vehicles, Aircraft, Infantry, Mines, Explosives (troop crawler, grizzly etc.)
Aircraft Only Detection: Aircraft (mainly used by Heavy AA or long range detection such as Cyclops)
Not only that, all your favourite heroes can now swim (or walk on water)! Now you can make a wreck out of a badly defended base with a smartly placed Lotus or Colonel Burton from behind.