Welcome back! It has been a week and as promised today we are releasing Patch 1.6!
If you are unaware of what promise I am referring to then check out this link as it contains a lot of information about Patch 1.6. If you already read that news then I would like to bring some points back to your attention. AndY, redMatter, and Pongles helped us continue work on patch 1.6 so that it can be released now. We cannot show our thanks enough. Also in that news post is a request for any talented developers with high priority on the positions of 3rd Person Animator and Prop Modeler/Texturer. If you are interested in mod development or know anybody that is then send them here.
This past week a few of the developers on the team sat down with Shawn "Deadrawkstar" Kiehl and Rob Harmon from ModInformer.org to answer some questions about RnL and Patch 1.6. The interview is all ready and posted so check it out on their website, here.
While you are downloading the patch, feel free to look at some eye candy and read through the huge changelog. Seriously, between the changelog and the ModInformer interview, you have a lot to help you pass the time while this immense patch downloads.
Even though RnL may be back on track, we are still in need of help. The RnL Developers have been busting their butts on this patch and with so few developers the workload is huge. A round of applause needs to go out to the devs that have been working this hard. Even better than a round of applause though is filling some badly needed positions. Our current priorities lie with getting a 3rd Person Animator and Prop Modeler/Texturer, but any help from Software Engineers to Level Designers would be greatly appreciated. To fill out an application for any position, please visit this link.
Moving on to the fun part. I have been too busy to make an episode of Inside Surveillance for this release, however Hunnicutt and our newest addition to the team, Robinson, picked up my slack and made a video that shows off some key changes since the last patch. With that being said, I will turn your attention to the video.
Battle of Carentan: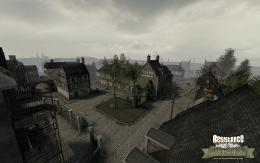 Falaise:
Download Links
Open Beta 1.5 -> Open Beta 1.6 Installer
ModDB
Mirror 1
Mirror 2
Mirror 3
Open Beta 1.5 -> Open Beta 1.6 .Zip
ModDB
Mirror 1
Mirror 2
Mirror 3
Open Beta 1.6 Full Installer
ModDB
Mirror 1
Mirror 2
Open Beta 1.6 Full .Zip
ModDB
Mirror 1
Mirror 2
There was a bug in the server code that made it impossible to capture points. If you have already updated your server to OB 1.6, please download the hotfix here.