We've been hard at work getting some more content in-game and now some technical difficulties have been overcome expect some more in-game screens to come.
This is a shot of the M1-Garand in MikeH's map, rnl_eglise: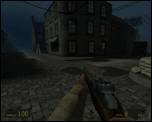 And here are some poses of the Rifleman by RyanD.
You can discuss this update on our forums here.