Be aware, comrade! You'd better hide your tanks, because the Allies have a formidable beast hunting in the skies!The Apache Longbow will slice through your army like a knife through butter, so you'd better hide indoors. While deadly against ground forces, it is less effective against your buildings.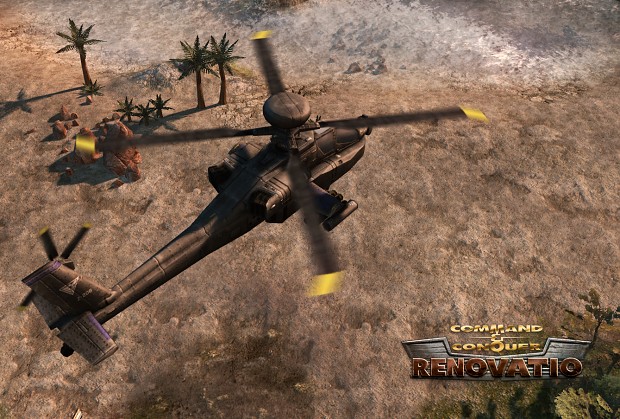 Be cautious comrade, and never go outdoors without an air defense umbrella. To be safe, you'd better strike while it's in its den. Take out those heli pads, and save yourself alot of trouble.
---
We want to welcome Keksz aka Robert to our ranks. He did the majority of the texturing of the Apache model, which was originally modeled by James, and later edited by Lars (a.k.a. Chronosheep).
---
Recruiting... As Always... Again...C&C Renovatio is looking for people. If you are talented, like kitties, like to rub em against tesla devices (okay, not really), walking on the beach, and of course are a space explorer, just come.
3D Artist - Simple & Complex, Environmental, Promotional & Conceptual models. You name it.
2D Artist - Promotional art, Textures, Posters.
Concept Artist - Promotional, Units & Enviromental Concepts. The Shader Model gods might allow this to get real.
Voice Artist - Unit Voices, of course.
Audio Artist - Music & Sound effects.
Mapping Artist - C&C3 Mapping in great detail a must.
PR - News & Blog writing. Just like this.
Anything you can additionally suggest.
Send basic info (bio, specialties, examples) to:
Oleg - Oleg_Balzanov at yahoo dot com
Lars - chronosheep at hotmail.com
Or PM us here in MODDB anyway.