Renovatio Development Blog #2: Meltdown in Chaos
Welcome, followers!
The second Development Blog has risen bringing the news from the darkest corners of the Fallen Soviet Empire, confirming
there is a hole. A giant information-breach. Yes, comrade, the hole between Red Alert and Tiberium Dawn.
Comrade, we've just received an urgent note from our Command & Conquer nerds:
---
Short storyline overview:
After the Soviet Empire had been defeated the Allies "quickly" established control over most part of the Soviet Union territory.
This should have been the beginning of a new era, but in fact it was a peace placebo, nothing more, while the real threat was unveiling just around the corner.
Such defeat was unforeseen, but acceptable, as there was still more beyond this theater, such as the establishment of undercover organization known as "the Scavengers" was the real beginning of a new era.
The name is self explanatory - everything, that's not bolt-screwed to the ground, got recycled.
The Allied occupation in the Soviet Union and arising initial chaos made many things, even the establishment of Scavengers, slip through the fingers... unseen. How better can it go?
Incoming transmission [CIA Archives - 07/03/1978. Somewhere in Central Europe.]
"...InOps reporting... This is unit 5006-1... Important information confirmed; a new leadership has been put in charge with unconfirmed links to an unknown terrorist group. Names still unknown; Proceeding the investigation. Over and out."
During the few years of complete Soviet occupation, disorganization made many former Soviet controlled countries fall apart in guerilla warfare.
Pick one and you're set. This gave an opportunity for the most important figures to regain a lost foothold for the greater cause, for the future!
---
As you've been reading this... long customer lines at the local sausage store appeared and...
Sorry, this was from another report.
There are many things besides sausage business from now on to do, comrade.
So, are you enlisted? If not, you better do so... you may get late for the real business...
Many young, brave soldiers have already enlisted into the fight for peace.
As you might know, comrade, no war goes without casualties and even when modelling work of the Barracks got stuck, our musician aka gl1koz3 had to sacrifice his right hand for the greater cause.
Let us hold a minute of silence... right after you finish reading.
The Recruitment Barracks: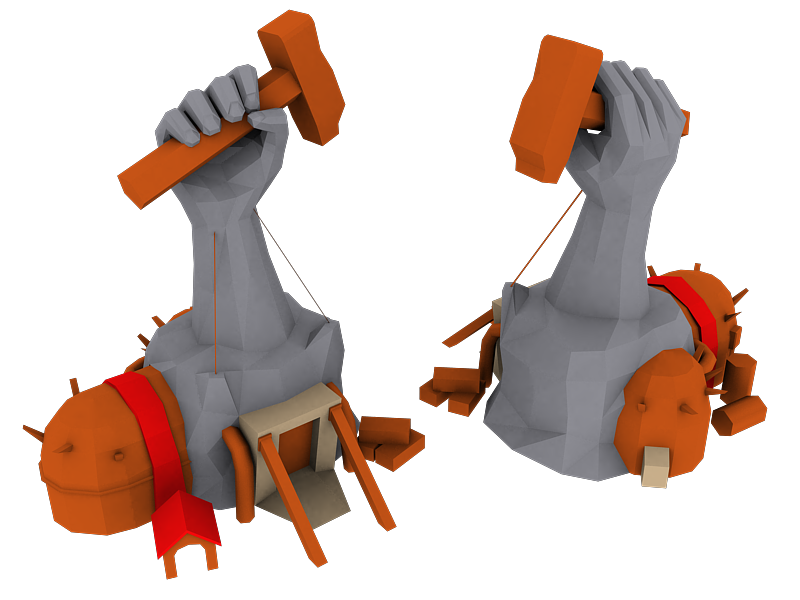 How did the Scavengers look like?
Take an old Soviet outfit, adapt it with highly advanced... junk, of course. Take AK-47 "Kalashnikov" or a PK machinegun. Done!
Behold, the Scavenger: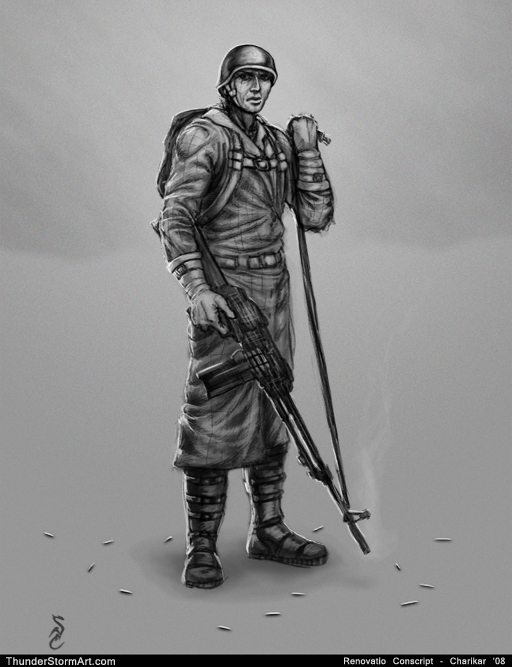 ---
The music. Yes, it's music!
The menu track is ready for deployment. Check out the soundtrack HERE.


---
Now, back to some serious business.
The team is not too big you'd say, but it's the quality that really matters!
Presenting the Renovatio team:
Name: Oleg Balzanov
Nickname: FreedoM_FighteR
Age: 20
Sex: Male
From: Israel
Jobs: Project leader, 3D Artist, 2D Artist
Bio: Working in Exent as a profecional QA, started messing with 3D design 4-5 years ago as part of the SWR team and a freelancer Artist.
All my life is about art; planning to study 3D Design.
Name: Edgars Batnya
Nickname: gl1koz3
Age: 19
Sex: Male
From: Latvia
Jobs: Project Co-leader, Soundtrack artist, Cinematic scriptwriter.
Bio: Now and beyond.
Started small; trying something new each time.
Name: Chrizz Lefering
Nickname: Chrizz
Age: 21
Sex: Yes Please (Male)
From: The Netherlands
Job(s): Looking around doing some things abit.
Bio: Lead designer in a company. Got an internal phone number which gave me 666 ppl calls me The Beast or Wildchild now.
And i like the ppl and the coffee.
Name: Matthew Generous
Nickname: TankMaster
Age: 18
Sex: Male
From: USA
Job(s): Webmaster, coding
Bio: Lead Coder for TD, Owner of the independant company Ion Studios [working on 3 different types of software at the moment], ShockWave Launcher, and other misc. projects. That's all folks!
Name: Shoham
Nickname: LeoJr
Age: 24
Sex: Male
From: Earth
Job(s): Concept Artist
Bio: I'm not a nut, I'm a strawberry.
Name: Igor Koltsov
Nickname: Soviet_Deso
Age: 19
Sex: M
From: Russia
Job(s): Texture artist??
Bio: Lead Texture Artist for TD, i've been modeling, unwrapping and texturing for about 3 years now and hmm right now i'm studying industrial design but i will soon switch to a 3D modeling/Animation program.
---
Q&A:
Q: Is this Red Alert 2?
A: NO. X.X
Q: Who are the Command & Conquer nerds?
A: Comrade... read some books.
Q: "customer lines at the local sausage store"... What the?
A: Soviet stores are infamous with their long lines.
Q: Doesn't look promising. Why should your mod be better than others anyway?
A: Good one. ... Not! Our goal is to give the players teh Experience. And... You might have guessed it already... behold, here comes the line of century: it really takes time. But don't be afraid, we've got our work planned until 2010. Good thing is that it's only our work, whereas your work is to get the updates inbetween much more frequently.
Q: "gl1koz3 had to sacrifice his right hand"... huh?
A: Do not fear, it got replaced with an artificial one.
Lastwar.cncreneclips.com
---
Special announcement:
Comrade, aren't you tired of sitting home and crying to your mommy?
Join the army now!
Experienced and talented people with a deep knowledge of C&C universe welcomed to the recruitment barracks! (seriously. 8o|)
Visit Forum.cncreneclips.com now.
Brotherhood. Unity. Peace.
The Renovatio team.