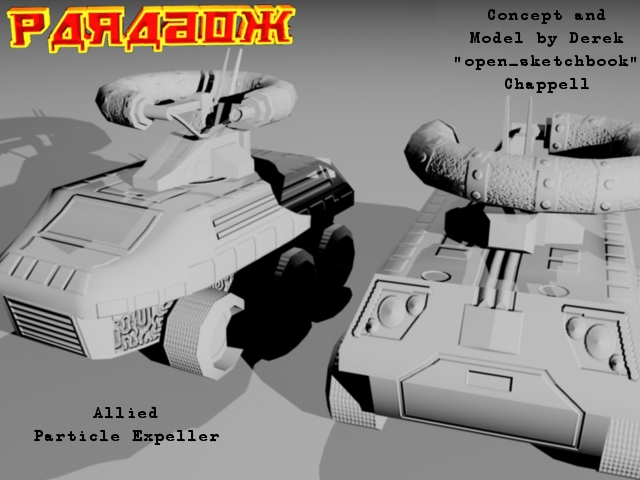 Allied Particle Expeller Vehicle
In Paradox, the Allies will be unique in that they have an extra "sub-tier" after Tier 3 - meaning, once they've already got Max Clearance, they still have more units to unlock. The extra tier is called the "Experimental" tier, similar to Supreme Commander... but this one works differently. It's full of units, mostly tanks, that cost a ton, have eggshell-thin armour, but usually have an effect that makes them entirely worth it if you protect them well enough.
The Particle Expeller is one such vehicle. It's a long-range direct-fire anti-tank vehicle that will waste whatever it manages to hit first. It fires a four-shot burst that deals heavy damage to the target, but after the burst it has to undergo a long reload time. In addition, it has a pretty large minimum range and the aforementioned paper armour. If you throw one (or even a few more) of these against an assault, you're doomed to failure, but it makes an excellent support unit if you can protect it. The Guardian Tank would be especially useful for this purpose because even though it has trouble standing up to, say, a Hammer Tank, it has enough armour to survive and the targetting laser would make the already powerful Expeller do even MORE damage.
The Expeller's secondary ability allows it to fire a burst of Superheavy Elements (toggled ability) that do more, widespread damage, effective against grouped targets.