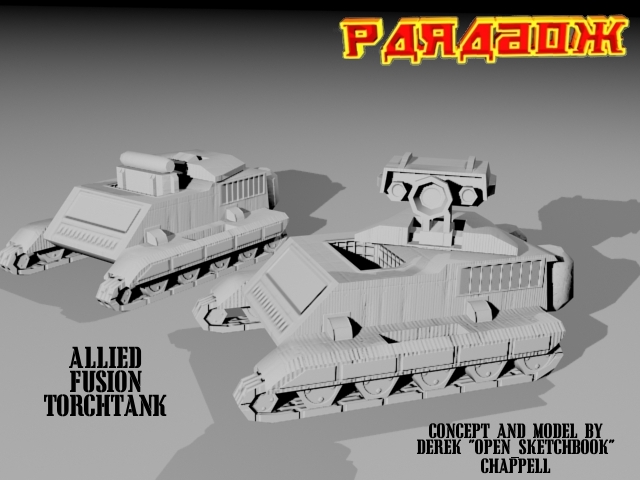 Allied Torchtank
By now you've heard all about the Experimental tier, so I hopefully don't need to say any more about it. If not, there's a news post you can read in the archives. Have fun!
Science isn't always geared directly toward military uses. In fact, more often than not, the latest high-tech equipment is just an innovation to make our lives easier, twisted so that it makes everyone ELSE'S lives harder. It was the case with Allied cryotechnology - hey, we have to preserve food somehow - and it is again the case with the Fusion Torchtank. An attempt to find a safe, renewable energy source from the fusion of atoms resulted in a disaster that the University of Paris will remember forever... and that the enemies of the Allied Nations will curse for the rest of their short lives.
The Torchtank has very low armour, fairly low speed, and laughably low range. The price of one Torchtank could also comfortably outfit a small Tank division, making one wonder why you'd bother with a Torchtank in the first place. The reason, dear viewers, is that the Torchtank will devastate anything and everything within its (small) arc of fire when it chooses to. Infantry, Vehicles, Buildings, and even China's mighty Power Walls become ash before the mighty Torchtank. It isn't exactly mobile, so the destruction-on-demand takes a bit for delivery, but assuming you can form a convoy to keep the tank intact, the results are guaranteed to leave you satisfied.
The Torchtank is also outfitted with, umm, a hole in its hull. This hole is designed to fit the turret, so if the crew so chooses, they may angle the turret downward to propel the tank into the air with its blast. Once the tank achieves Liftoff (toggle ability) it will be capable of (slow and hilarious) flight. This means that even enemy bases across the sea aren't safe from the Torchtank's wrath, and a shrewd Allied commander can use their considerable air power to protect the tank on its journey to glory over any terrain there may be.