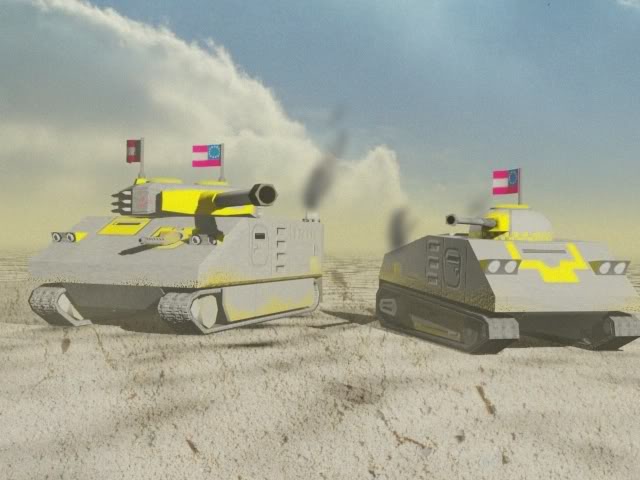 Confederate Vehicle: Mastiff Medium Tank
At first glance, the Mastiff seems like just your average main battle tank... and, well, it is. In fact, when you buy it, it's generally a little WEAKER than your average main battle tank. The Rebs (as we call the Confederates) generally have to get their vehicles second-hand, being a rebel group, and so they have to resort to mothballed vehicles of yesteryear much of the time. The Mastiff has good anti-tank and anti-vehicle power and okay armour, but an out-of-the-factory Mastiff will generally get its butt handed to it by enemy tanks. Why do I specify out-of-the-factory? Well... that's a question for another time.
The Mastiff's secondary ability is the Autoloader (toggle ability). The autoloader does not, in fact, improve the Mastiff at all... but any Beagle Light Tanks nearby will have its rate of fire improved significantly. The downside of this is that any Mastiffs and Beagles in the radius have their speed reduced in addition to any other effects, so it's best to save this ability for when you're hitting an enemy position.
Confederate Vehicle: Beagle Light Tank
The Beagle is sort of like the Eager Young Space Cadet to the Mastiff's Duck Dodgers. The Beagle has a higher rate of fire and movement speed, but is less resilient and the cannon is designed for anti-infantry or light vehicle hunting. It's also, umm, smaller. Yeah.
You may have guessed from the Mastiff's description that the Mastiff and Beagle are designed to be used together. Using one on its own is generally a plan doomed to failure, as almost every opposing vehicle can take down a basic Beagle tank. That is why the Beagle's secondary ability, the Supercharger (toggle ability), directly opposes the Mastiff's; rather than buffing damage and reducing speed, the Supercharger increases the Mastiff's movement rate up to match that of the Beagle while disabling the weapons of both. It's generally very effective in hit-and-run attacks (provided you remember to turn it off when you "hit") and it means that the Rebs can get their tanks into battle faster than you would expect.