BFME I Mode & the Elves!
RC MOD V2.00 ~ ALPHA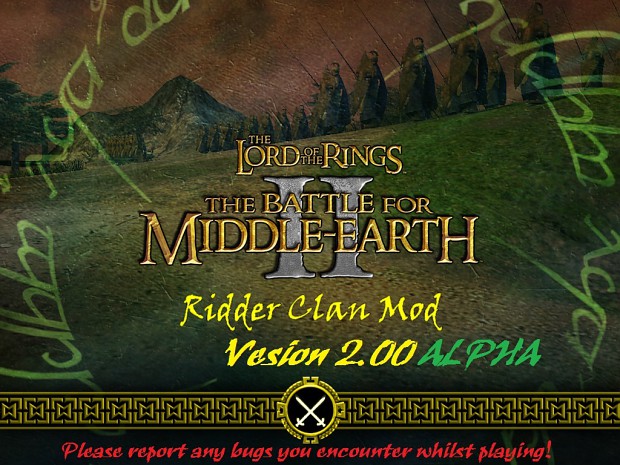 UNINSTALL YOUR PREVIOUS VERSION, MAKE SURE NO FILES ARE LEFT IN THE INSTALL LOCATION BEFORE INSTALLING THIS VERSION!
(Doing so will allow you to play without any problems)
The installer has been tested on 3 different operating systems without any errors:
Windows XP 32-Bit & Windows 7 32-Bit & Windows 7 64-Bit
--------------------------------------------------------------------------
After quite some time I, Ridder Geel, decided that it was time to show the public the stuff we have been working on the last year and a half... I knew that an official bug free release with fully functional elves, men of the east, and dwarves was still far away. And more than half of the maps still needed to be converted to be compatible with the long anticipated BFME 1 mod.
...So I brought the idea to the rest of the crew, they agreed it had been too long...
So we now proudly present an ALPHA version of the 2.00 release!
Just a few things to keep in mind:
Please do understand that this version is NOT bug free!
3 of the factions do not yet support the BFME 1 mode!
ELVES are far from complete! They have most of the models in-game,
but for now they are more of showcase in-game.
Dwarves work perfectly fine, and fairly well balanced in BFME 2 mode.
Men of the East should work decently in BFME 2 mode, but fair balancing is NOT guaranteed!
When playing the game please just remember that this release is made public for YOU, the fans!
So any feedback, comments, bug reports are welcome!
E-mail: BFMEIIRCMod@hotmail.com
Forums: Forums.revora.net
There will be a bug related thread on the Revora forums, so try not to report bugs already reported!
Also bugs concerning the elves will most likely be ignored as explained above they are work in progress!
--------------------------------------------------------------------------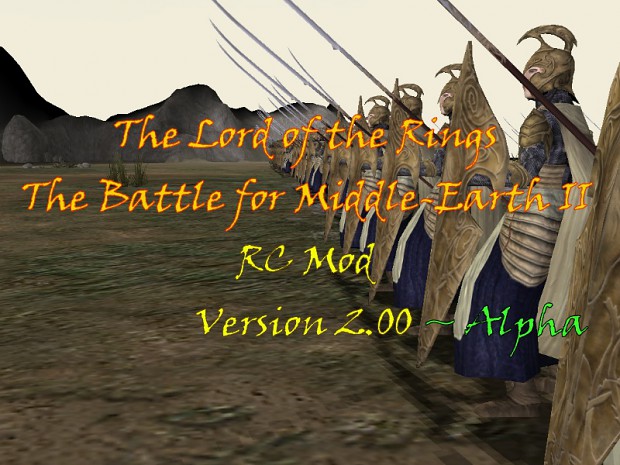 --------------------------------------------------------------------------
-RC Mod FULL Installation- -(565.22 MB)-
Moddb.com
-RC Mod Mod SDK- -()-
The latest version should be compatible with this release.
If this is not the case please let us know!
(E-mail: BFMEIIRCMod@hotmail.com)
READ the instructions first!!!
Rcmod.the3rdage.net
-RC Mod CD-
Moddb.com
~Basic Info~
Version 2.00 ALPHA - July 17, 2011
=Game=
BFME 1 Mode available for:
-Gondor
-Rohan
-Isengard
-Mordor

=Other Factions=
-Elves (Work in progress)
-Harad (Work in progress)

-Dwarves (BFME 2 Mode Only)

=Maps=
Removed all the non BFME 1 Mode compatible maps...
These WILL return!

=Others=
New camera things!

=Notes=
This is an Alpha release for the public to play

Any bugs may be reported to:
BFMEIIRCMod@hotmail.com
Quote taken from Install file from the RC MOD on July17th, 2011