Last update, we mentioned how PUNT was temporarily being developed in an engine branch separate from our licensed Portal 2 based branch, primarily so that we could focus on gameplay rather than visuals.
As of this article, PUNT is back up and running in our custom engine branch with a multitude of new visual capabilities to boot. Below are multiple images which show the differences between the appearances of puzzles in their Source 2013 iterations and their updated visuals in the new engine.
---
---
Porting the game has been a fairly time consuming process, which is partially why it's been a few months since the last update. However, all gameplay elements are now fully implemented in the new engine and will only improve with the new capabilities we've been granted.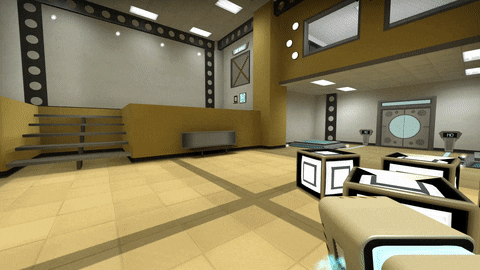 As you may or may not be aware, in 2016 we aided Emberspark Games in getting Portal 2: Desolation greenlit and shortly after extended our engine license to them in order to ensure that they would face no restrictions in realizing their full vision for the game. As such, PUNT now shares some of the new features developed for Desolation, including CSM (Cascaded Shadow Maps), Improved Vertex Based Animations, and PBR (Physically Based Rendering).
We've been actively developing PUNT day by day and look forward to sharing more when it's ready. I'd also like to take this opportunity to announce that we have a new Twitter, @punt_game, for those of you who would like to have game news in your feeds without my own personal activity.
Thank you all for your patience and support. The future of PUNT looks bright and we're looking forward to fulfilling our vision for the game.
Until next time,
-Tristan (BoxandRocks)
---