With 2007 drawing to a close, we want to leave you with one last update to the progress of Project Valkyrie.
Since our first release will be limited to one player model, one thing we really wanted to allow for was customization so that each player can look unique. Currently the options we have fleshed out are multiple 'glow' colors of the suit and a helmetless version of the Valkyrie. Take a look below:
In addition, we'd also like to give a preview of the HUD, including the viewmodels by Rashad Foux: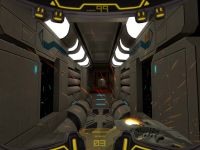 That closes out 2007 for Project Valkyrie, and we're very excited to release early into 2008!