We have some exciting news concerning release coming your way!
The Project Valkyrie Release Trailer
Here it is, one minute of in-game footage of Project Valkyrie in it's finished form. While it might not be the most action-packed trailer, you can see some of our features we haven't really mentioned quite yet, included charged item-pulling, the melee beam blade, our turbine morph charge system, and more. The audio in the clip is Sunnyvale Trailer Park by our good friend Paper Sailboat.
Wallpapers Galore!
In addition to our trailer, we're also releasing some very high resolution wallpapers for your enjoyment.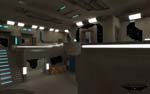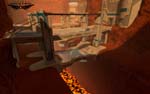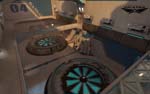 QJ.net Interview
We also had a nice interview with the guys over at QJ.net, talking about the history of PV, what we've done and where we're going. They also have some exclusive media.
So Where's the Release?
Valve has completed work on the cache files required to run Orange Box mods, and as such, we now have the ability to release the client. Unfortunately, Valve has not made the update live yet, and we do not have a tentative release date of the Steam update. The good news is that these cache files allow anyone who can play mods (Owners of at -least- HL2:DM) can run Project Valkyrie. The bad news is, although we have a tentative release date for Project Valkyrie of Friday the 25th of January, we may have to postpone the release while we wait for the cache files. Either way, the Windows server binaries will be available next week after final internal testing. They will be going out to our launch server partners, and then later released to the public. Please note, these are only Windows binaries, we do not have the capability yet to build Linux server distributions.
If everything goes as planned, Friday we will have a launch party in our IRC (irc.gamesurge.net #blackened-interactive) and the files will go live on Fileplanet. Fileplanet will be carrying the mod exclusively for 24 hours, at which point the mirrors will be available. We are currently working with server partners to ensure we have around 30-40 servers available for release. We look forward to getting the mod into your hands as soon as possible and appreciate your support and patience!