Yes, it has been quite a while since this mod was started - over 4 years in fact. Over those years, since PI was started, it has been abandoned, brought back to life, changed it's look, been abandoned again, brought back to life, released as a beta version then abandoned, and finally resurrected one last time to be released in full!
Take a look here at some earlier instances of Persian Invasion: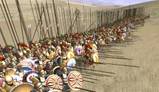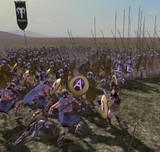 PI would have probably remained in it's beta state if it hadn't been for a mysterious modder named Lanjane who suddenly showed up and completed all of the unit cards, and did some other tweaking to boot. The most lacking part of the beta was the absence of unit cards, and, as any player of Rome - Total War knows; they are a simple, yet completely fundamental part of the game.
And so, I finally forced myself to delve back into the files and fasten together these pieces to complete the project that had been haunting me for so long -


You'll find the complete edition available in the downloads section. Enjoy!