Since we are getting closer to Christmas, we thought we should share our generosity with you all during the next couple of days and hand out some Perfect Dark Source goodies. Instead of the usual ingame screenshots, we are going to present to you our maps through a series of videos that we will release from today onwards.
The first map on exposition for you is Felicity. Enjoy:
In addition to the video, we would like to show you something we are rather proud of. We had an interview with PCZone, a videogames magazine in the United Kingdom, last month. We finally got our hands on a copy and were able to scan it for you: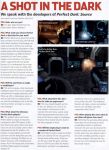 Now join us in celebration of passing the first half of the Moddb contest as we are now in the top 100! Thank you so much for your support!