- Six new historical GCs (see below)
- Playable Galactic Alliance faction (New Republic era 5)
- Playable Ssi-ruuvi Imperium faction
- New lasers and projectiles to replace oversized ICW 2.15 ones
- New ships like the Assertor-class Super Star Destroyer, Harbinger-class battlecruiser, Mandator I and II battlecruisers, TIE Avenger, and Naboo N1 starfighter
- Several existing GCs expanded to add playable Ssi-ruuvi campaigns
- New heroes like Maarek Stele, Shimrra, and Cal Omas
- New planets like the Chiss homeworld Csilla and Zonama Sekot
- New-style hero tooltips clearly explain what bonuses each hero provides
- AI is more active and aggressive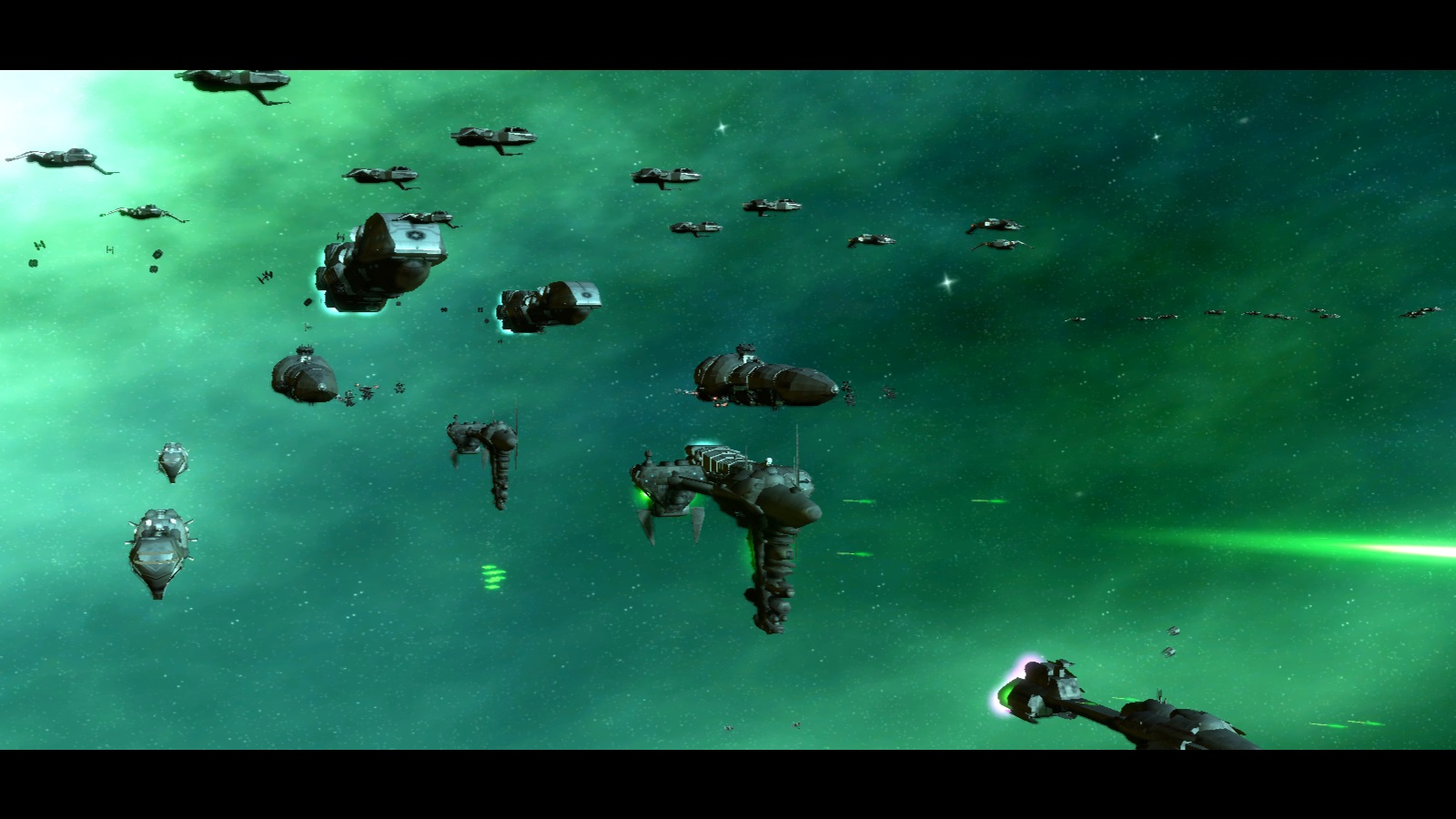 The new Galactic Conquests
4 ABY: The Truce at Bakura
The Rebel Alliance have dealt the Empire a crippling blow, only to find a new adversary on the cusp of invading from the Unknown Regions: the Ssi-ruuvi have struck Bakura, a remote Imperial world, and the Rebel relief force and the Imperials must put aside their differences and work together. Meanwhile, Captain Pellaeon and the battered Imperial fleet regroup at Annaj after fleeing the disaster at Endor.
27-28 ABY: Rise of the Galactic Alliance
The New Republic has lost its capital and its forces have been scattered. Isolated enclaves hold-out on Borleias, in Mon Calamari space, the Hapes Consortium and in the Deep Core at Hakassi and Tallaan. Efforts are underway to finally unite the galaxy under one new government: the Galactic Alliance.
28-29 ABY: The Remnant Strikes Back
The Yuuzhan Vong have struck the Imperial Remnant, driving Pellaeon's Empire from its capital on Bastion. With the aid of Luke Skywalker's Jedi expedition, the Imperial forces must regroup and counter-attack. If they fail, the last vestiges of the Empire will be wiped out.
29 ABY: The Search for Zonama Sekot
The Jedi are searching for a mysterious living planet that may hold the key to ending the war. The Chiss have agreed to aid the Galactic Alliance, but the Yuuzhan Vong are not the only threat: the Ssi-ruuvi Imperium are once more on the move, and Bakura is in their sights.
29 ABY: Operation Trinity
With their new Imperial allies, the Galactic Alliance is ready to strike back. This is a small, tactical map focusing on Generall Antilles' effort to liberate the vital shipyard of Bilbringi. It marks one of the few occasions in history when the Empire and the former New Republic fought alongside eachother.
29-30 ABY: Unifying Force
The war is culminating in a final confrontation. Massive fleets groups have been formed on each side and the entire strength of the Galactic Alliance, including the Mon Calamari, Corellians, Hutts, Hapans, Jedi, Imperials, Smugglers' Alliance, Kuati, Chiss, Mandalorians, Dorneans have united in an immense armada over Mon Calamari, ready to retake Coruscant and defeat the invaders once and for all.
The War's over... so what comes after 0.7?
This release will include the core Yuuzhan Vong War material. Subsequent releases will add the Hutts and the Mandalorians, showing their struggle against the invader and adding them to appropriate existing GCs.
After that, I will start adding Galactic Civil War content from the classic New Republic era, what I regard as the golden age of the Expanded Universe stories. These will range from the Valley of the Jedi crisis and the Empire Reborn, to the Almania Uprising and the Second Imperium, the Kaarenth Dissension's war against the Remnant to the rampages of the Dark Empire.
That will bring the the mod to 1.0 status. After that comes the sequel...
...the 'Rise of Caedus' Compilation Mod.