Network Addon Mod 33 - Windows Installer - DOWNLOAD HERE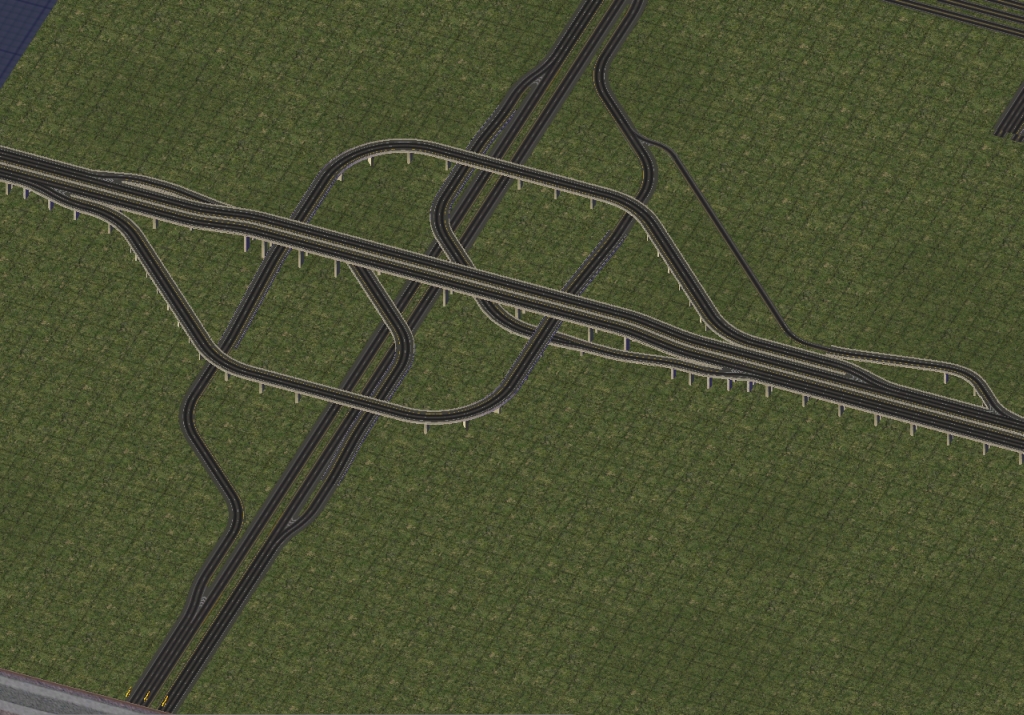 New features in Version 33--November 26, 2015
NAM 33 is a full package, which improves upon the earlier NAM 32 release and NAM 33 Pre-Release.
Massive update to the Draggable Ramp Interface (DRI) and FLEXRamp systems in the RealHighway (RHW) Mod. 90% of all previous static puzzle piece ramps have been given easier-to-use FLEX and/or draggable counterparts, and a plethora of new ramp interfaces for elevated RHW networks are now available, Wealth textures are included for ground level versions.
The RHW FLEXFly system has been completely overhauled, and now includes 90-degree and 45-degree versions, in single and dual-lane configurations, at Ground Level (L0), 7.5m (L1), and 15m (L2) heights.
The double-decker RHW-4 (DDRHW-4) has been lowered one level (from L2/L3 to L1/L2), increasing ease of use. The DDRHW-4 has also gained support for DRIs and FLEXRamps, including A1 and B1 Outside and Inside Ramps.
Disconnector added, to simplify demolition of FLEX-based RHW pieces.
Multi-Radius Curves (MRCs), in both draggable and FLEX form, have been added to the RealHighway Mod, in three different radii, for the RHW-2, MIS, RHW-4, and RHW-6S.
Stability improvements to the FLEX Height Transitions.
Major improvements to the RealRailway (RRW) plugin, which now supports most crossings.
Transit station functionality and compatibility has been further improved.
Minor fixes to other NAM components.
New High Speed Rail Project (HSRP) textures, courtesy of vershner.
The RealRailway (RRW) FlexTrack system makes an earlier-than-expected debut. See the FlexTrack User's Guide in the Documentation folder for more details.
PedMall functionality greatly enhanced with the addition of access paths to most non-Highway-type road networks, including NWM networks and Tram/El-Rail Dual-Networking items. Pedestrians may now directly access the PedMalls from these other networks without the need of a station or other transit-enabled lot/switch.
Many custom bridges that previously blocked all ferry traffic have now been corrected.
MandelSoft's previous RHW texture sets, including Euro, Ontario, and Irish/South African textures, have been discontinued. A new standard Euro RHW set, based on the default US set, has been added as a replacement, and adds compatibility for all current RHW features.
An issue with the NAM 33 Pre-Release in which the Controller Compiler would fail due to an XML read error has been fixed.
Several overhanging texture issues with the new RHW ramp interfaces have been corrected.
The R3 FLEX-Multi Radius Curve now rotates fully as intended.
A number of Left-Hand Drive transit path file issues across the entire mod have been added or corrected for proper functionality.

Installing over previous versions: NAM 33 may be installed directly over top of any previous NAM releases. It is a full release, not a patch or a hotfix. All
future updates are planned to be in full package form, and there are no plans to issue patches or hotfixes in the future. Please also note that the NAM Team only provides
technical support for the

most recent version

, which, as of this document, is NAM 33. We cannot assist users of the NAM 33 Pre-Release, NAM 32, or earlier.
Special Thanks: The NAM Team would like to extend its sincere thanks to all the members of the community who helped test the NAM 33 Pre-Release, offering feedback and helping us locate and solve bugs.