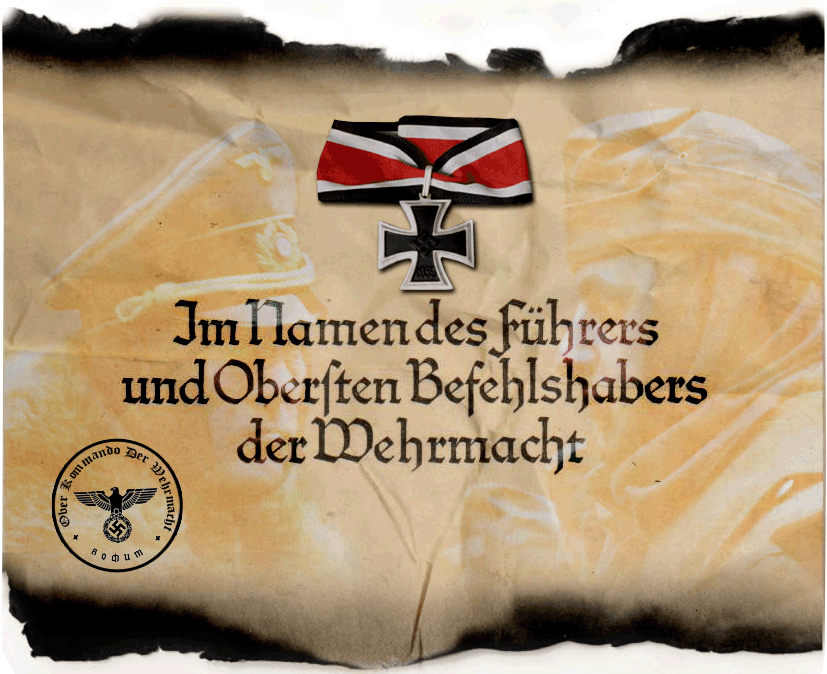 Welcome back kameraden's
Today I would like begin by demonstrating some of the new aspects of the mod I have been working on over the last couple of days/weeks/months, begining with the UI, in-game weapon models, and some other little features only previously known to a select few. I would then like to preview a few in-game shots for your viewing pleasure, finally rounding off with a few mapping requests and anything other miscellanous.

The New User Interface
---
---
---
---
---
---
---

New In-game Item models
---
---
---
---
---
---
---
In the above gallery, you can see from left to right, top to bottom:
- Sten MkV, a more accurate, better made variant of the all-metal Sten MkII, with wooden buttstock and pistol grip which translates to better accruacy and smaller bullet spread in game.
- P.I.A.T, a replacement model for the current version, firing HEAT projectiles, range of 120-140 meters, can hit a tank at 140meters with with 40% hit ratio, with up to of 95mm penetration. 25% chance warhead won't detonate.
- Czech ZB26 MG, a relic from 1938, this weapon would have been used substantially be Wehrmacht and Waffen SS forces from 1939-43 during their invasions of Poland, France and early in the Russian Campaign. A souvenir for this British paratrooper, similar in design to the French FM24/29 and British Bren and using the same ammunition.
- Maschinengewehr 15, a standard German aircraft armament up until its phasing out in 1942/43, it later found use in Luftwaffe ground forces inventory and was kitted out for field ops with iron sights and deployable bipod. The variant shown is the a luftwaffe AA emplacement version with AA sights and no bipod. It has a maximum ammo capacity of 75 rounds in its double-drum configuration.
- Maschinenpistole 41, limited in production with only 21,000 models built, this weapon was mainly used by the Waffen SS throughout the war. It is similar in operation to the MP40 but utilises a sturdier wooden stock which allows for greater accuracy and smaller bullet spread over distance. With fewer moving parts this was a favourite when avalible.
- Panzershreck RPZB 54 , a copy of the US M1 'Bazooka' this weapon is reloadable and is capable of penetrating up to 150mm of armour. The version in picture is the larger earlier variant designed for standard deployment, typically 2 men would operate the large device, with one carrying the ammunition whilst the other one fires. Other variants include the RPZB 43 early war type without shield and the RPZB 54/1 shorter paratrooper type.
- Panzerfaust , a HEAT warhead fired from a disposable tube, this weapon is the ultimate in utility tank destroying. Costing only the price of a loaf of bread to manufacture, this weapon was widly used and avalible from 1943 onwards. 3 variants was utilises extensively throughout the war, namely: Panzerfaust 30m 'Kleine' with a maximum range of 30-40m, Panzerfaust 60m, with a maximum range of 70-80m, and Panzerfaust 100m with a maximum range of 120-140m. There was also the Panzerfaust patrone variant used in 1942 as a precursor to the 30m 'kleine' version. A later 150m version was issued, but only a relatively small number of those reached the front before the closing stages of the war.

Battle Photographs

---
---
---
---
"
---
---
---
Summary
There will be a new Beta released within the week with an almost complete code, except MP coding. After which all that is left is to import all the relevant new model files and textures. I will then create a few standard maps for MP use with units already fielded to allow those to battle against freinds online in the final open-beta for Men of War before porting to Men of War Assault Squad.
Currently Im working on
French Tank crewman helmet

(Completed)

British Tank crewman helmet

(Completed)

British Commando beanie

(Completed)

Spanish Blau Division tunics
Tank gun penetration values (cannons completed)
British Tank crew uniform variations
Also a shout-out to the Forgotten Hope 2 team for granting me permission to use certain weapon models, namely as seen in the above screenshot, the 'Panzershreck, Panzerfaust(s), Czech ZB26, P.I.A.T and Maschinegewehr 15'. Very much appreciate it.
For more info on their project head on over to their Moddb page or Official web page.
Thanks again for the support.
Sturm.
---