Dawn of the Reapers .5 The Harvest Release Information
Hello again folks, your friendly neighborhood mod dev here. Our initial plan was to release .45 shortly after our last one. With bug fixes and few added features that we simply didn't have time for before our last release. Well the Sins 1.83 patch took longer than expected, and because of that we have pushed the release back farther than expected but with more added features than we have anticipated on adding. This patch will begin our work on the Reapers. Do not expect them to be perfect right off the bat, this will be a slow and steady balancing project that we aim to get right.
- Some minor UI fixes, including faction selection screen. To make it easier and more practical to switch between your desired factions.
- In-game navigation buttons have been overhauled to represent the ME theme we are going for.
- Tech trees for both Cerberus, and Council have been 99% completed.
- Abilities are trickling in, by the time of release the mod should have most if not all of the Cerberus and Council abilities done and working.
- Minimum game resolution has been increased to 1366x768, This is simply to create an experience with better quality for you the user.
- New unique planet types for your map making fun (Citadel, Omega, Mass Relay, Omega Relay)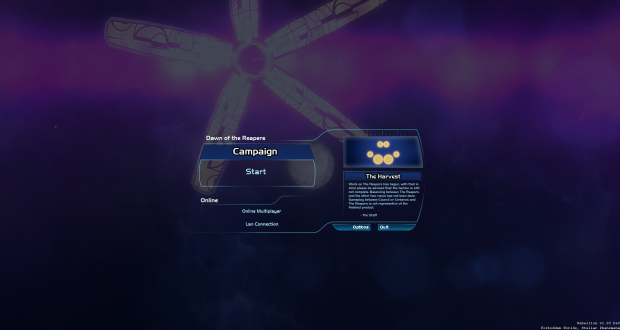 - Some Small stat fixes
- Titan abilities have been added, and thanks to 1.83 the Themis (Synth Super Cap) is capable of literally destroying planets. You know if you want to.
- Multiple starbases, each starbase has pros and cons. Chose yours wisely or risk losing it. (Yes their weapons work now too)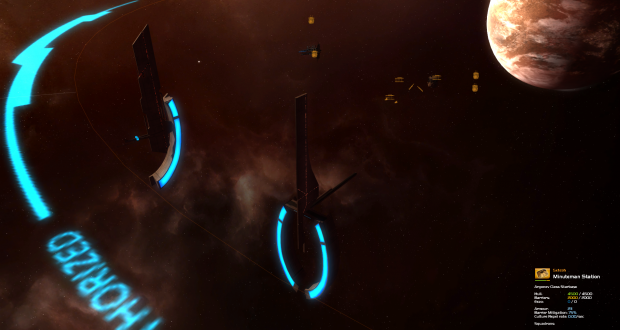 One is meant to be offensive the other is used as a means of production. Both are from Bioware concept art
Council
- Council 99% complete, Salarians Included
- UI, Ship pictures, and build buttons have all been redone.
- Node system helps generates revenue for Council, ITS NEEDED!
- Paragon/Renegade split allows you to chose your fleet selection and play style.
- Council Extranet Hub has passive fleet defense ability that will call in a small picket fleet if the gravity well in question comes under attack. Once the well is cleared of enemies, the fleet leaves until its need again.
- Added Titan options due to hard limit increase in 1.83 opt in patch.
- Carriers are now neutral options, All Alliance vessels are accessible without faction choice. How they play will be dependent on your faction specific research.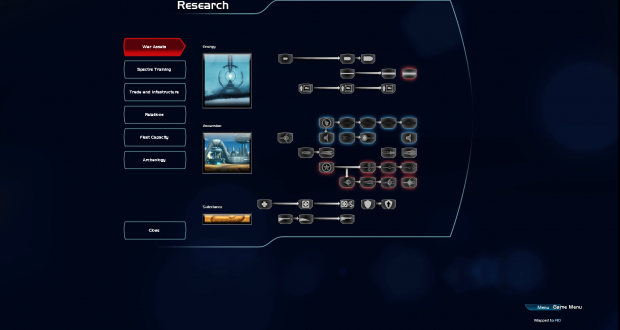 Any thing highlighted in blue is paragon locked, with red being renegade locked.
You get to chose your play style.
- We have begun work on the Reapers, REJOICE.
- Added units with stats
- Correct or appropriate voices for each unit.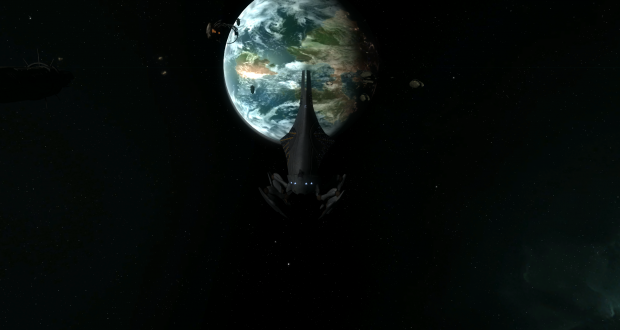 At the end of this I want to throw out some special thanks to a number of people who have been MASSIVELY critical to getting the mod this far.
ZombieRus5 - Without him this mod wouldn't have gotten off the ground period.
Psychoak - Who has been of great help with some our more difficult abilities.
Skyline5GTR - Who helped give life to Cerberus in the early days of the mod, and is a generous tutor who helped me pick up the skills to continue on my own.
Waseem - His music creates the perfect atmosphere for the mod, it simply wouldn't be the same without it.
DiscoverME - His voice over and effect work have put this mod in a category all its own, and helped to properly immerse anyone who plays it in that Mass Effect atmos we all loved so much.
ChaosChild - Her photoshop skills formed all the pretty particle effects that you will see while playing, and added another level of immersion to this mod. Also created the concept art being used to create a number of ships soon to be in game.
Malcontent - Who is helping with the Salarian designs
Playtester Corp - There have been to many testers over the years to name them all, but all of them deserve a nod for helping me debug, test, and fix problems that would have otherwise gone unnoticed.
Release Information
Date - TBA (We will know within the next 3-4 days)
Playtester Corp Applications
We are still in need of good qualified testers, do you think you have what it takes? Feel free to apply Requirements are listed below
Requirements
-17 of age or older
-Must have skype and ability to have full use of it
-Be able to join in skype calls more than 1 time a month
-Be able to at least put 4 hours a week into helping develop the mod
-Have basic understanding of Mass Effect Lore
-Have the understanding of installing mods for SOASER
-Have more than 100 hours of play time from playing the vanilla or any other mod.(I.E. understand the ship stat values to be able to properly give feedback about balancing.)
*Previous testing experience desired but not required
Once an offer has been extended and accepted, you will be in a 4 week probationary period in which inability to meet the above requirements will result in a loss of your position and replacement. We understand this sounds strict but in order to provide a quality mod we need people who are just as invested in this project as we are and that requires strict standards.