Over the past few months theres been both Good and Bad news developing. Here they are in a nutshell starting with the Good News first.
Good News:
Our base and multi-player code for Lethal*Agents is about 98% complete.
A few various models have been completed and textured.
And last, but not least... Omega, myself and a few other dev team members were picked up to produce a retail game which has been an awesome experience for us thus far.
Bad News:
Lethal*Agents has been put on hold indefinitely.
So there it is, but not the end of the world. I had a long talk with Omega and we discussed an option that may still work in getting Lethal*Agents completed. Let me ask you this... how many mods out there have tons of models and maps completed but hit a wall when it comes to having their code done? I'd say lots. Well, what we were thinking was... if those teams wanted to see their hard work actually used and wanted to take over Lethal*Agents and run the rest of the way for a touchdown... by all means! Run with it. The only catch would be that Omega and I still oversee the mod. We wouldn't want to see Lethal*Agents turn into some half-breed space zombie shooter now would we? Being that our code is very close to completion all that we would need are art assets. Omega even said he would finish up the rest of the code. Anyway, its just a thought, but if anyone is actually interested in doing it please feel free to
contact me by email. Other than that, we don't have any other way to complete Lethal*Agents in the foreseeable future.
I'd like to thank everyone that helped us along the way. I will keep in touch with you all. Check out our "Media" page for some images we were holding until we had another media release...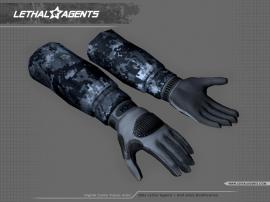 Good Bye For Now!
JohnnyQwest & Staff
Lethal*Agents