In the chapter of the The Two Towers "The Choices of Master Samwise", Sam is forced to carry on into the utter perils of Mordor alone, with the Ring of Power to himself. Alone, and with the task of saving Frodo, Sam, for a brief while, learns the true extent of the powers of the One Ring. His shadow bears a frightening visage, and he is able to peer into the world of wraiths and understand the harsh Orcish language. Still -- for all this dreaded power, Sam holds true to his humble nature, and carries on ever faithful to himself, and Frodo.
Like Sam, I too, have gone on a journey alone, shouldering a burden I perhaps didn't have to; a burden I brought upon myself. And during this short time, I've learned much, many new things, and many new people. From all this heart, all this passion, I bring forth Legends of Middle-Earth 5.0.3, the latest edition of the LOME. And from this version of the mod, I aim to create a platform like I haven't before, for in truth, I might have called this version "5.1"; but I acknowledge the work ahead of me yet, and the burdens yet to come. That being said, allow me to show you why it may have earned the title "5.1".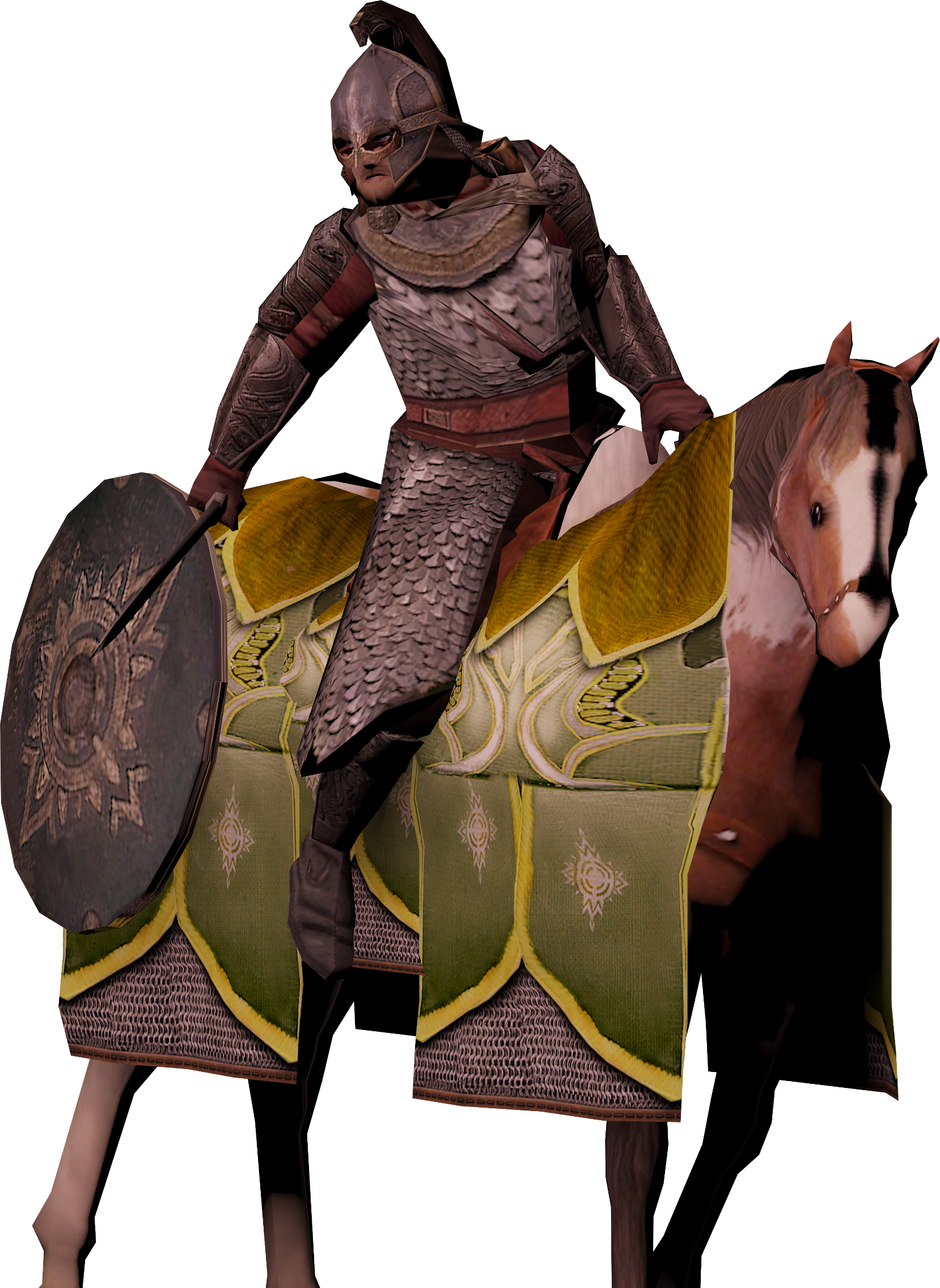 A High res render of the "Cinematic" Riddermark Rider unit
Unveiled a month ago was the "5.0.2" AI Patch, which enabled the use of AI back into LOME just like the good ol' days. This version will include a slightly updated AI from that. The AI still isn't perfect, and in fact, needs a lot of fine tuning! Don't be afraid to mention your bugs. Hand-in-hand with the AI is the full inclusion of 9 Random Map scripts made especially for LOME; two of which were created for 5.0.3. There is even a preset which allows you to randomly select from these Middle-Earth themed maps.
There have also been many rebalances to single player RMs, and several god powers which have recieved a lot of needed attention.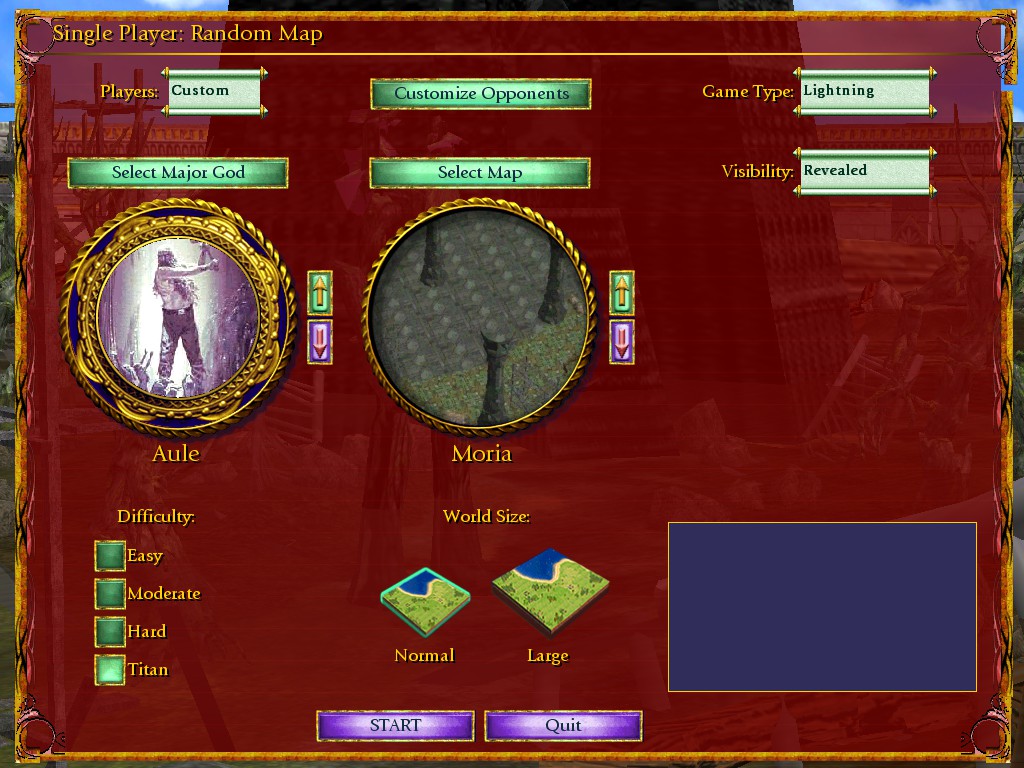 Aule and the Moria RM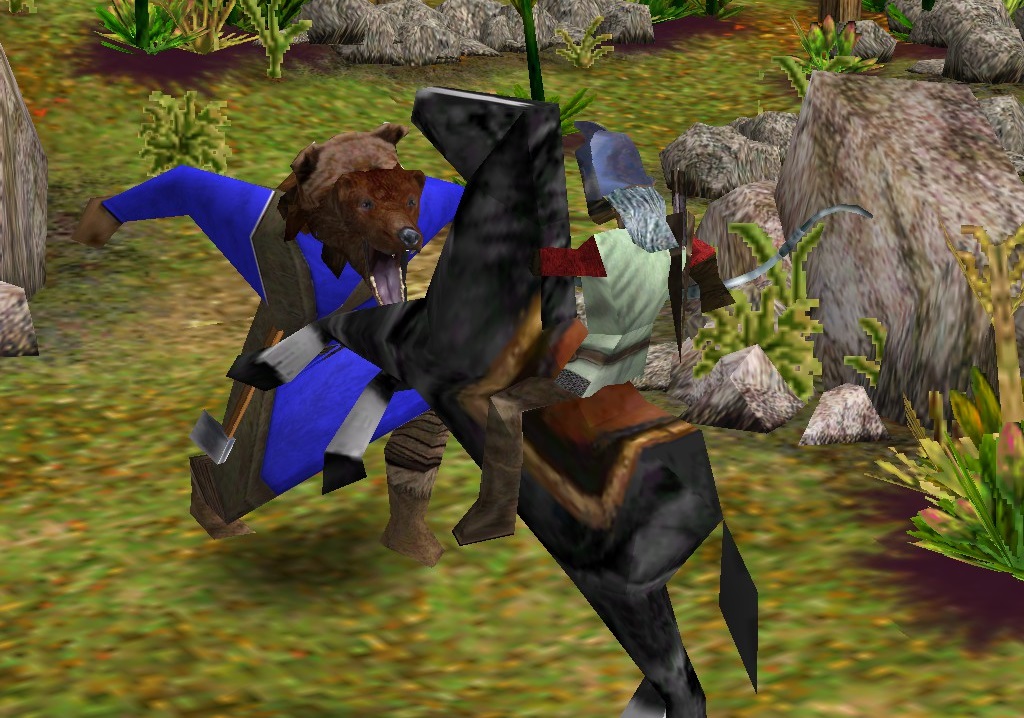 The Skin Changer myth unit remodel
AI and Random maps are far from the only updated prospect. 5.0.3 includes a vast amount of updated textures and new models. There is a total of 29 newly modeled units/buildings, roughly 20 new weapon models, 52 new buildings and embellishment objects for scenario designing, and about 30 new cinematic models for campaign cutscenes.
Several units have also recieved tender care; such as the dreaded Barrow Wight, who has been gifted a new "Conversion" special attack, which will drag an enemy human unit into becoming an undead slave. The Barrow Wight, and a handful of other myth units have also recieved new tech upgrades, and other special treats.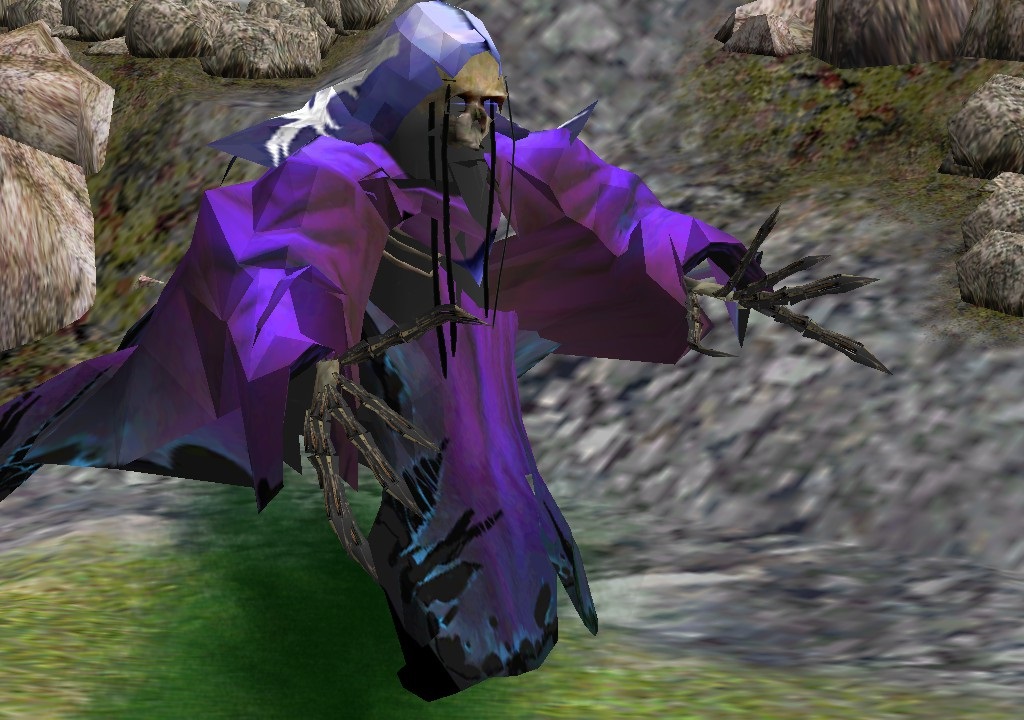 The terrifying Barrow Wight
A few civs have seen some reworks as well. The previously teased civ rework for Rohan is here, which makes the Rohirrim cavalry a greater focus of their military power; but the Dunedain have also seen some rework in the form of the Rangers. Dunedain Rangers must now be toggled between a ranged and melee form, which both will suit different purposes. Each set are separately animated with their own sets of actions. The new sets of animations also allows the Dunedain Rangers to gather food from huntable, and forageable sources which aids early game food progression. Many hero icons in the game have also been recoloured with a certain palette to help organize what faction they come from. You may notice a colour scheme trending within each of the factions over time.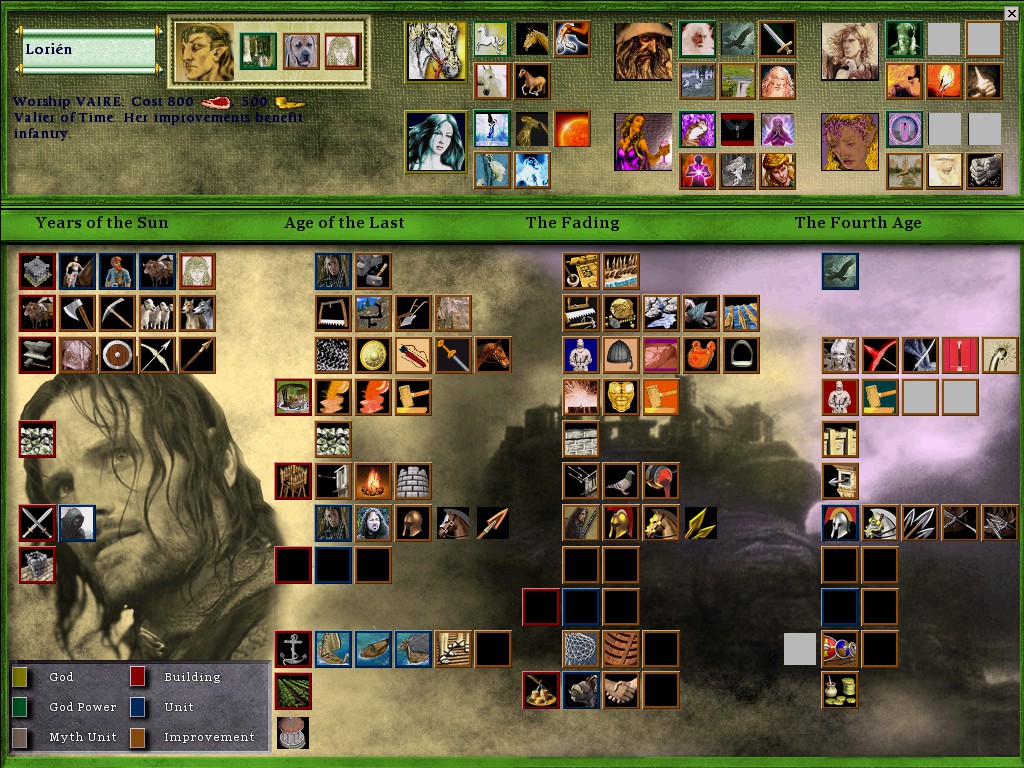 Lorien's Techtree, representing the Dunedain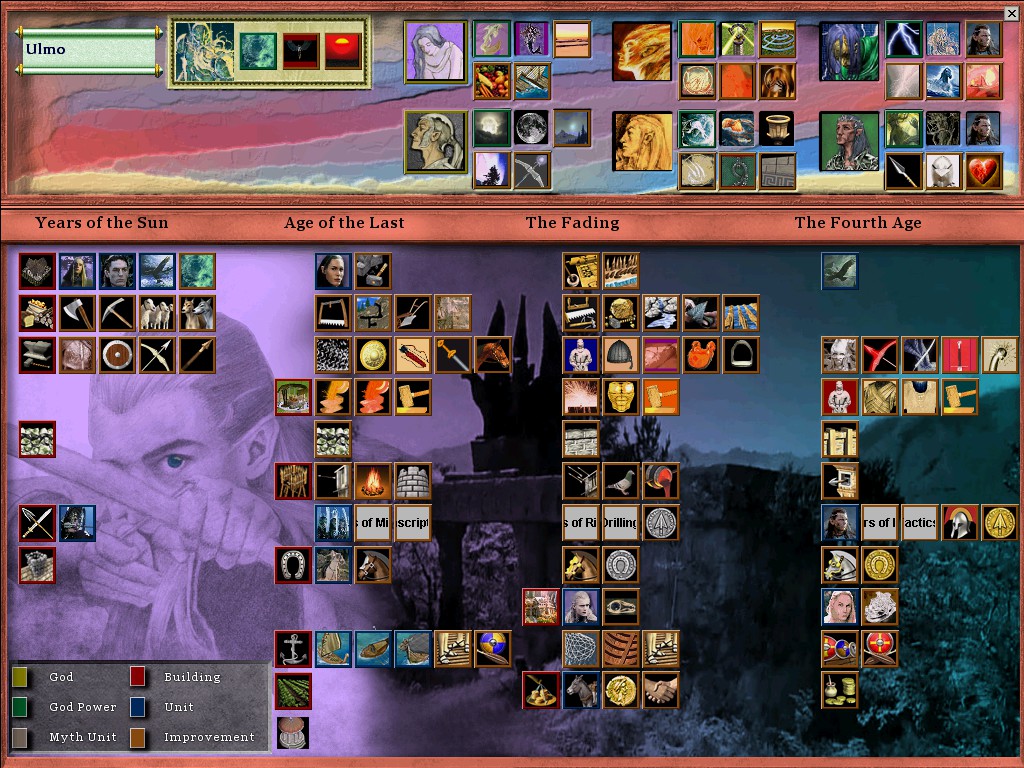 Ulmo's techtree, representing the Elves of Mirkwood
A few months ago, during the development of this patch, I had a large emphasis on the campaigns I've been teasing over the years. This changed when I started to find ways of re-enabling the AI for single player matches, however, after the post launch of the patch, I will be settling down, and focusing more on the campaigns. This will mean fewer mega patches, and smaller patches which will include small balances, the odd remodel, or assets for a campaign.
The updated version of the ROTK campaign is included with 5.0.3, and I will be using the time in the future to focus on my original campaigns. The campaigns in questions are The New Shadow, as well as a new, much shorter campaign based on The Fall of Gondolin. The Fall of Gondolin campaign has 6 levels, and the first 3 will be shorter, mostly focusing on a "How to Play" theme; teaching new players about LOME, as well as reflecting on AOM's mechanics as a whole. These levels will transition into more open, fully fledged levels which will get more difficult, all while telling the story of Tolkien's first tale of Middle-Earth.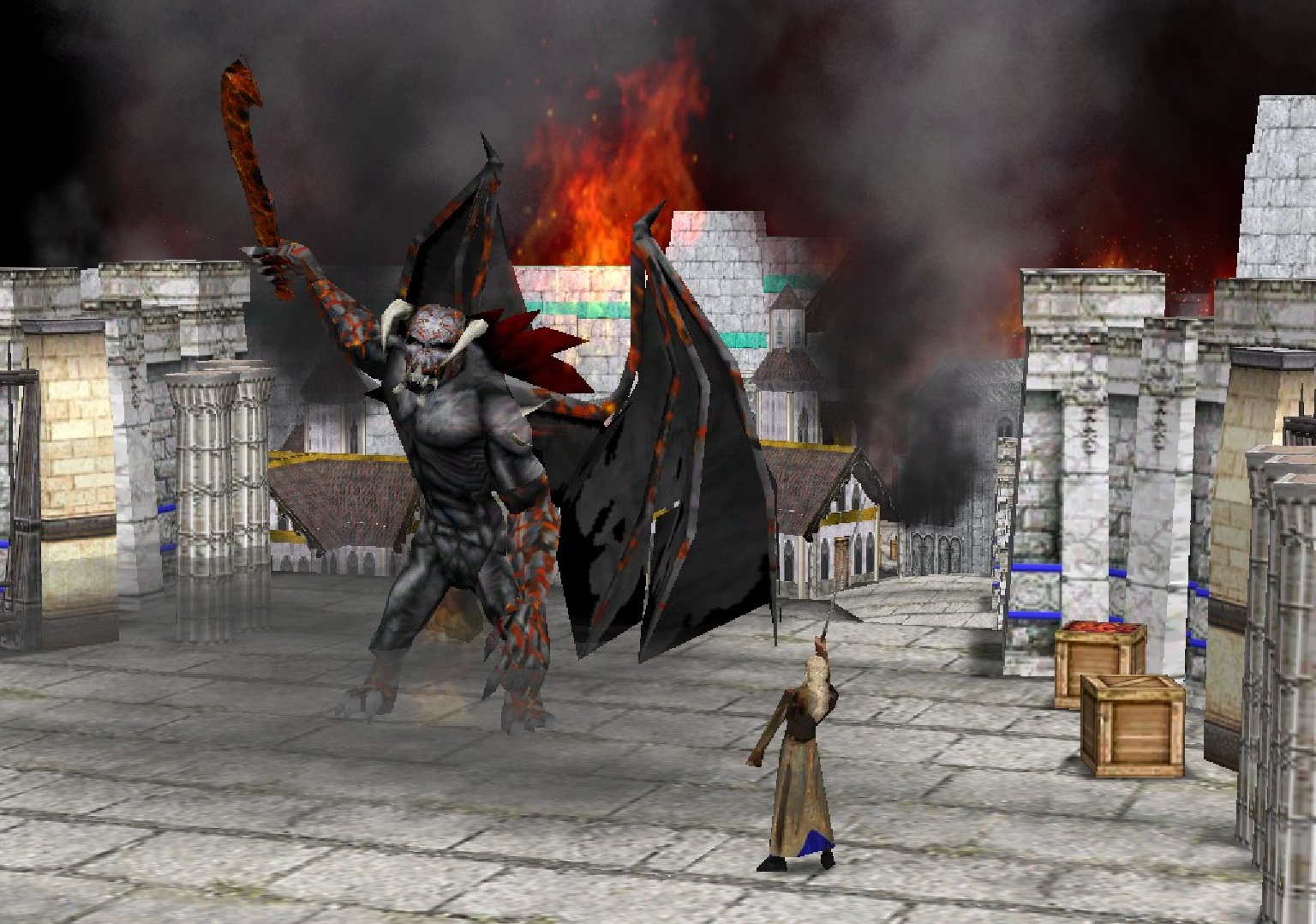 Gothmog, the Lord of Balrogs
Throughout all this, I've been accompanied by you lovely community members, giving me something to strive towards! I'm glad to have served all of you, and giving you a game that you will hold dear to your hearts as much as you hold Tolkien's works dear.
Also bear in mind that I'm a solo developer creating mod that, by all means, should have a small team at least. I am not perfect, and neither is this patch release. Please denote any bugs you find to me; I deeply require your help to make the mod as good as I can! To help you help me, I have included a folder in the download titled "Extra docs", this folder has a few rtf files which hold some inside documents about my debugging process, and you can see a handy guide of some known bugs, as well as some things I couldn't get done before release. If you're interested in helping me create a better mod, don't hesitate to reach out! And remember to join the mod's Discord for further news, and art updates! Now, without further ado, fly! Fly, you fools!