There are couple of map image types in Blitzkrieg:
-campaign map
-chapter map
-mission map
Old map style where you have generated image or old map image with geographical content only are gone. New type of maps will have something completely new, satellite overview, troop overview, troop waypoints, advices and troop callsigns. Practically you will get half of the briefing from those maps, they will all look like this: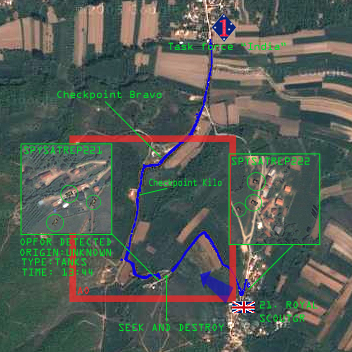 As you can see you have AO which stands for Area of Operations. That is the area of the map, area where you will fight. Then you have Task Force India which will be troops under your command and British 21. Royal Scout which will be under AI control and assist you.
There are 2 checkpoints(upon reaching them you will be checked for the unit consistency and numbers). Also you have the blue line which is your supposed path of advance. This type of map info should guarantee much better gameplay and enjoyment.