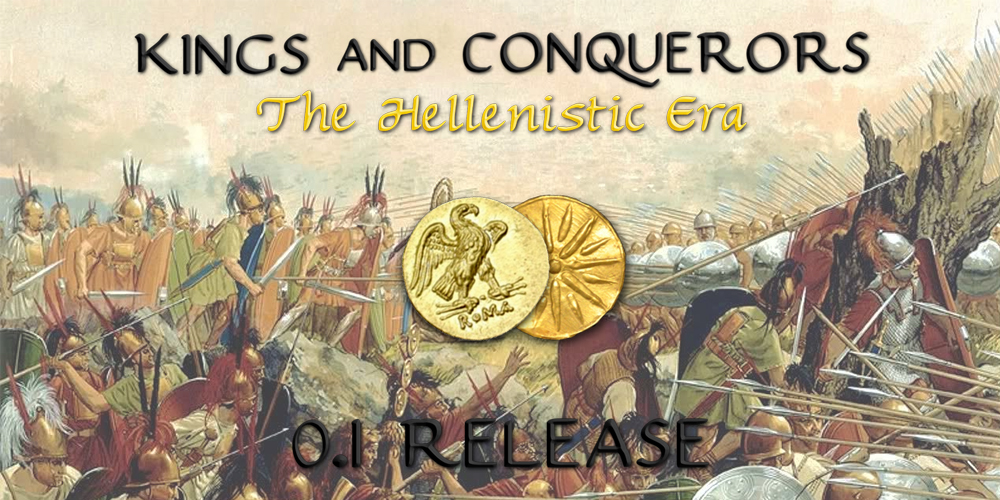 Today, we are proud to announce the very first release of Kings and Conquerors: The Hellenistic Era! This version comes with two playable factions, the Romans and Macedonians, as well as a range of new features.

Two playable factions, the Macedonians (replacing the Romans) and the Romans (replacing the Turks).
A huge number of new units with high quality textures, and most with custom models
New unit types, such as priests, levies, mercenaries and elite units.
Many new buildings. Nations will receive Unique Buildings in addition to Unique Units that provide a range of bonuses.
A new political system with three tiers of policy decisions, providing strong bonuses and unlocking new units and buildings.
Army reforms can be enacted to upgrade and unlock units.
Combat mechanics overhauled. Ranged units may now miss their target, flanking damage has been drastically increased and units can no longer turn around instantly to counter an attack from behind.
Increased population limit and map sizes; a number of maps have been altered to fit with the mod's Hellenistic period setting.

The following maps do not work with the Big Huge or Huge map sizes and will cause the game to crash:



- Atlantic Sea Power
- East Meets West
- Nile Delta

In order for the AI build orders to work, make sure that you list the human players before the AI players when setting up a quick battle, and make sure that you are using red as your player colour.
Many of the scripted features have not been implemented, so you won't be able to spawn mobs from cities or convert enemy citizens into slaves for instance.
Due to the custom script and the new models with higher polycounts, the mod will be more demanding on your computer. However if you have a decent computer then it shouldn't that noticeable.
With the exception of the Trireme and Ballista, naval and siege warfare have not been touched on and probably won't be until after the first release yet due to heavy modelling and animation requirements.
We hope you enjoy Kings and Conquerors: The Hellenistic Era! Please let us know if you come across any problems with this mod, and don't hesitate to give us any feedback you might have. I've also created a forum where you can post your thoughts: Moddb.com