Kicking off what will probably end up as a frequent feature in the coming weeks , we are showing off the first of the REVISED zombie models which will be present in this summer's Killing Floor Full release. If any of you played the Demo you may remember that some of the zombies look a little..well, sketchy (and not in the good way). So we're going back and re-doing them almost from the ground up, while still retaining that Killing Floor "look" .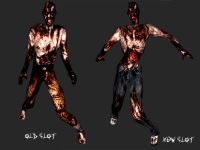 I have hired on a truly devoted new modeller, Dietrich , who is responsible for the new meshes, while I am doing the UV mapping and Texture painting on these suckers.
Expect good things guys, the visuals are just ONE of many the improvements since the demo .