[page=Introduction]


As an unstoppable army rolls into view, the few brave souls willing to stand up before them watch from their fox holes, ready to begin the greatest conflict of their lives. The odds are against them, but a few clever tricks might be all that they need.
The term "gimmick" gets thrown around with a lot of negativity in the gaming world. Despite the fact that people yell and scream for the industry to innovate and try new things, everyone seems to roll their eyes when they actually do it. The problem is that most of these game "gimmicks," such as the portals in Prey, don't make up for the basic game itself being lackluster and uninspired.
When a gimmick works, though, then the game becomes something awesome to behold.
Iron Grip: The Oppression is a hybrid multiplayer game that combines the best aspects of real time strategy games and a straight up, no-holds-barred first person shooter multiplayer match. It's one part Day of Defeat, another part Command & Conquer and a little Stalin Subway mixed in for flavor.
"The whole point of Iron Grip was to expand the World War 2 genre beyond its basic elements," animator Shaun "Stuffie" Hutchinson said. "With an alternate universe, there are all sorts of things we can do with it. We can expand weapons and units without ever sacrificing the setting."
The game places you in the middle of a conflict between a ragtag group of rebels and the oppressive might of the communist regime. Here, the evil communists are led by the diabolical General Rhamos, who rolls into cities and crushes anyone in his path beneath a fleet of tanks, soldiers and mechanized trains. When you take control of the aptly named Oppression, you jump into the match via a RTS style interface, giving you an overhead view of the battlefield to control your units from. Here, you can build new units at your train \ command post, research new weapon types and command the field of battle. The object then is to take control of three points around the map, while the rebels do everything in their power to stop you.
"We were going for a Saving Private Ryan style, where a small group of heroes is going up against an entire army," Hutchinson said. "That way, you have characters with specific skills and looks rather than generic classes of assault troops. Each of the heroes also has their own individual backstory, as well."
The rebels play out like a normal round of Day of Defeat, albiet with a slight twist to the formula. Three nodes around the map must be defended at all costs from Oppression take-over. However, to truly defeat the enemy and win, you must find and assassinate General Rhamos, who is moving around the map like one of the heroes in Warcraft 3 and can also be controlled by the Oppression FPS style when they feel like getting down and dirty with the grunts. But in order to get to kill him, you will have to literally battle your way through an entire army of troops.

hammy-bob
says:
"
Iron Grip
is kind of like a cake made out of steaks. You know, steak tastes really good. And when you mix it with your favorite addition to any meal, such as cake, you have the perfect combo for a night full of fun and satisfaction."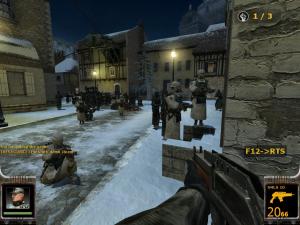 "Ok, you guys knock and when he comes to the door, we'll all jump out and say 'Surprise!'"
What makes Iron Grip work is this feeling like you are truly battling upwards against the odds, fighting tooth and nail to the bitter end. Rebel forces are constantly forced to deal with platoons full of soldiers, marching through the level and killing anyone they come across. Tanks roll down the streets, annihilating anyone who even glances in their direction. It reaches a point where you constantly have to be willing to cut through buildings, dodge down alleyways and use every shortcut you can in order to hide and defend yourself from the onslaught against you.
Though only three maps are currently implemented in the game, each of them look awesome and play even better. The world of Iron Grip is a familiar yet foreign one, with airships flying overhead, cable cars zooming past and giant megalithic churches looming on the horizon. The city environments are claustrophobic and tightly interwoven, giving you lots of places to hide, but very little space to make your escape in. Then there is the open expanse of the snowy wilderness, prestine and white with the freshly fallen winter snow, soon to turn red with the fresh blood of the blossoming battlefield. Everything has been detailed enough to be evocative, but playtested at length to accomodate gameplay. It's enough to make you want to drop your gun and just wander the level, seeing what you can discover in this society brought to the brink of war.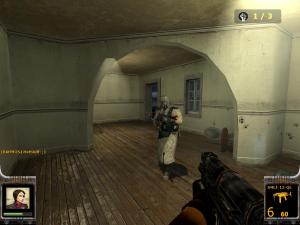 Face-off, just you and me...
"The first release had a lot of problems with the lag and dodgey balancing," Hutchinson said. "A lot of new people left because they thought it was too hard or easy and then there was all the lag on top of that. But with the latest patches, we've squished a lot of the bugs and will hopefully bring more people to Iron Grip."
To be completely honest, when I first loaded up Iron Grip, I didn't like it at all. Despite the awesome concept and great artistic direction, the game lagged endlessly and there were serious balance issues, as Hutchinson said. There were times when I would empty entire clips into an enemy only to have him snap back and kill me in a single shot. Or worse, fellow rebels with missile launchers had to fire at the enemy multiple times in order to kill them! Toss in the lag issues and the fact that my own ineptitude prevented me from easily grasping the Oppression controls, which have since been streamlined a bit more, and you had a recipe for disaster.
But all of that changed so much with just the first patch that anyone originally turned off by this mod should definitely consider giving it a second go. The heat of battle in Iron Grip truly feels unlike anything I've played in an online multiplayer match before. Though the hybrid RTS \ FPS nature of the game may feel a bit gimmicky, it is a solid fusing of two very different genres into a cohesive final product that is well worth your time, especially with a new patch looming on the horizon.

Karuto
says:
"Although it started off fairly questionable, with its fair share of server crashes and confusing game mechanics (I ended up shooting my own teammates one too many times), it has grown a lot since then into a well-rounded mod for the
Half-Life 2
community."