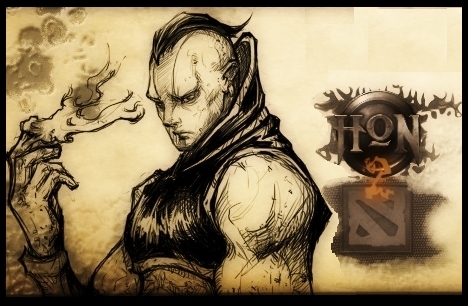 Main Features as of version 2.7:

- 30+ New Heroes. (Most of them exact Dota heroes ports or at least inspired by them)
- CPU Controlled Ai Bots. (Excellent for new players to learn the game and/or test the new heroes)
- Day one access to whole hero pool. (In HoN2DotA there is no need to unlock/buy heroes or pick them from a limited hero pool, all 90+ heroes are available to the players right from the start).
- Day one access to all alt avatars. (In HoN2DotA there is no need to unlock/buy Alt Avatars, all Alt Avatars are available to the players right from the start).
- No internet connection, accounts or registration required. (Just pick a Nick Name and start playing. This is especially convenient for LAN parties since all games created will be visible over TCP/IP connections, over Hamachi, Tunngle or similar ONLINE LAN tools).
- Multiplayer Playable Custom Maps. (Many of the most amazing custom made maps for HoN are playable with this mod not only in Practice mode but in fully featured multiplayer matches)
- Beta Flavour. (This mod uses HoN's old Beta Engine meaning that there are some differences with the most current version so a few features and UI tweaks are missing from the mod but the feeling is closer to the Beta Times which is one of the main purposes of this mod.
Version 2.7 is mostly focused on balancing, CPU Bots improvements, Custom Maps and General bug fixing but also brings many new models, textures and effects. Enjoy!
Version 2.7 Download Links:
English Client: CLICK HERE
Spanish Client: CLICK AQUI
Don't Forget to read the Frequently Asked Questions here: HoN2DotA FAQ

What is new in version 2.7:
- Added a new method of changing/switching alt avatars in-game. During the first 60 seconds of the match press the "N" key to change avatars or switch back to the original avatar.
- CPU Controlled Ai Bots have been significantly overhauled, resulting in a much more balanced, smoother and human like experience when facing the bots.
- Added a new way to permanetly show the health bar by pressing the "1" Key. (Apostrophe ' also still works)
- Tweaked health bars so it is easier for new players to distinguish friends from foes.
- Greatly improved the in-game item and abilities guides for all heroes. Now only shows the heroes' main item build instead of many alternative builds and also shows the correct buying order. This tweak is specially helpfull for new playes (Inspired by Dota 2's ingame guides).
- Generally improved the skill descriptions and details on all heroes.
- Added many new Models Addons such as new weapons and Amazing high res textures for many heroes.
- More than 28 new Models and Alt Avatars.
- New client with Improved stability, performance and compatibility.
- Included some of the best Community Custom Maps previously only playable in practice mode but with this mod they are fully playable in multiplayer!
- Many easter eggs and hidden HoN heroes... Perhaps as Alt Avatars?
- Three new items and over 100 Balance tweaks.
- New and improved installer.
For a detailed change log click here: HoN2DotA 2.7 Detailed Changelog