Are you a Dota player who wants to try a newer, more graphical engine or simply wish for more features like reconnect, Alt Avatars and In-game guides?
Are you a HoN player who wants to try more Dota heroes than the ones currently available in HoN?
Well, in both cases the HoN2DotA mod is exactly what you are looking for.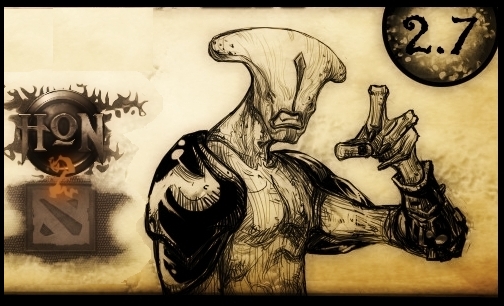 FAQ:Why/when should you play HoN 2 DotA besides what is posted above:

1-) You are a DotA player who migrated to HoN and simply miss all the DotA heroes currently unavailable in HoN, heroes like: Balanar, Bone Fletcher, Bounty Hunter, Doombringer, Dragon Knight, Enchantress, Eredar, Furion, Harbinger, Templar Assassin, Magnataur, Medusa, Phantom Assassin, Pugna, Tidehunter, Terrorblade, Drow Ranger, Viper, Centaur, Leoric, Nerubian, Naga Siren, Chaos Knight and many more.
2-) You are tired of some HoN exclusive heroes like predator, electrician, emerald warden, deadwood, gemini and several others who seem to have the potential of 3 DotA heroes into one or just fill too many roles.
3-) You got tired of all the bashing/trolling/leaving online and just want to play in LAN with your friends/family or against old fashion Ai Bots.
4-) You are still waiting for a Dota 2 beta key and wish to have a chance to harness your Dota skills on a newer engine with ~the same modern features Dota 2's engine has.
5-) HoN/Dota 2's servers are down and you wish to do something in the meantime.
You shouldn't play this mod if:

1-) You want the mod to make HoN look and feel exactly like DotA/DotA 2: HoN has its own identity, even when S2 games ported DotA heroes they made sure to give them their own unique feeling with different models/effects etc.
The authors of this mod deeply appreciate what S2 Game has done with the DotA heroes they ported, some of them even offer much better gameplay and synergy with their abilities than in DotA so we won't change those... but we did added many alt avatars to resemble their DotA counterparts better.
I tried the mod and found many differences with the regular HoN.

This mod uses an Old Beta Client from 2009 therefore many of the latest features implemented in the regular HoN did not make it into this client. Whenever possible we do offer workarounds as close as we could.
Some of the missing/not ported features:
- New shop.
- Vector targeting.
- Unitwalking.
- Taunts.
- Expanded Hero Slots.
- Skill Range Indicators.
I tried one of the DotA heroes and it wasn't exactly like in Dota/Dota2:

While probably 90% of the DotA heroes ported to this mod are exact ports some of them feature one, two or even three abilities that differ from their DotA counterparts. These are the main reasons:
- The ability could not be ported to the engine. (Sometimes the complexity of some of the Dota Abilities prove too much for our engine/knowledge so placeholder abilities have to be used while we finish coding them.
- The ability is not unique or repeated in many heroes. (Sometimes the same abilities are used by many heroes, be it in DotA or HoN).
For example in this mod blink strike/critical Strikes/images abilities are often changed by equivalent but more original abilities. A good example of this is the Chaos Knight who has been remade in this mod to be more original. Instead of his already used and very generic blink strike and critical chance those skills were replaced by far more unique and original abilities that do not break the concept and purpose of the hero.
- Regarding the last point we also found out that in many DotA heroes with generic abilities, like Naga Siren and Alchemist, it is their ultimate what really defines/makes them unique. So for this mod we replaced their generic/repeated abilities with some equally fitting ability concepts already found in HoN while also keeping their soul defining ultimates. The result is, for example, a Naga Siren that has a very unique skill set but is easily recognizable by her ultimate.
Some of the HoN heroes remain in the client and some of them feel different.
- Again, most differences between this Mod and the regular HoN are related to the mod using an old beta engine resulting in some abilities and items that offer the same experience but are not as
elegantly implemented as in the full game.
- Also, just because this mod brings the Missing Dota Heroes while removing most of the HoN Exclusive heroes that doesn't mean we've removed all the HoN Heroes.
Some of the best HoN heroes' concepts are kept in the mod especially if we feel those heroes represent valid remakes to Dota Heroes. A few examples of this are Bombardier and Chipper whose
concepts and implementations are more than good enough to consider them valid Techies and Tinker replacements.
REMEMBER: The authors of HoN2Dota only intend to add what S2 games didn't port from DotA. We do not intend to change what they already made better. We added many of the missing DotA heroes, we added alt avatars on many heroes to bring back their DotA feeling/models and made it possible to play in LAN and with bots but that's it!