Blizzard updated the Hive Keeper spotlight thread with my interview on Hive Keeper, here is the transcription:
We sat down with creator Andrea 'Bibendus' Mauro to hear about the creation of Hive Keeper.
Traysent: Please introduce yourself!
Andrea: Hello everyone! My name's Andrea and I'm a StarCraft II modder from Italy.

T: How did you get started in game design?
A: Since I was a little kid, I dreamed of creating new games. When the original Starcraft editor came out, I was finally able to begin my work on game design. I primarily worked on level design initially, not quite yet ready to make custom games. At the same time, I worked a lot with the Duke Nukem 3D level editor. I think I made about a dozen really complex levels -- it was really fun!
However I finally switched from level design to game design with the Warcraft III editor. I was amazed by its simplicity and power at the same time!
I think my first project was a MOBA inspired by"3 Corridors" but it didn't have a lot of success. Then I started a big project called "D&D Calim River", a RPG that emulated the rules of Dungeons and Dragons to almost perfection (yes I'm a huge D&D nerd). In 2006 I won the Blizzard Sport Map contest with Golfcraft, a minigolf map with full working physics and some fun game mechanics
After a while I took a break from game development until the release of Starcraft II. With the new editor I worked on Crush Company, then Corpses and finally Hive Keeper.
T: What made you want to make games with the StarCraft II editor?
A: My vast knowledge of the Warcraft III editor gave me an obvious push toward the new one. I was intrigued by the direct input event features that were missing previously. In fact, my first project was a brawler.
T: What was the inspiration for Hive Keeper?
A: This map is inspired by Dungeon Keeper 2 which is, in my opinion, the best 'god game' ever made. Unfortunately DK2 is pretty old and I was missing an amazing game like that. I decided to remake it, adapting the aesthetics to the StarCraft II world and improving some obsolete gameplay mechanics.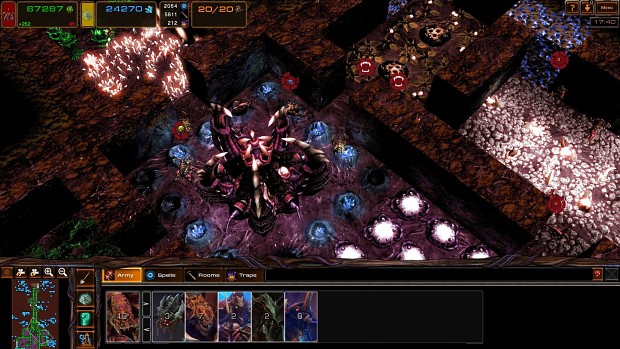 T: How long did it take to complete Hive Keeper? How many people worked on it and what roles did they have?
A: Except for the loading screen image, the soundtrack, and some icons, It has mostly been a solo project since Autumn of 2010. I had a lot of help from the sc2mapster.com community though, especially when trying to learn unexplored features of the StarCraft II editor.
T: Do you have any interesting stories about the design process?
A: Before starting a Dungeon Keeper remake I was trying to figure out how to implement diggable terrain and I wasn't finding the solution I wanted. However, one day a fellow mapper called 'Redmarine' prepared a map showcase on how it was possible to use actors to do what I needed. Once I saw that, I was properly motivated to start the project. Without him, Hive Keeper probably wouldn't exist.
T: Besides keeping things small and simple, what advice would you give to someone who is interested in using the StarCraft II editor to make their own game?
A: First find your area of interest. There are different avenues to express your creative energies in the editor but you don't necessarily need to master all of them. If you are a programmer like me, you'll find the trigger editor really easy and fun to use. If that's the case, then I would suggest you to start with a small mini-game. If you are an artist or level designer, I suggest you to work on melee maps or campaigns. If you are a 3d artist you may enjoy making movies in the cinematic editor.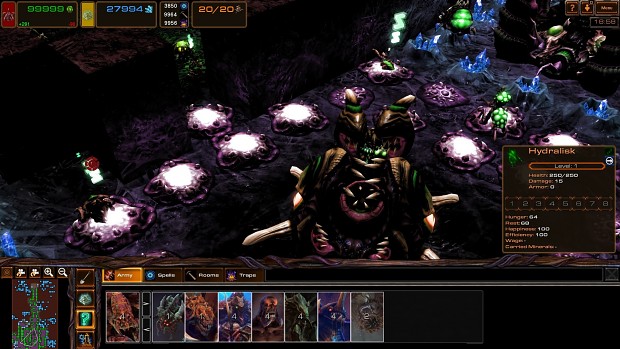 T: How did you get people to notice your game once it was released?
A: I posted on many different StarCraft II community forums and opened a project page on moddb.com. Recently I created a Facebook page too.
T: Do you have any plans for other games or future goals as a game designer?
A: With a big evolving project like this, I have no plans of working on another project, especially if I'm doing it in my spare time. We'll see what the future brings though.

T: What's the best way people can follow you and your work (Twitter, Facebook, Website, etc.)?
A: I keep my moddb.com project page constantly updated with news, videos and screenshots Moddb.com. If you have any feedback, bug reports or you just want to say 'hi' you can visit the forums at Hivekeeper.rocks.it. Lastly, you can like the Hive Keeper Facebook page at Facebook.com or follow me on Twitter @Bibendus83.
T: Do you have any favorite games on the StarCraft II Arcade?
A: Unfortunately I don't have a lot of spare time to play arcade games, however I appreciate innovative and unique ideas like Jetcraft, Warships, or Castle Ulrezaj.
Here you can find the original interview
Us.battle.net