[page=Introduction]
History: The Hidden began life as a Half Life 1 modification created by a group led by Mark Wherrett during their final year at the University of Lincoln (UK). It's simple, yet enthralling gameplay led to further years of students clamouring for more. So the new team decided to carry on the work and make it even better.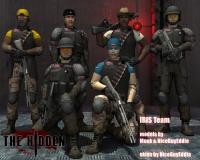 [page=Interview]
modDB.com: Most Interviews interview just one person but since this was a team effort please list the key team who made The Hidden and what they did.
Chris 'Ging' Janes - Coder, person who shouted at others
Keith 'Boxy' Duke-Cox - Level Design, Texture Artist, Modeller, got shouted at
Ed 'NiceGuyEddie' Duke-Cox - Level Design, Texture Artist, Modeller -Too fast and efficient to get shouted at
John Roberts - Character models, textures, general whipping boy
modDB.com: What was the inspiration for The Hidden?
Chris: A good question - for us, it was taken on from a mod for HL1 created by Mark Wherrett and two other guys, Mark taught us at Uni over the last 2 1/2 years. I'm not entirely sure where their inspiration came from, or what it was, I seem to recall that it happened mainly by accident!
Keith: Hmm, not much to add to G's response, played the HL1 version and loved it to bits, thought the advances HL2 offered would make a wonderful sequel, so dived on in.
Ed: I was a slightly later addition to the team as my background is solidly rooted in the Unreal Engine. The offer was there, the premise was wildly different from the armies of CounterStrike clones that spring up on a daily basis, and it was good opportunity to get to grips with another technology other than Unreal.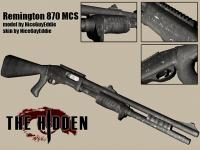 modDB.com: The maps are you planning large or small, What are the plans to make the rounds last long, what do you plan on improving in the next release?
Chris: We prefer to aim for a mid range map, at least for the current game type, it keeps the gameplay tighter and doesn't allow too much camping by the marines. Future maps will retain this ideal, though we're hoping to include more maps with our own textures and models. As it stands, the round length is interesting as it's totally down to the player's style as to whether they're aggressive as the hidden or more sneaky - obviously we don't want to limit a players style, but we do recommend a limit of 4 - 5 minutes per round, just to keep those waiting from giving up in boredom!
For the next release, we'll be on a bug hunt for the next week or so, tracking down the bugs that have turned up and crushing them. Once we reckon we've got them all, we'll move on to enhancing the hiddens feature set, allowing wall grabbing and the carrying of objects. I'd also like to work on getting a greater difference in look between the Hidden and Marines POVs - so the HUD is going to go under a major re-working.
Keith: Stalkyard was obviously taken by the HL1 team, used in the original and was a lot of fun so as a test of mapping techniques and what was possible in Source I decided to recreate it for the sequel. It is a lot of fun, but possibly a little small for a full server.Id recommend mid range maps a little larger than Stalkyard. Executive is about as big as any maps wants to get, it is possibly too big.
I like the standard 4 minute round time, but everyone differs, I tihnk it depends largely on indivdual player skill levels.On levels front, Im busy making textures and models for Manor, and I know Ed is doing similar for Discovery, although he went mad on Exectutive as well, hats off to him. G will then probably be cracking the whip to get some HUD concepting and textures done as well.
Ed: I try to mix up my maps to accomodate a variety of playing styles. I like to have both tight winding sections and large open areas, so players can stick to which ever they have the most fun in! I don't think we've found the perfect size map yet, as it is partially dependant on playercount in any given server, but we get closer with each map we make.
modDB.com: When do you plan on releasing more maps? Will some of your maps have optional objectives?
Chris: We currently have a few more maps in the works, but they won't see the light of day for at least a couple of weeks. Those will all be aimed at the current game mode, I'm not sure if they will include any form of extra objectives.
Keith: Not much to add from me, Im busy beavering away at custom models and textures, as is John, for Manor and then Ill start plugging it all together when I have my custom set finished. For now these will not have any extra objectives, but keep an eye to the future...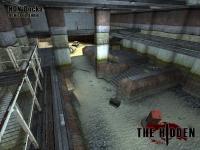 modDB.com: For the future releases what new weapons will we see?
Chris: We don't currently plan to add any new weapons, we've had some people put forward ideas but we as a team don't see the point, the main idea behind the mod is simplicity, extra weapons or classes will begin to confuse the main idea. We've looked at other mods that offer multiple weapons, such as CSS and PoA and while it's nice to have the choice it's rare to see many players deviate from a particular set - especially in CSS, where at least 2 of the pistols are rarely used!
Keith: Predictably I'm with G on this, I can't see what extra weapons would do other than make people feel they have more choice for no extra gain. Another shotgun would just be another shotgun, another SMG would just be another SMG, the player wouldn't gain much, not enough to create a whole new set of weapons. We wanted to keep the mod simple, I think thats one of its key attractions, its pure simplicity.
John: The trouble is finding weapons that handle noticably different from our current set, while preventing certain weapons from becoming useless or over-powered. Looking at CSS, we're basically missing high-powered automatic and scoped rifles, which would either render other weapons useless or be totally unsuited to the nature of our combat. That said, we're always willing to consider intelligent suggestions on our forums.
modDB.com: With Beta2 on the way anything that stands out the most a new player might miss?
Chris: We're furthering the ability of the Hidden to screw with the marines, by letting him pick up and throw objects, including corpses, I reckon that a lot of new players might not realise it's possible and miss out on the more obvious headf**k chances.
Keith: Everyone is very keen on wall pinning and wall grabbing. I think they will miss out on the ability to pick up the little things like the items lying around maps and using them to distract the Marines. Time will tell.
John: Be sure to read the manual on our site, it explains the features of the mod and offers some tips for both sides.
Ed: Hopefully the addition of server side physics will really open the possibilties, especially for the Hidden player. Being able to toy with the minds of the IRIS team by pinning their fallen comrades bodies to walls and so forth, before moving in for the kill should be a fantastic experience.
modDB.com: Explain how the player classes will work and why I should be one over the other in your opinion?
Chris: We've attempted to make them fairly balanced, so it all comes down to your own play style - the SMG Marine is faster, with better accuracy at range and more ammunition but the shotgun marine packs more punch, though moves slower. If you want to hose a level down, go for the SMG, but if you feel like being surgical, take the shotgun!
Keith: I find my weapon of choice changes depending on the level im on. The more tight corridor levels demand a shotgun, no 617 can evade a tight corridor of buckshot! However, on the more open levels the SMG is the way to go.
John: Nothing beats blowing the Hidden out of the air with the shotgun as he pounces towards you, knife aimed at your throat!
modDB.com: How is the damage system in The Hidden?
Chris: The SMG takes the hidden down in 4 - 5 shots, the shotgun does it in 2, while the pistol takes 5 - 6. The hidden's knife does nearly 40 a strike in the quick primary fire and something like 2500 in a charged-up secondary, while his grenades generally do 90 or so when up close. We like to think that we have given the hidden a fair chance against a single marine, but made it more challenging against 2 or more, concentrated fire is often the best way to take down a hidden that's in the midst of a group of marines and causing havoc!
modDB.com: Describe the best feature in the mod in your opinion? What should the person look for that they might miss?
Chris: The fact that's different from most other mods, it's a bit of a movie esque feel, with a single dangerous killer being hunted by a well armed group of soldiers, though by giving the players control we let them act out their own stories. Gameplay wise, it's just got to be the hidden, the play experience is completely different and quite tense, you want to make the kill but you're not sure the other marines will see you go for it.
Keith: The thing that smacks me in this mod more than any other I have played is the pure adrenaline rush when you are hunting the IRIS team down. You are managing to ghost them, you have nailed five of an eight man team in a minute, your heart is pumping and you genuinely are tense and on the edge of your seat! If a marine spins round, do you pounce out of there, wait stock still hoping he hasnt seen you or take the attack up close and personal?
John: Yeah, and from the other perspective; "Your squad mates have been picked off one-by-one, an invisible enemy on the loose. You see a friendly marine at the far end of a level, running to meet up with you, a sense of relief washes over you. A shimmer from the side and his corpse is flung into a stack of crates, as you spray your gun in his direction the walls erupt with plaster and splinters but you hit nothing, panicking, you find a corner to hide in while you nervously reload. Was that footsteps you hear behind you?" Great encounters like this happen most rounds, and the best thing is there's another human controlling the Hidden having just as much fun playing tricks with your mind!
Ed: The feeling of outwitting and 'ghosting' an entire team of IRIS marines takes some topping. The adrenaline rush from achieving this is something I rarely come across in other games.
modDB.com: For mod teams wanting to start a Half-Life2 mod what advice would you give?
Chris: Be very sure that you've got the time, patience and team to get the mod done, I've seen lots of mods post up renders and concept sketches but then fade into obscurity (Boxy has been on such a team). Get an original idea that isn't another CSS rehash (unless you reckon you can bring something truly new to the concept), get the design down on paper and talk it over with the team, never have just a single ideas man - but have a man that knows when to say 'no' to ideas when they get out of hand! Basically, start simple and build up to the next CSS!
Keith: Not much to add, be sure you are absolutely sure of your idea and that you can follow through with everything that not just you, but what the community, wants as well. You must have staying power. Its the same with mapping, textures, code, everyone can start it, its finishing thats hard!
In terms of bringing it to HL2 and the Source Engine, while powerful, this engine is NOT the easiest to get along with, it is difficult to learn and even more so to master. If you can get through all this, the gripes and pain, people smacking your work down that you spent weeks makeing and still get back up, you're probably better than me and good to start a mod!
John: When you find yourself stuck on a problem which you just can't fix, be sure to ask for help from other Mod teams, it's likely that someone else has already figured it out and will be willing to help.
Ed: The same goes for starting a mod in any engine, and Source has its fair share of pros and cons. As long as you have the talent and will to succeed, and an idea thats exciting and different (there are far too many CounterStrike clones being concieved and binned every week), you should be be able to make something special, no matter what technology you base it on.