What is Headcrab Frenzy?
Headcrab Frenzy is a dynamic action game which allows you to quench a desire to destroy these little bouncy critters to your heart's content, hold records and try your hand at cooperative gameplay, competing in public statistics. Two game modes, four maps, several headcrab types and gradually increasing "frenzy" scale which can be periodically vent - that's the crux of the mod. Is it casual? There is no doubt. But that's not so simple. To achieve high results and score more points you'll have to resort to various tricks: make combos, ensnare headcrabs, use power-ups (there are four in the game), and prevent other players from scoring, pushing them away by a secondary attack of your crowbar. Each map has its own tricks. By discovering them, you'll find out more ways to get high scores and take the first place in tournament tables!
What's new in version 1.4?
Version 1.4 is a serious rework of previous versions with lots of alterations and improvements.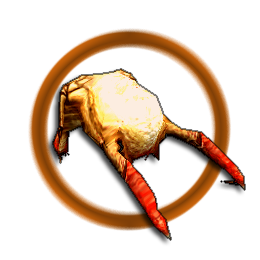 Three new headcrab types: ice, electric, and hallucinogenic. Ice headcrab slows a player down ("freezes" him) - the former effect of a poisonous headcrab (which now adds a screen rolling effect). Electric headcrab has a passive range ability of attacking all the players by a lightning discharge. Hallucinogenic headcrab makes players experience hallucinations for 10 seconds (do you remember TFC?)
Secondary attack of the crowbar now gives more frenzy points depending on its upgrade status (upgrage is automatic). Besides, the secondary attack allows to push away headcrabs and, the more important thing, other players! Use this ability to kick your parties away from hitting the high spots if they score too much. But don't forget about the team score.
Added an ability to control statinary turrets, introduced on a new map, hcf_range.
New power-up - Lightning – while attacking, the crowbar (or turret) periodically makes an electric discharge to the nearest target. The discharge has chain effect stacking up to 8 targets.
Health regeneration now depends on player speed that prompts to run around the map and not "camping".
Disbalance of the Invisibility power-up was obvious - headcrabs ignored the player and prevented to score. Now they still chase the player - but don't attack.
Added in-game monitors with creeping lines displaying an actual information about the match.
With a server time limit set, players see a HUD timer in the top left corner of the screen.
Network code was seriously optimized for the internet gameplay (traffic is now about two times less).
Also lots of minor fixes and balance tweaks.
New amazing graphics!
A new mod from the author of Half-Life FX, and no graphic enhancements? This seems to be impossible, especially in 2014! Most of these effects work under native Half-Life renderers: Software, OpenGL, and Direct3D (in an obsolete WON version).
Support of high-resolution textures and decals (OpenGL, Direct3D).
Texture scripts introducing such effects as shiny glass and ducts, swaying flags, etc. (OpenGL, Direct3D).
Automatic glare effect for light sources - bloom analog (Software, OpenGL, Direct3D).
Dynamic 3D text rendering in creeping lines (Software, OpenGL, Direct3D).
Procedural water similar to that in a software renderer (OpenGL).
Screen-space raytraced reflections (SSRR) - popular modern effect, requires a video card with shader version 3.0 or higher (OpenGL).
Also, explosions and blood effects were slightly improved.
Linux support
There is full Linux support! You can play Headcrab Frenzy under Linux if you have a native Linux version of Half-Life. The mod was tested under Ubuntu 12.04 LTS and ran perfectly. Well, Headcrab Frenzy is now officially cross-platform.
Official server
You can play on the official Headcrab Frenzy internet server. Address is: volatile3d.ru (HL 1.1.2.2/48+VAC).
Results of matches completed are published on the statistics page.
What's next?
We are very interested in and grateful for any user comments and opinions regarding Headcrab Frenzy. If you have any suggestions, bug reports, or general comments about it, don't hesitate to post them on our ModDB Profile page. And, if you would like to see this mod on Greenlight... let us know!