[page=The Ego & The Superego]
Throughout history of man, entertainment and happiness is what keeps us alive. It's what keeps the games and mod community alive. New ideas and new concepts emerge from our minds, and most of us people stick to Freud's theory on egos and superegos in game development. Of course, the ego and the superego is what keeps us in balance and in key with reality. Most games today are under strict order, we know what we want, and we do what we want under supervision of society. There are those who assert that game development is controlled by the ego and the superego, however, the Hammy-Bob mod is clearly created by Freud's theory of the id.
[page=The id]
There are two types of people... An Apollonian,a character described with harmony and clarity and a Dionysian, a person who is part of an irrational or an unbalanced nature. Both are an impact to the world because we are the people. A few years ago i met a dionysian who portrayed the image of little importance, but in reality he has been someone who has caused a blow out to the mod community in style and feelings. Mod creator and developer Hammy-Bob chats with moddb about his id to express his delirious and disturbed ideas from his dionysian mind.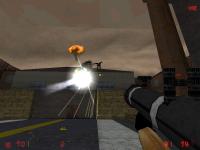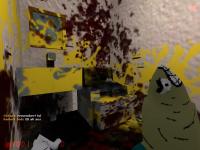 modDB: It's been quite a number of years since our last discussion on ze Hammy Bob mod, how do you feel about the previous releases?
Beandip. I thought beta 2 was the best version of hbm yet. The only thing that went wrong was no one ever really played it online a week after the release.
modDB: HBM 3.1337 is soon on it's way, do you feel this version will safely conclude the half-life 1 version of the mod? What kind of features can our cuddly/soft community have access to in 3.1337?
Yes, HBM 3.1337, I feel will be the perfect way to go out. HBM 3.1337 has more fixes than new features, I really want this final version to be even more enjoyable and have less bugs.
modDB: About how long have the tools been used to craft this... angelic mod?
Well Kevin and I, back in 1948 started building a raft and the rest is history, really though work started on HBM 3.1337 just about a month after the release of Beta 2.
"HBM 3.1337, I feel will be the perfect way to go out."
modDB: As a reminder to the festive crowd... about how many models and maps are there in total?
There is a total of 309 player models/skins and about 200 maps, including the hbm xmas 1 and 2 maps.
modDB: I remember speaking to you oh so long ago before Half-Life 2 was released. You definitely were not looking forward to this game, but now that it's been out for months what are your impressions?
I really like the game (I still like Half-Life 1 a lot more) and I think if can get the right team I could really make HBM 2 a great mod using the HL 2 engine. Also I bet if HL 2 had a microwave that chased people into a giant chair shaped like a hat it might be the best game ever.
modDB: What ways would you make use of half-life 2's technology? We know nacho cheese acid fluids are on the list...
Giant Guinea pigs, swan boats with machine guns, microwaves, etc, etc the the list just keeps on going.
modDB: Have you ever thought of starting a franchise with HBM? perhaps a Hammy Bob MMORPG? If so, would you charge a monthly fee?
Yes The knights of Tim-Jim, bears, chairs, cheese and apple Ted. It would involve trying to eat the most cheese you can before the other players finds the golden apple. It'd probably be $280 for the first five seconds and $900 for the rest of your life.
"There is a total of 309 player models/skins and about 200 maps"
modDB: I'll keep my eyes out for the children.... So what seperates Hammy Bob from the quickly childbearing comical mods slowing popping out?
Well HBM just has a distinct look and sound that no other mod has really matched yet, or they don't want to match it! How many other mods do you play that have a sound that plays that says TURNING ON MY FLASHLIGHT! When you turn on your flashlight? FROGGY I WANT CHAIR.
modDB: How has the community been involved with the mod?
Lately with 3.1337 announced we have had a lot of people asking to help out with the mod which makes me very happy. I would love for more people to get involved with the version to help make it the best HBM version it can possibly be.
"I got sick of seeing the same mods made over and over again."
modDB: Does that include hiring a chef?
Yes hopefully the Tim-Jim Cakes will hit the stores soon. What kid wouldn't want a big Tim-Jim face on his birthday cake? It would be the perfect way to give them nightmares for years!
modDB: I had a nightmare that Tim Jim, often known as "the one", will be kept hidden from this mod, is this true?
NEVER!!!! Tim-Jim is the star of the mod and will always be around to sell chairs to bears!
modDB: In these past years, what has driven you to create this maladjusted mod?
I got sick of seeing the same mods made over and over again. I'm sorry but I really couldn't go through with making a mod about Ted the counter-terrorist hunting down Billy the terrorist because Billy once farted on Ted's car for the heck of it.
modDB: When can we see HBM 3.1337 released?
Nothing is final yet but I really want to get it out on the normal HBM release date July 15th. Also I know this has nothing to do with the question but I thought it would be nice to let people know HBM will be three years old July 15th.
"You very rarely hear about a funny game being made by a big company."
modDB: So on the 15th shall we celebrate with some malt liquor?
No, just crushed up cake with water mixed into it to make it drinkable.
modDB: What mods profiled in the moddb community are you interested in seeing released? Why?
I really want to see SDBC2: Canned Theft Auto finished, and Trench Warfare. Those are probably the two I keeping my eye on the most. SDBC2: Canned Theft Auto Just sounds like fun to me and plus I love the way stuffie makes it all look. It just has its own distinct art style like HBM. Trench Warfare just really shows how far Wolf 3d can be pushed. Slyus is doing a really good job with it and I hope he gets it finished someday.
modDB: what would you like to see in the future of games?
I would like to see more developers give up creating thing over and over again and trashing out gameplay for stunning visuals. Also where are all the comical games in the gaming industry? You very rarely hear about a funny game being made by a big company :(!
modDB: Thanks for joining me in this touching interview hammy, for all the folks out there, keep your eyes buldging out for a possible release of hammy bob and it's birthday!
Thank you and remember kids if Tim-Jim ever offers you a golden desk lamp just look at him and say, "NO I DON'T LIKE IT WHEN YOU SCREAM APPLES OK!?!!"