[page=Introduction]
Ready for some fun? Some Laughs? Some ACTION? Can you handle that all at once? If you can, Hammy-Bob is the mod to play.
Hammy-Bob is the best comical mod for Half-life you can find today! Why is it funny? What makes it so fun? Read this Review and FIND OUT!!!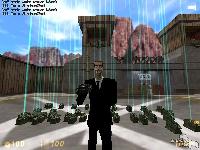 [page=The Game]
Hammy-Bob is a fantasic fun mod for anyone who wants to get away from realism and Counter Strike clones. Some of you are thinking,"NO REALISM DOES IT ALL!"
I'm sorry to say but your wrong. Hammy-Bob will definitely make you laugh really HARD while playing. Everything is original and is a piece of art, sorta.
Now you gotta keep reading!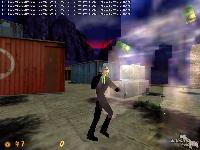 [page=The Visuals]
The graphics in Hammy-Bob really give you the comical feel. Characters, Weapon skins, AND sprites are almost ALL replaced! The characters look very great. Tim Jim,
The Hammy-Bob mascot gives you the idea of what Hammy-Bob is gonna be like right away. So wacked mod! Tim Jim is the G-Man with a replaced face that makes him attractive.
That's right attractive! Just kidding, but hey, it looks awesome! There are more characters too! More characters calls for more Tim Jim looking things! Different Hairstyles and all!
Characters aren't the only thing wacked about this mod. The weaponary is pretty fine designed. Each is quite bizzare. What do i mean by bizzare? Well heres one quick idea, not half as bizzare as most of them.
The crowbar is just your ordinary crowbar...EXCEPT WITH A SCIENTIST HEAD ON IT!
muahahaha! Ok I'm done.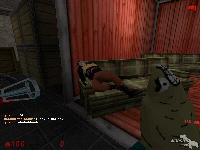 [page=The Sounds]
The Sound effects in Hammy-Bob are all originally created, the strange sounds you hear are from the crazy designer of the mod. What kind of sounds do you hear?
Sounds I cannot describe. The only way to tell for yourself is to download the mod for yourself! Strange screaming sounds, thats all i can say. Grab the mod to
hear them!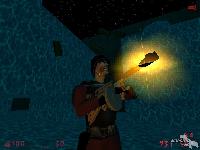 [page=The Gameplay]
Hammy-Bob unfortunately has only one gameplay mode, which is the downside for me. The game mode is Deathmatch. Not much to say about it, but its always fun
playing deathmatch with laughs!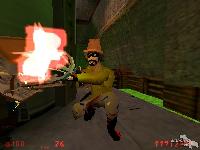 [page=Final Word]
hammy-bob is for nearly anyone, from the Counter-Strike junkie, to the mod newbie. However, if you are heavy into realism mods, you
may not like hammy-bob's aproach to gameplay. But, I suggest you download it and give it a try anyway. With Beta 2 on the way, what
more can come from the minds of hammy-bob's team? Also this review goes to ShortCutMan for his great submission!