Reclaimers! Some of you may have already bumped into me during my short tenure here, but for the uninitiated: I am SpaceBat. I have been tasked with composing a complete soundtrack for Sins of the Prophets, editing and modulating voice performances for certain ship classes in the mod, as well as sprinkling in some spicy sound effects for fun (The new SMAC round was done by yours truly, created by banging a few drums together… no seriously). Apparently I'm getting the floor all to myself this week for a community update as things start to ramp up over here, so I'm gonna give you a good rundown on who I am, what I do and how I do it, while also not occupying too much of anyone's time.
I started writing music about 10 years ago in High School as a side project. I was initially interested in film editing and camera technology. I got my CTAE certification for Film and Audio when I graduated, and attended college for Audio Engineering. I started writing music right around the same time as a response to my significant other saying it was a waste of time, but I was determined to succeed if for no other reasons than out of spite. Since then, I've spent nearly half my life composing for my own personal development, and selling it as easy listening music under the name Audio Arcturia. That name will grow more familiar over my time on the project, as Audio Arcturia will be the name under which the music for Sins of the Prophets will be published.
I was brought onto the mod team just shy of a year ago, last August. In case anyone reading this has attempted to reach out to either Unikraken or another developer for assistance or to offer your services, I'm living proof that Uni doesn't read his email.

I jokingly commented on a post the SOTP Facebook page made about hypothetical game development, saying that if they ever consider making a game of their own, they should hire me. So the moderator responded right away saying "Send us examples". Which I did. That day. I composed Reclaimer Spirit, which was largely inspired by the overture from the Halo 3 song Luck. I figured it would get their attention, and it did… sort of. It would take nearly two months before they would get back to me in an "oh my god I forgot I left the stove on" moment.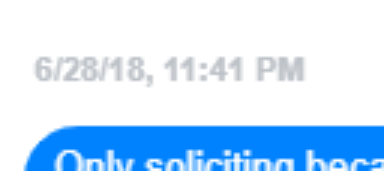 Look at those timestamps!
And that was all she wrote. Since then I've been hammering away on the keys composing something I feel suits the Halo universe best, while also being unique and capturing the essence and vastness of space. I once joked that I'd rather chew glass than ever compose music for the Halo Universe, and not because I don't love it. It's the reason I'm composing today. The soundtrack to Halo 3 was my symphonic awakening. The problem is that it's such a huge standard to live up to, in a fandom where judgement comes swiftly and harshly. Those are things I'm still unsure I can manage. But here I am, introducing myself in the hopes you're as excited as I am about a special sound being made for a mod loved by thousands.
The music I'm doing for the mod is being composed with a couple things in mind: it needs to have moments that are worth listening to independent from the game, moments that are perfect ambiance for the downtime during game-play, and plenty of music for the tense moments. I think I've found the perfect sound for all of these things, which pay homage to the games of the past, and looks to the future. There's a couple Easter eggs in some of the songs that some very keen listeners and halo scholars might appreciate (like a Sangheili choir that was translated to the best of our scholar's abilities), and a few melodies which were borrowed briefly for effect from previous titles.
For the rest of you wondering what happens to the original soundtrack that was made for the mod a few years ago: it is being preserved in a way that pays proper respect to the original composer as well as fans of the previous soundtrack. Some songs will remain in the mod, others won't, but it certainly won't be left to rot in some folder somewhere, and I encourage you to save the files yourself if you're at all interested in holding onto it.
I'm very much interested in sticking it out for as long as possible, and will continue to provide music for the mod for as long as the well is providing, or until such a time as the project is complete. Should you run into me in the discord or elsewhere in the community, don't be shy. I'm always happy to receive feedback and discuss why Halo 5's soundtrack was the superior one and everyone else is wrong.
-SpaceBat <3