Hey guys, Freno again.
It's been too long since our last update, so I'm going to make this a juicy one to make up for it.
So, straight to business: Our Beta test was a huge success. Thanks to all our testers, as without their help, we wouldn't have hunted out all our bugs and finally got that crucial balance factor implemented. That said, it's not like the only thing they did was work. We got many reports and a lot of feedback about how fun and interesting the gameplay was, along with more than a few happy comments just for being able to play it. It has assisted progress in many ways, and we're finally able to say that Covenant ships aren't as tough as they're cracked up to be. If you didn't make this one, don't panic, as chances are we're going to have another beta before the official release. Moving on…
It's been floating around our forums for a while now, but now we're going to officially announce it… Halo: First Offensive is going to release a public demo!
Yup, we've finally confirmed it. It's not like us to give away any concrete information though, so a release date is still sketchy at the moment. Things we can promise -
- The demo will give you a taste of the space gameplay we've implemented so far.
- Both the Covenant and the UNSC will be playable.
- A selection of ships will be playable.
- There will be no heroes at this stage.
- Everything in this update is subject to change without warning.
Moving on, we've now got a completely finalised rival for the Seraph; The C709 Longsword-class Interceptor. Our updated skin was created by our new skinner, Kalo Shin. The Longsword is the main fighter the UNSC use to fight back the Covenant in space, and used for bombing runs on ground engagements. In most respects the Longsword is an equal counterpart to the Seraph (which we detailed in our last update), although some Longsword squadrons are armed with a Shiva tactical warhead which can make even the most powerful Covenant ships think twice.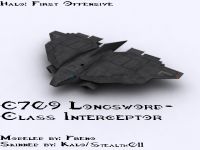 The other piece of hardware we have to show today is the Master Chief himself. Modeled by myself, Skinned by Kalo Shin and animated by Codeuser, the Master Chief has undergone a few changes. He is now primarily armed with a Battle Rifle, but he is able to be armed with many weapons through upgrades. The Master Chief is (as most of you know) the hero of the UNSC forces; using the Spartan-II technologies the Master Chief may be humanities final hope.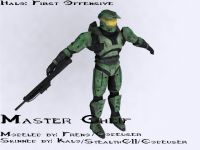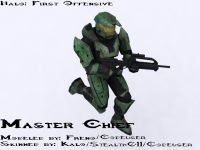 Well, that's about it for now. Sincere apologies for the lack of updates, but there's been so much work going on lately it's hard to document. Rest assured, the 30 minutes that would usually be spent writing an update was spent on making this mod better and more enjoyable to play. 'till next update then, I guess.
Adios,
Freno
Z7.invisionfree.com