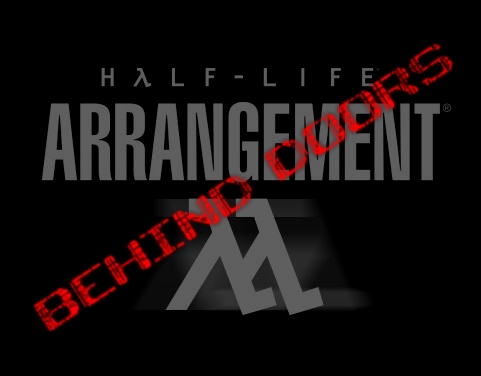 Almost like a month ago I wrote a line saying "project behind doors" and I provided a link to the forums that explains the reasons why I have decided that. I haven't written anything about that here and that's exactly I am going to do.
This mod is going behind doors. That means the development process won't be public no more.
The reasons why I have come up with this are so many. The first one is saving time even for you and us. There's no reasons to keep adding cool screenshots and prhases like "we are going to release a... (whatever)". That's an abuse for you people. Seriously, we don't need you to stick around our mod for being popular or whatever. We aren't doing this because we want to be recognized as a bunch of cool developers... or because we want to enter on game's industry profesionally (well, personally I have done that already). We are doing this because we love it and we like it. There's no any other reason.
You, as a guy who play Half-Life mods, want facts. Cool media is not what you want. We, as developers, know that adding media is useful to get your attention. But the question is why we need your attention? To give you promises and make you wait and wait and wait? That's not cool for us.
This mod is big because of you guys. A lot of new features has been added because of you as well. Remember the old times when you did a suggestion and put my hands to work to become it real? That was awesome but now I am afraid I can't keep going with that. Now we are really... I mean REALLY focused to finish the game. That's why I can't keep listening no more suggestions. Adding 'em requieres a lot of time. More than you can imagine.
I've worked hard to try to convince any one of you... keeping in mind how the game is supposed to be. Say no it's hard because there's a fail sense of "if you don't listen the people, the people won't listen you". That was the way I thought and that was the reason why I've done a lot of mistakes.
I know it's hard to understand and I know a lot of people won't make something like I am doing. Most of the Mods developers want to be recognized and want exposure but I think that doesn't make a good game, a good story. Mod's development isn't all about that. Developers should focus on what matter. If you do so, the people will thank you. Hope I can explain myself.
I'd like to keep this short so that I'll only say that I thank you everyone of you. I'm really happy with this mod and I'm proud to meet all the communities around the world who gave us nice suggestions and comments.
Be sure this mod is on development and it will be until it's 100% done. I can't close this project... I don't know why but I can't. This mod's development is giving me a lot of smileys every minute :)
Also, I want to thank the people who are joining on the forums. We have a cool growing community that can help you in a lot of ways. There is a Show Room section in where I and the users post WIPs. However what we working on is private and won't see anything more than pictures. Here's the link: Am.half-lifecreations.com

This mod will be archived in a few days. Time enough to get this new spread.
That's all!
See you guys... when Am it's released ;)