Now I would like to show you a sketch from one of our maps called Fish Factory made by Belle.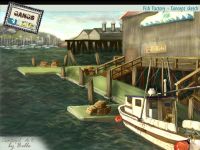 Here is a short description of what they have to do.
The Bandas discovered that the Mafia have a headquarter where they export drugs and do other money making activities. The Bandas have to infiltrate this building and steal plans with all their routes where they export to on it. They have to escape with the documents in a boat and go to the other side of a lake and then they have to escape by plane.
Stay tuned for more updates!
Greetings PytoX,
Leader of Gangs4Life