Hey watchers,
Been a while(AGAIN!!!) since the last update, things have been slow at least for me..
2 reasons:
1. Left4Dead demo OMGWTFROXXORMAHSOXXOR
2. Annoying something that I still haven't fixed in almost a months work, so I'm basically stuck on the programming of the mod for the moment.
regardless, Nauz has been hard at work and produced another grenade model.
I wanted a sail as pin on a grenade to symbolise wind... he wanted a boat.
It turned out to be a sailboat grenade!
see the picture: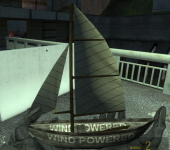 This grenade's primary will throw the "grenade" as a timed grenade that release a wind gust that pushes away objects(and probably players to), the secondry will thrown the "grenade" as a contact grenade which releases a smaller wind gust that only affects smaller objects(such as other grenades, making it an anti grenade defense)
Recruiting additional level designer:
Alt' hasn't been able to map anything good in some time now, while OutPost is an awesome map it's hard from him to simply come up with another awesome map.
Therefore we decided to recruit an additional level designer to the team.
Mapping skills have to be of decent quality(but not supertastic) and you must show previous examples of your work if you want to be recruited into the team.
One great quality would be if you can think up of less conventional maps.
Alt' takes up a approach of more realistic maps, but FragOut is a very arcadey unrealistic style mod so basically anything is possible, so while OutPost works for FragOut, I would be wanting to see more imaginitve maps, such as maps with holes into walls through which grenades can be thrown, and other features that improve grenade throwing gameplay.... In a realistic map this would be hard to do without making it seem less realistic. You should also consider the planned teams for some release in the future are Angels and Demons, they can basically fight anywhere, so fantasy worlds are well possible and with such the amount of unique things that could be implemented is greater then with a map that has to have some amount of realism.
Should you be interested in a position as level designer on the team or if you would like to know more then please contact me by clicking "send message" around the Profile Area of the FragOut page or add the following username to your steamfriends: lordinfern0
(yeah silly username I know... don't ask me about it or me head will explode... AGAIN)
Gamemode plans?
This will 99% likely not be in the first release of FragOut but for a third gamemode I got the idea of "Capture the Object"
Quite basically it's Capture the Flag but with TWO twists:
1. The object is only on one team's base and only has to be captured once. So one team attacks, while the other defends, to help the defenders the attacking team has TEAM based lives, meaning that if someone dies the lives of the team are reduced(basically reinforcements), this means the attacking team will have to work together in order to preserve their lives while the defending team will have infinite lives
2. The object can be anything that the mapper wants it to be, it can be a flag or a chest or a elephant. The mapper chooses. The mapper will also be able to choose the weight, so they can have a lightweight elephant or really heavy feather if they choose it to be so. This allows for mappers to make a map around a specific item such as a demonic book in a demonic temple? or a chest of gold on a treasure island!
---
Anyway, nothing much more to tell for now, keep watching and stay tuned ;)
Hug's n Backstabs
DuckSauce