It's been a while since our last newspost, but don't worry, we're still active!
Most important things I have to tell is that Nauz is working on the animations of the Skull grenade and are probably gonna be done soon, the skull grenade is gonna replace the default half life 2 grenade and it's scary eyes will be sure to warn you it's coming to keel youuu.
here are some preview screenshots that were also uploaded to our images section: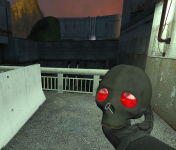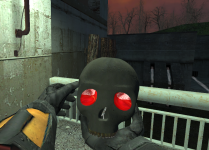 On the field of coding there hasn't been much done because I'm kinda stuck which is the reason this news post will also have a recruitment request for a coder who can assist me and maybe even take over completely if he would be able to handle it(or she)
---
Recruiting Coder/Programmer:
We're recruiting a experienced coder/programmer that knows the C++ language, no Source engine experience is required however and I myself will get you up to speed on what I've learned so far if you choose to join the team.

Requirements:
- Experience with the C++ language
- Willing to obey wishes from bossy ducks(like me)
- Keep in touch with the mod leader(the bossy duck: DuckSauce)
- No experience with the Source engine required but would be a nice plus ;)
About the team:
We're currently a 3 headed team consisting of:
DuckSauce - Mod leader and coder - Dutch
Nauz - Modeller and animator - German
Alt' - Level designer - Polish
We are happy lil bunch that now and then have long spam chats(its mostly me and Nauz though preventing each other from working xD)
We encourage enslavement especially of Polish people like Alt'... just kidding!
though Alt' does seem to consider himself treated like a slave now and then, poor thing! sometimes I'm feeling crazy enough to give him a e-hug and cheer him up.
We don't have a deadline so most of so far have been working in our own pace and usually play games in the evenings and sometimes earlier if we get to stressed out.
So take a look around our ModDB page and if you're interested then contact me by clicking Send Message in the profile window of our ModDB page.