Each of the maps in the mod will feature a 'special kit' - or two! - a kit which you can pick up from the ground by pressing 'G' (just like you would take the kit from a dead enemy). The special kits feature a weapon that will give their user a slight edge in some way, and adds to the variety. So, without further ado, here are four of the Special Weapons.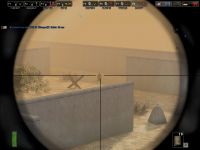 The scoped FG42 in CQB Practice is perfect for people who want to sit up in the guard towers and pick off soldiers below with quick shots. It's locked on semi-automatic and loses more accuracy when fired quickly, but the scope allows you to place your shots with deadly accuracy and kill the target before they can find cover.
What would a WWII game be without the ubiquitous M1 Garand semi-automatic rifle? The iconic weapon of US troops, you'll find one lurking somewhere on King of the Island. This is the ultimate nail driver. Good zoom capabilities and flawless accuracy make the Garand a lethal weapon for the long-range shooting in this map.
The MP40 was tested with a silencer by a select few German units. Fragfield's sound adjustments ensures that people will notice if you start letting bullets fly, as the sound carries further. If you can find the silenced MP40 somewhere in Park, however, you can cut through your enemies and they'll never hear what hit them!
A weapon tailored for the frantic pace of the map Shipment, strongly inspired by the popular Call of Duty 4 map. In a map where reflexes and speed are essential and every second counts, it pays to be ready. The StG-44 kit in this map will give you a huge edge over other players on the map. Why? Because it reloads twice as quickly, so there's less chance you'll be caught off guard!
Anyway, that's this week's update. I think I've got almost all the bugs and issues out of the mod now, so it won't be long before you'll be able to have fun with these tools of destruction yourself!