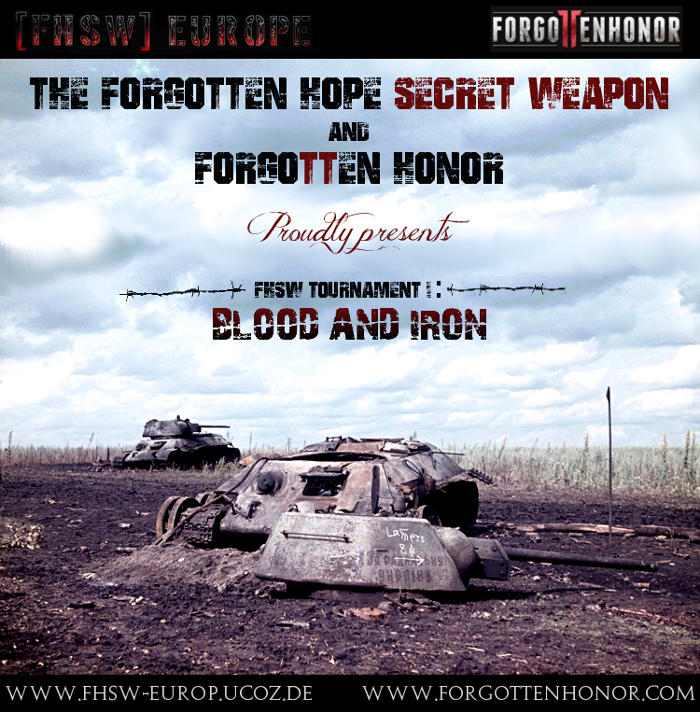 In 2014, Blood and Iron is the first FHSW Forgotten Honor Campaign!
It takes place during the ruthless material battles at the eastern front 1943-45
Forgotten Honor invites you to join the Campaign that could start a new Era!
The opposing armies are:



Forgotten Hope Secret Weapon with its unique gameplay!
Over 200 different vehicles at land, air and sea!
Over 50 hand weapons with new reload animations for all rifles, bipods for
MGs and deployable weapons like mortars and heavy machine guns!
The mod contains secret weapons, some wich you never have seen before!
Completely overhauled, more immerse sounds and effects!
New techniques: switchable ammo, tow-able AT guns, altimeter for planes, napalm & cluster bombs, bayonets and much more!
Heavily modified combat to enhance realism while not being overly complicated!
8 intense battles on the eastern front, every Saturday at 19:00 GMT
2 sides led by teamwork oriented armies employing strategies and
co-operation with promotions and rewards for your achievements.
Fighting on a full 100 player server.
New friendships with like-minded people from all over the world!
It is free, and everybody is welcome!
Forgotten Honor
has vast experience in arranging campaigns for Forgotten Hope 1&2 and many other games.It is a international community of players, created by players, run by players and maintained by players. We always strive to make the best campaigns for you, and our team of organizers are proud to announce this campaign open for sign-ups. Both the Allied and the Axis sides eagerly await your enlistment and will gladly guide you to victory. Its the first time FHSW will have a campaign. But the experience from the past, is used in this brand new campaign so we can guarantee you that the campaign will be a success and could be the beginning of a new era;
the Era of Forgotten Hope Secret Weapon
!