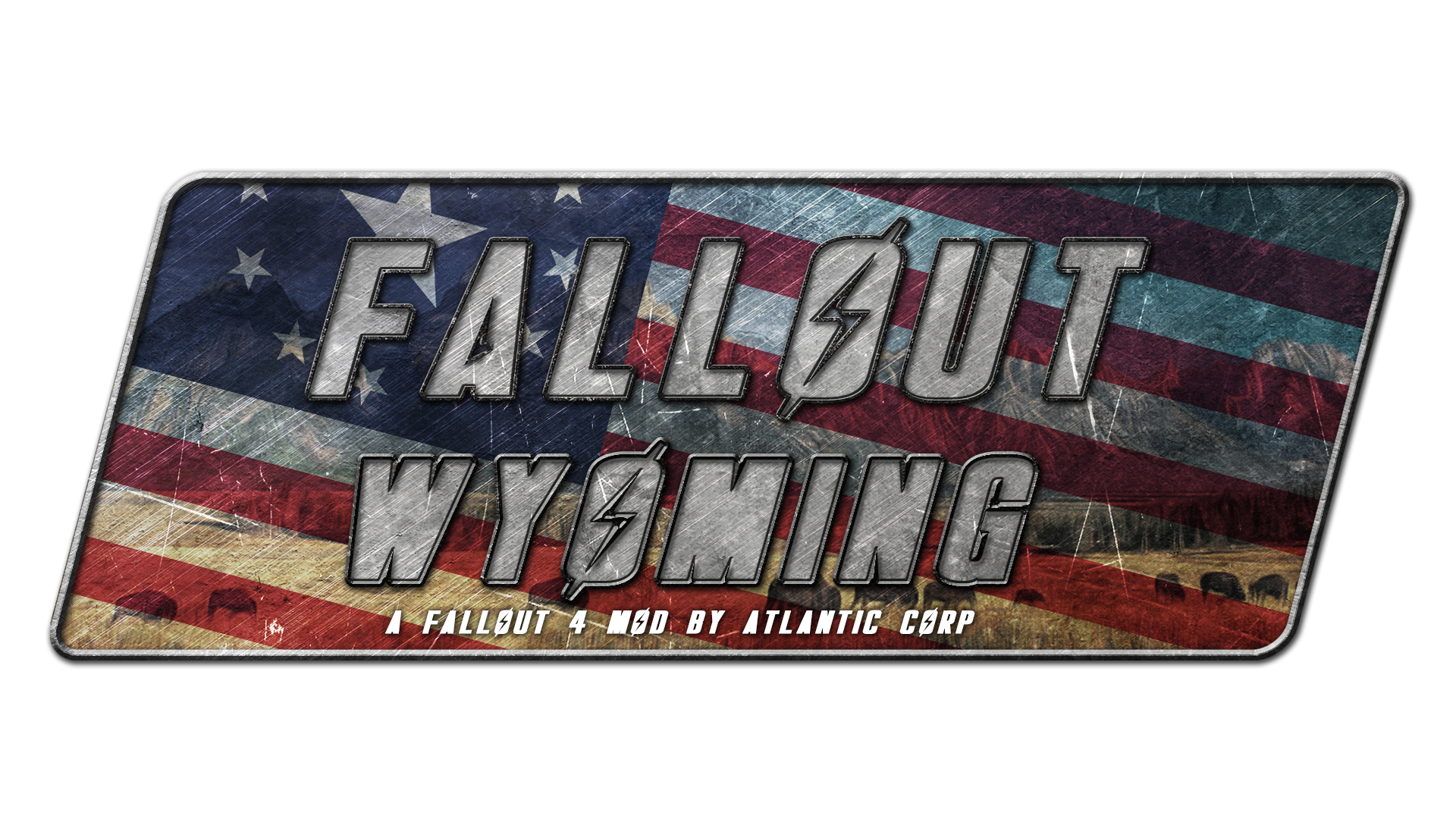 Fallout 4: Wyoming, Rise of the Great Khanate
Greetings everyone and welcome to our 2nd development blog!
It's been a little over a month since I posted this project's first development blog and at the time I was working alone, a lot has changed since then. To begin with, as of now there are almost 20 people working or having contributed to this project in some way. While this certainly sounds good, we still have many empty positions which are affecting the overall progress of the mod.
Namely, we desperately need people with experience in quest design/implementation in the Creation Kit. Whilst we have a team of talented writers, they cannot complete their work since the storyline and the quests need to be designed in accordance with what is possible with the Creation Kit. Lacking people with experience in the field of quest design/implementation means that we're unable to realistically write our story and quests. Thus if you have some experience with quests in the Creation Kit and you would like to help this project (even if it's only as an advisor: letting us know what is possible and what not) we definitely need you! So feel free to send an email at atlas1080p@gmail.com and we'll get you started!
In addition, if you're a 3d artist and you have some experience working with nifskope, the Creation Kit and implementing your custom assets into the game, we could definitely make use of your skills. We've hit a wall when it comes to importing custom assets into the game and we definitely need some help there in order to progress the mod.
But enough with talking, let's start this preview!
World Building:
Whilst a lot of talented people joined the team, in this field I still largely work alone. Over the past month, I've been working with the regions tool in order to generate a first layer of textures for the entirety of the worldspace. In order to do so, I've decided that the world should be split into three different climate areas (this determines the texture set and overall look of these areas).
The first area is the Red Desert, located at the South-Eastern quarter of the map the red desert is exactly what the name implies, a red barren desert filled with sand and rocks.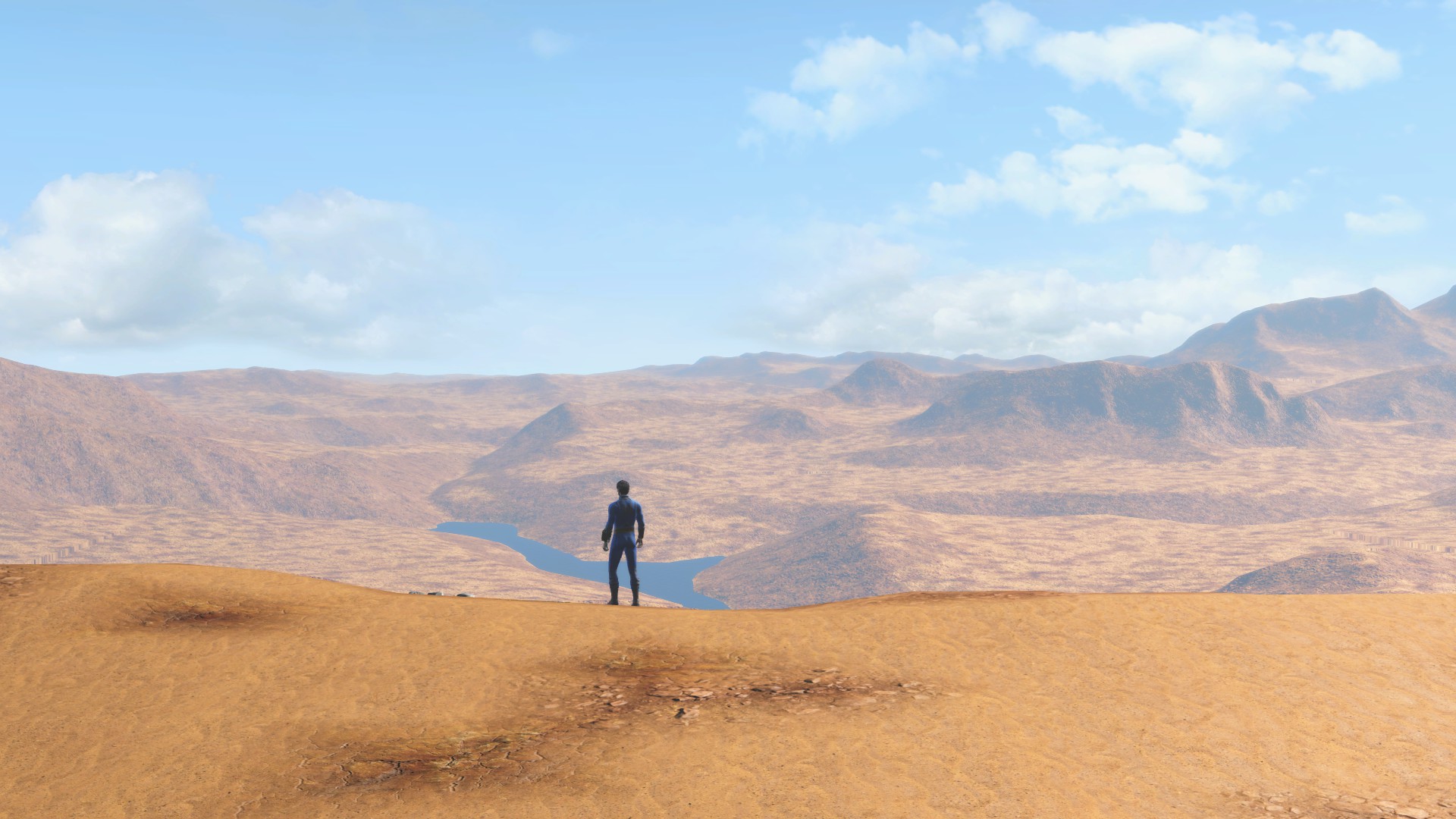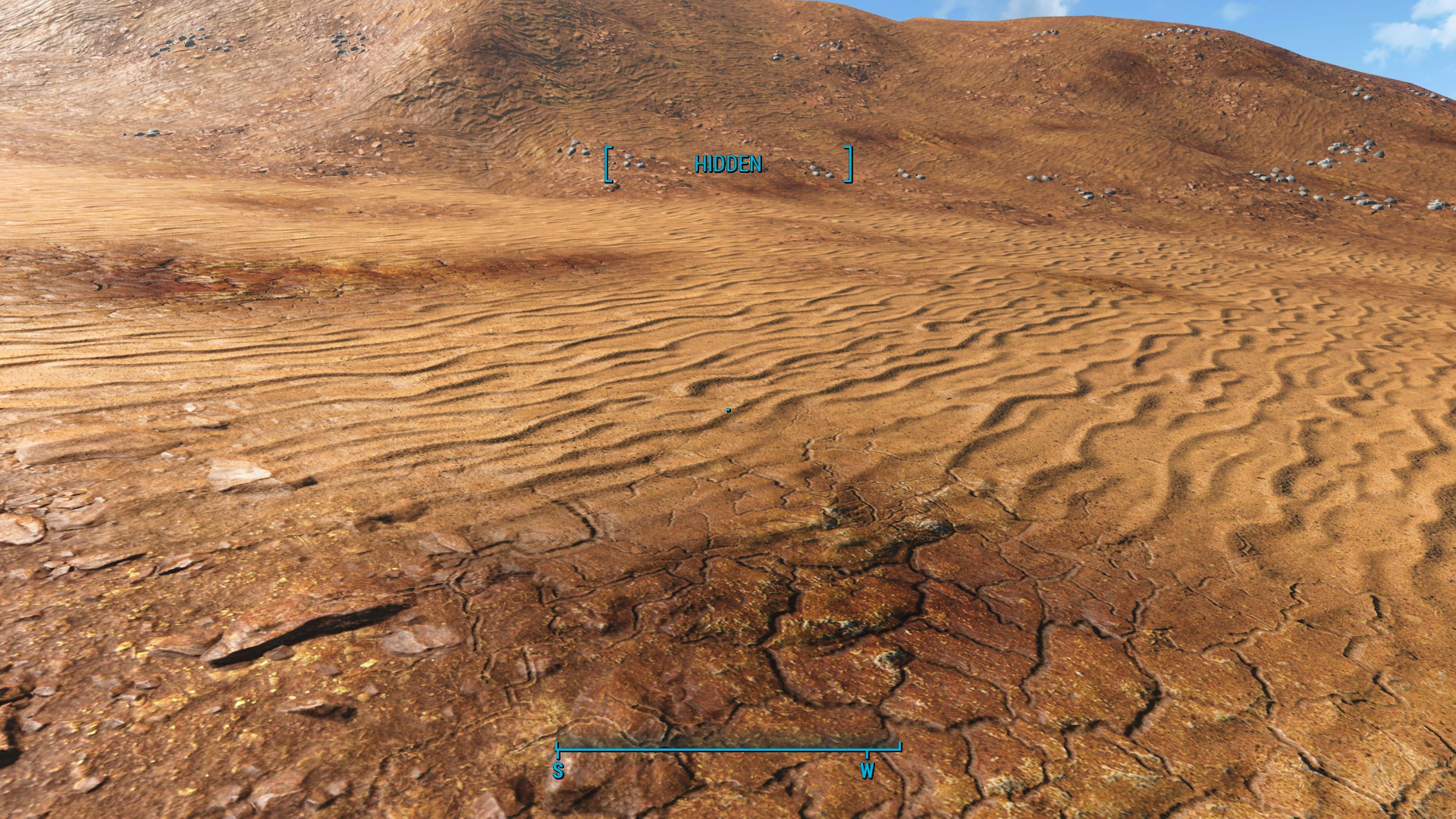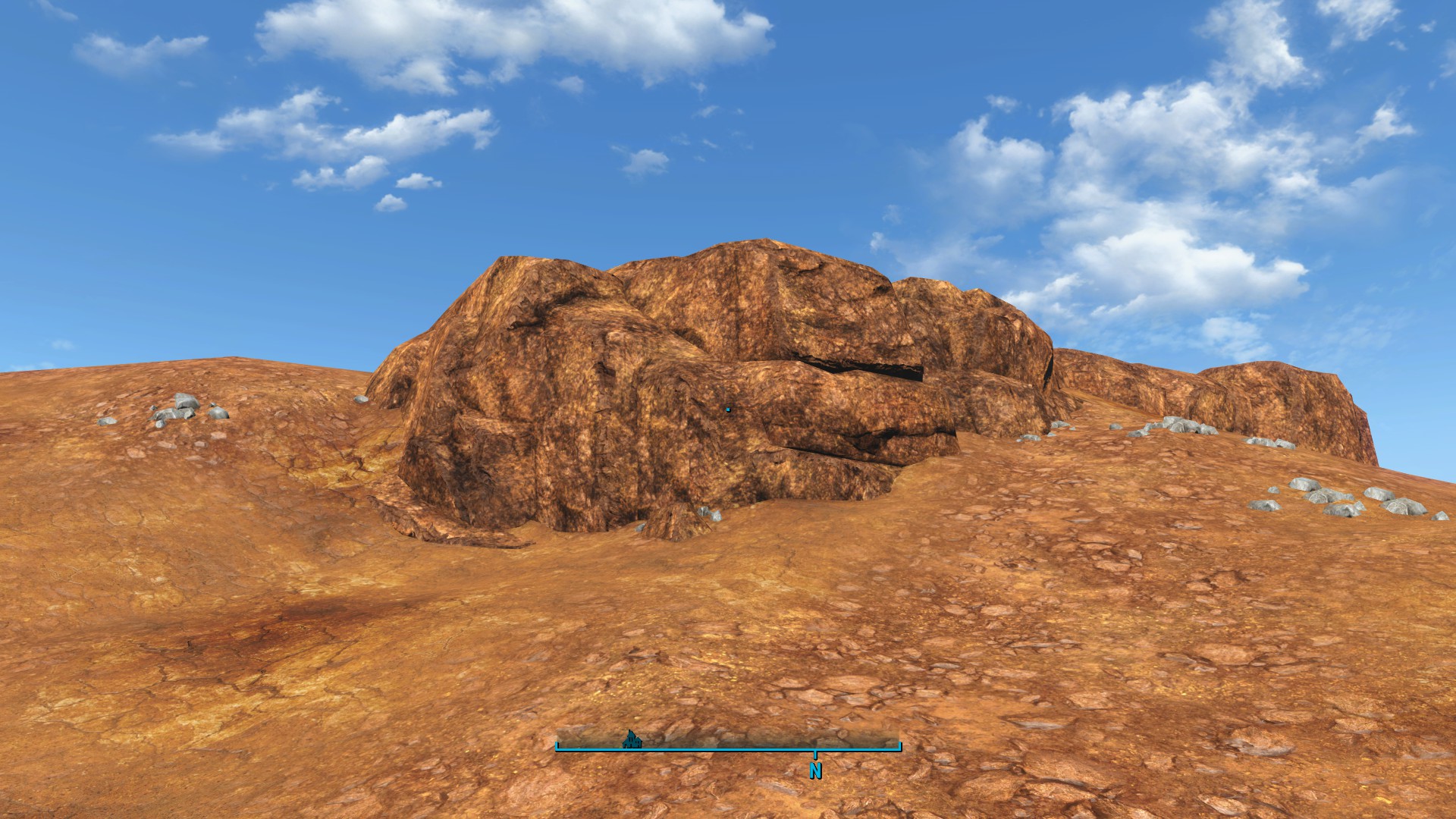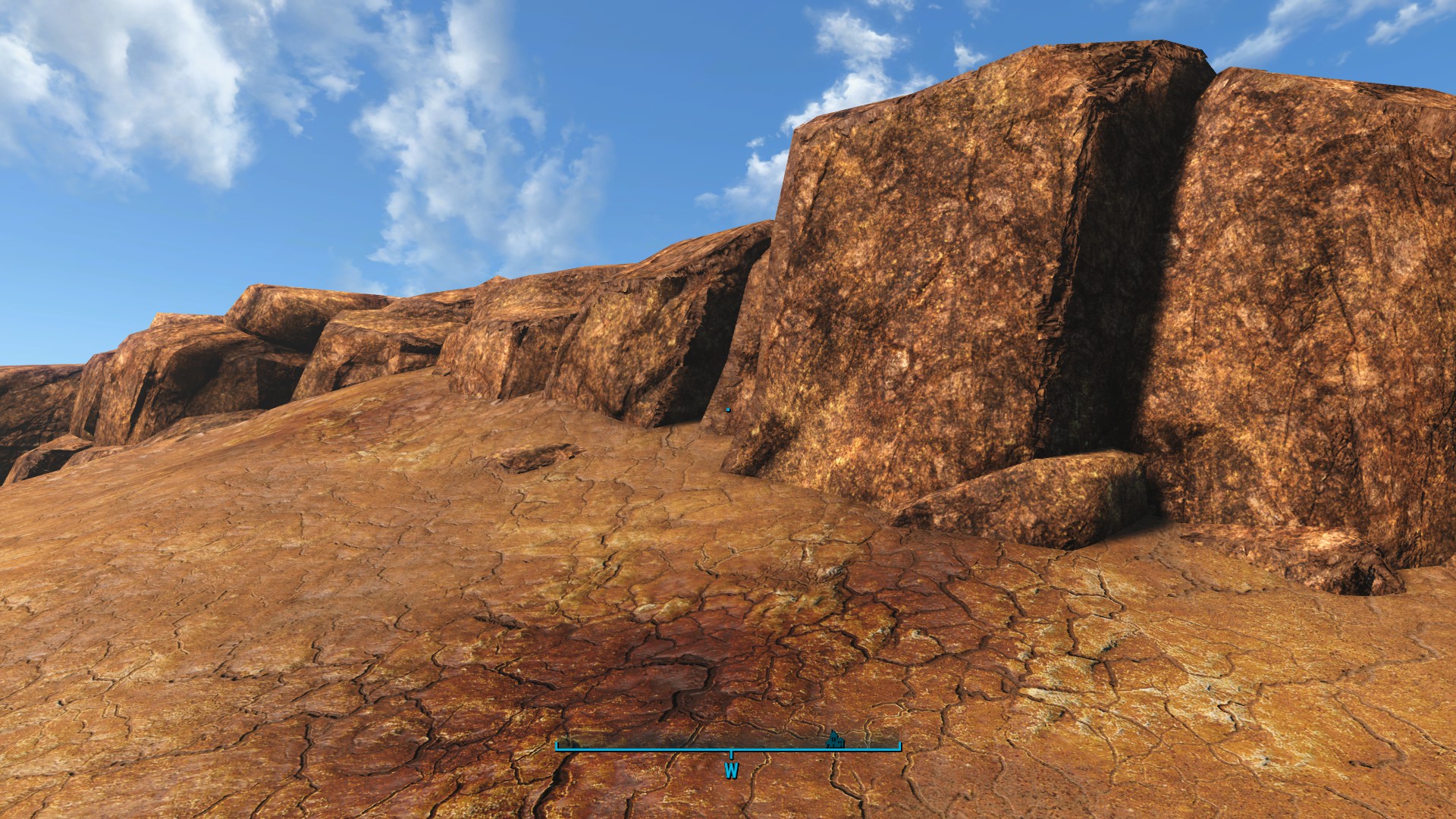 The second area is the Steppe, located at the South-Western quarter of the map, the steppe is very similar to the Red Desert in terms of the texture palette but instead of sand, it's covered with dry grass.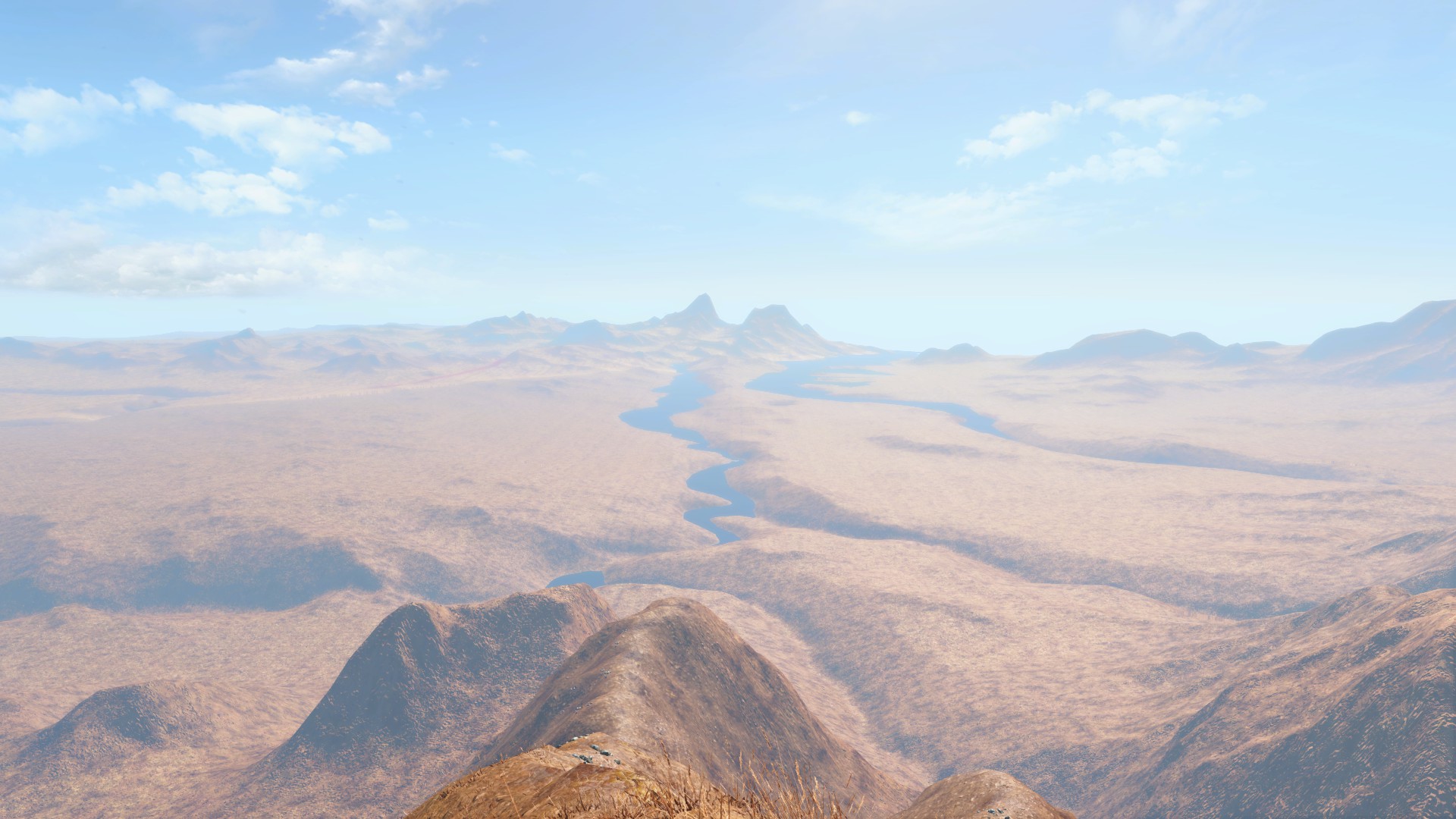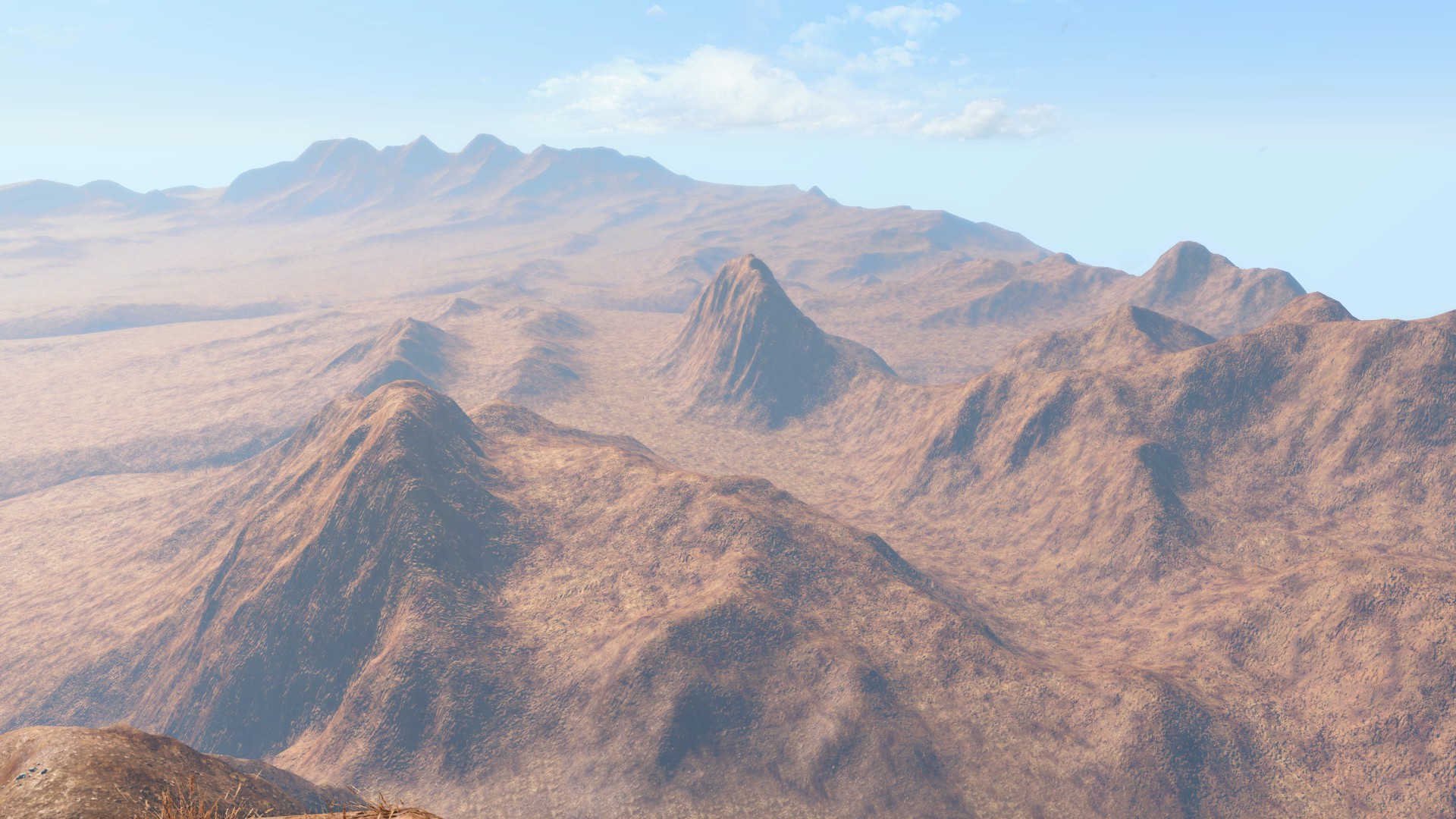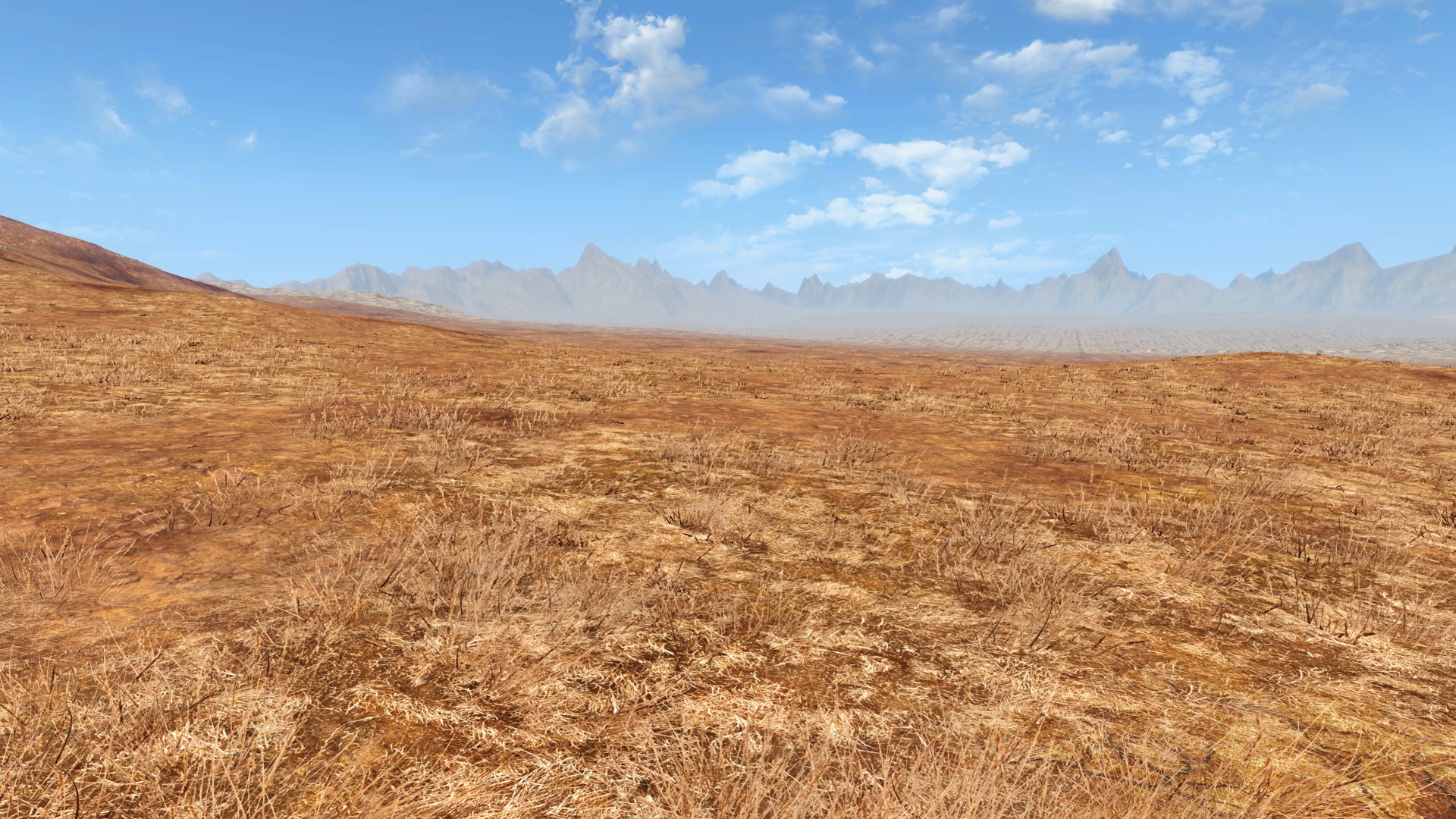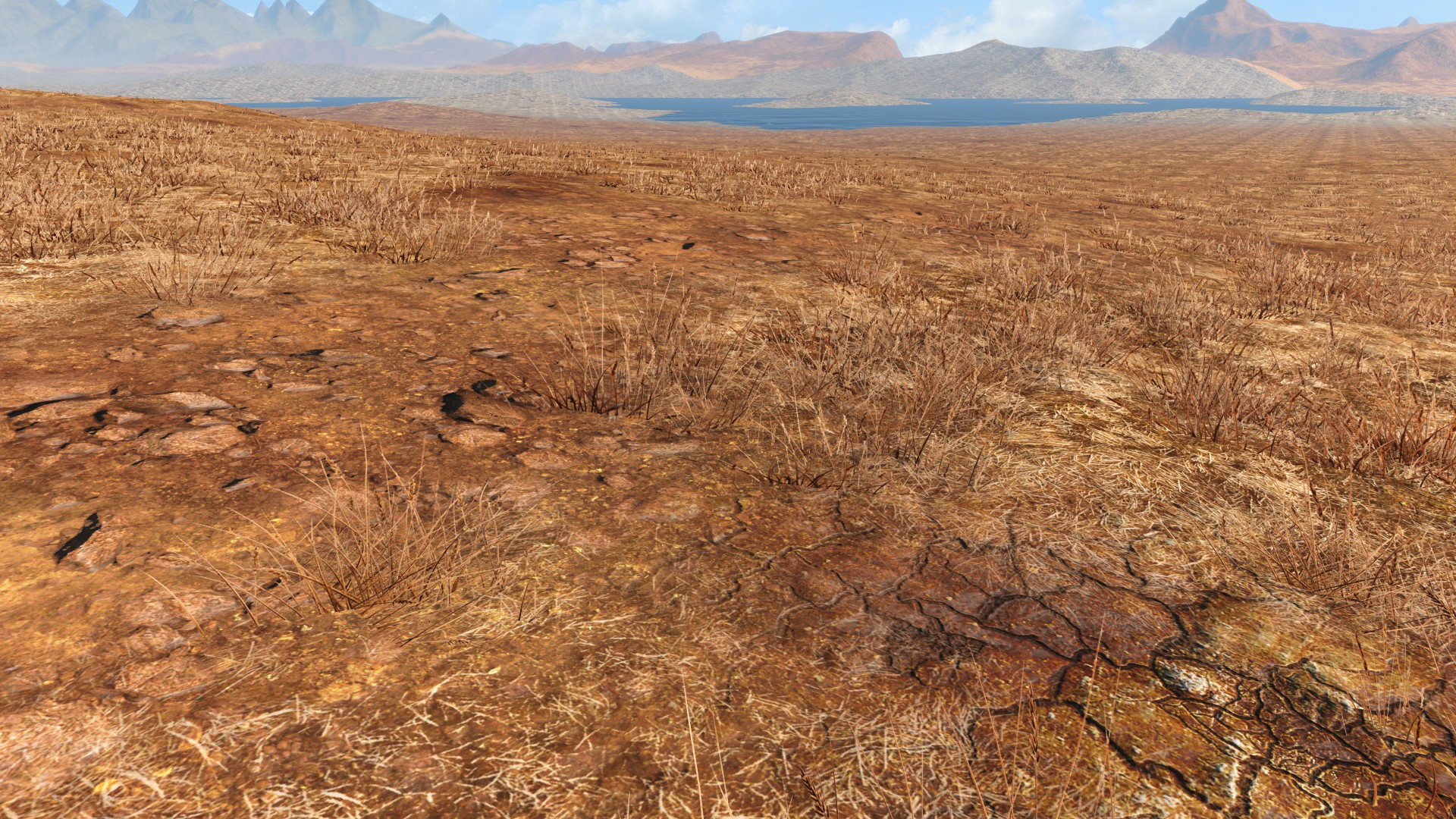 The last area is comprised by both the North-Western and North-Eastern quarters of the map. Largely mountainous, very rocky and much greener than the southern quarters, the North contains forests, rivers and it's in general much different to any place previously visited in the Fallout franchise.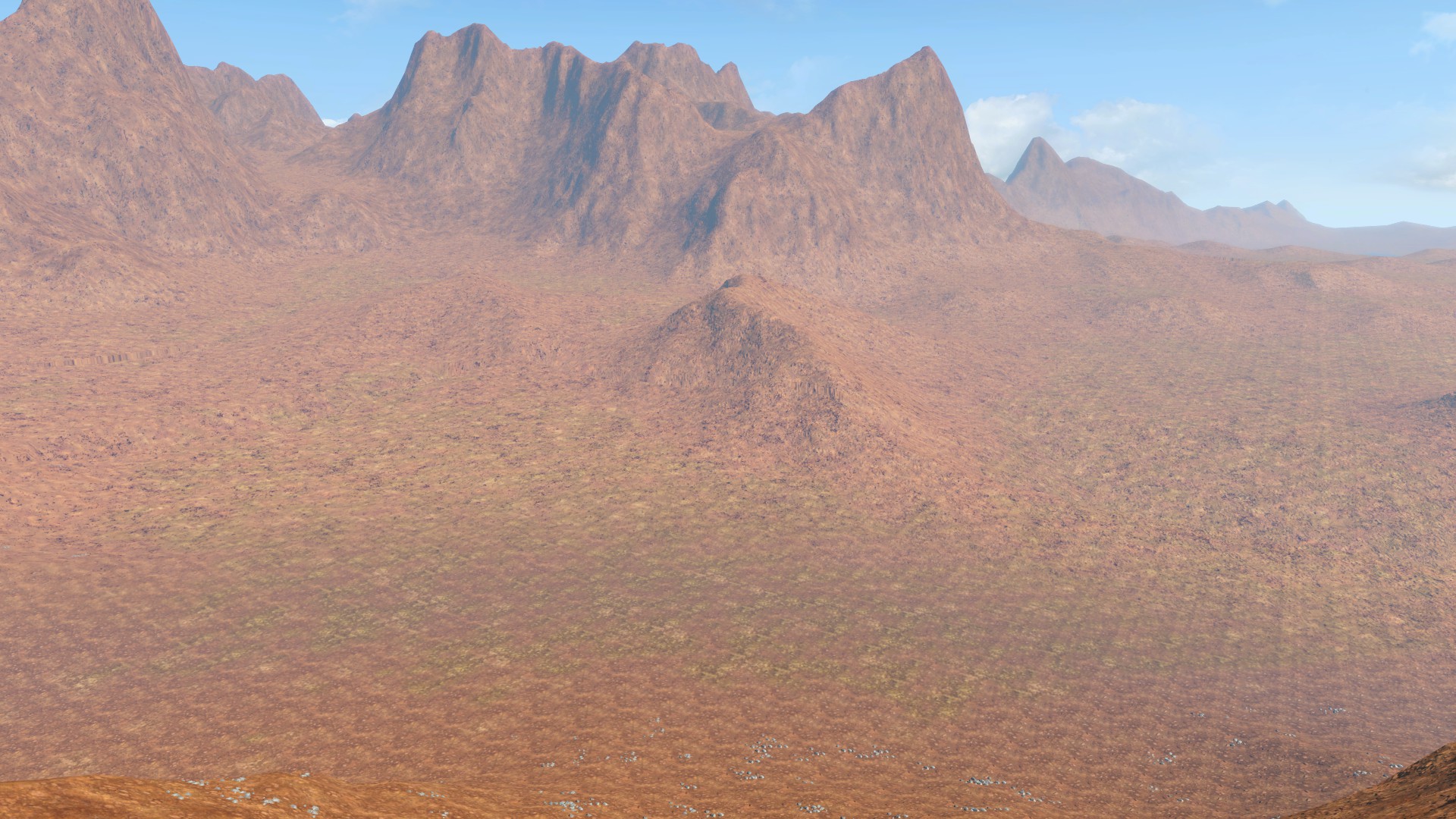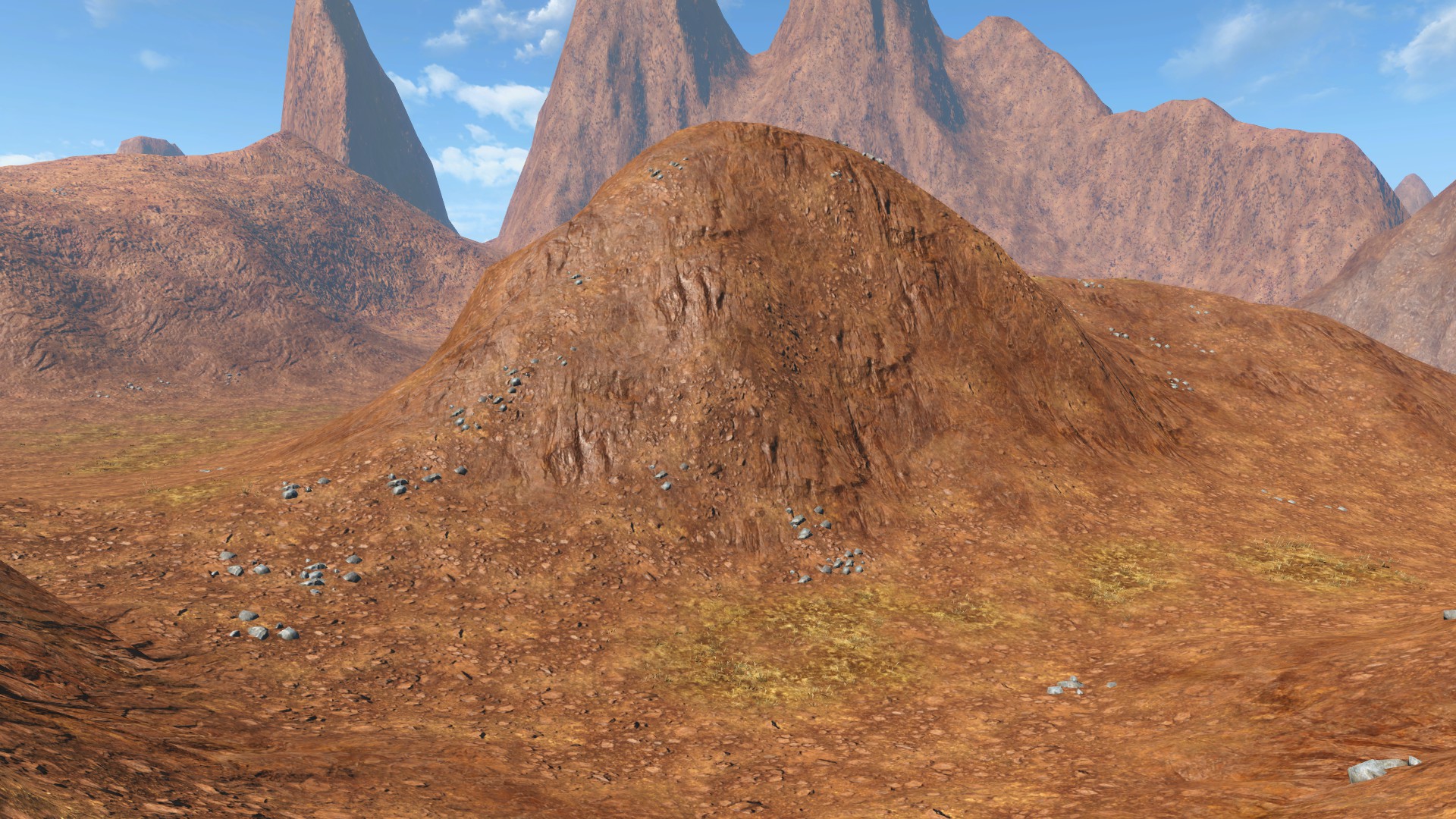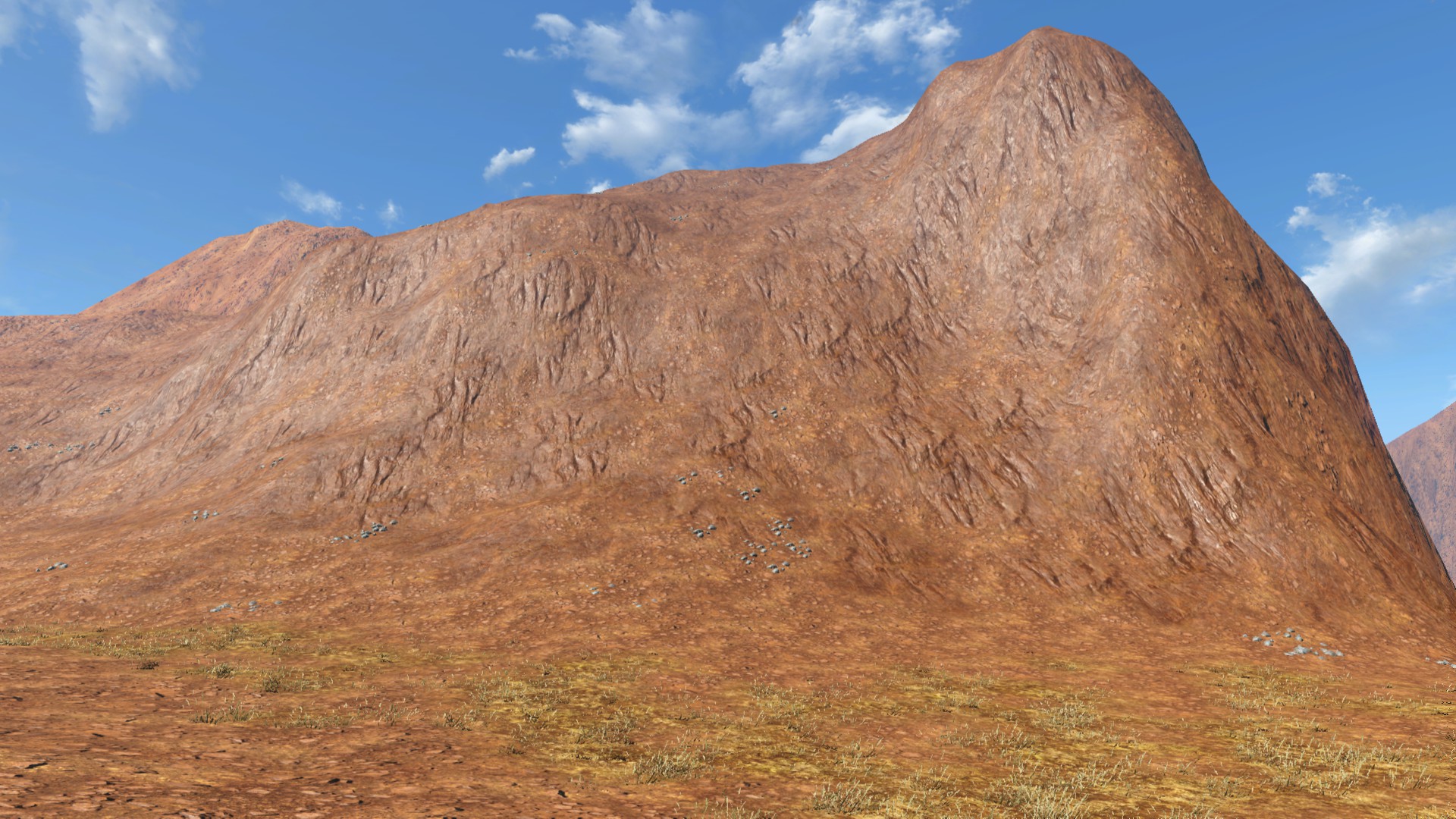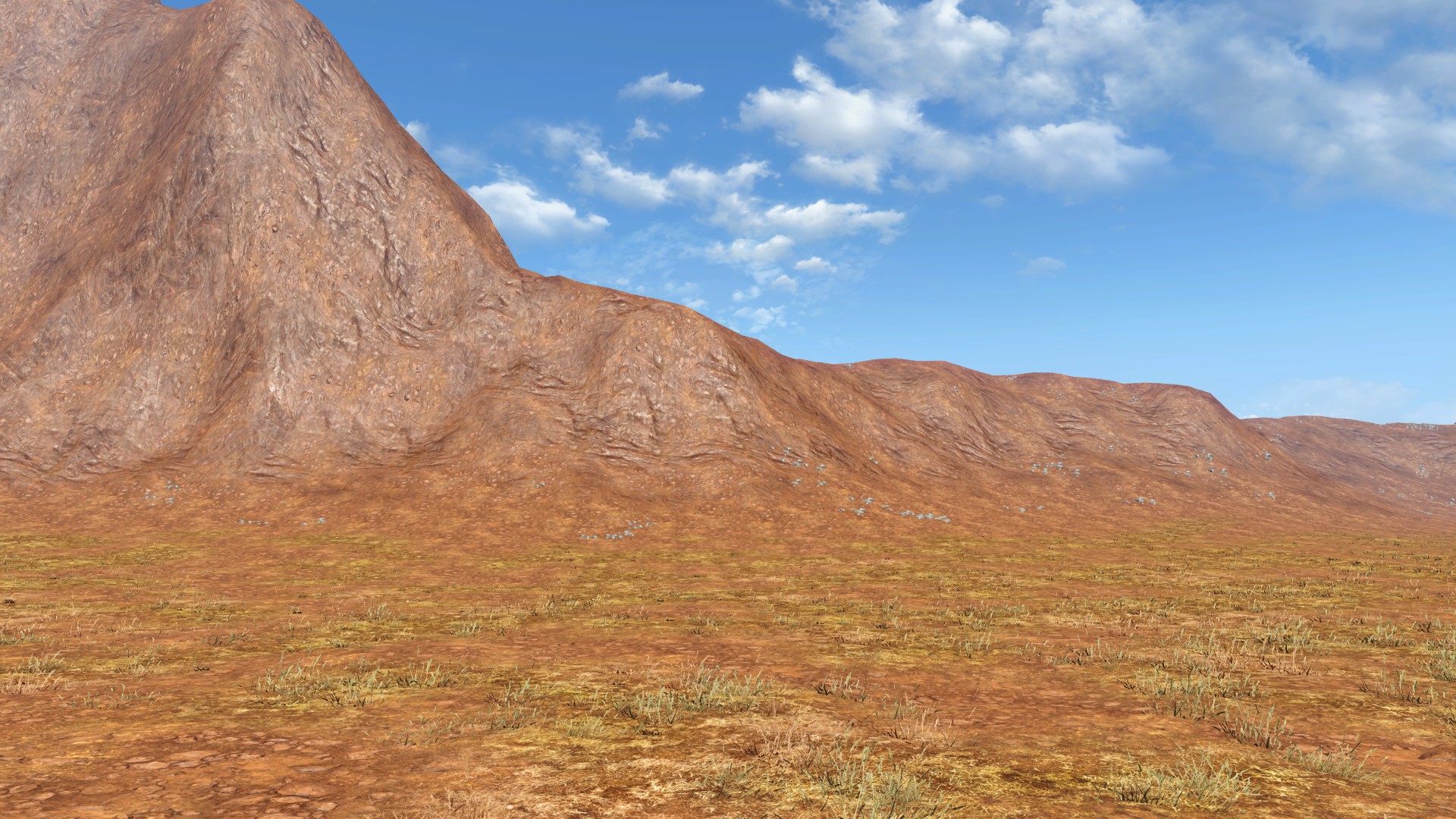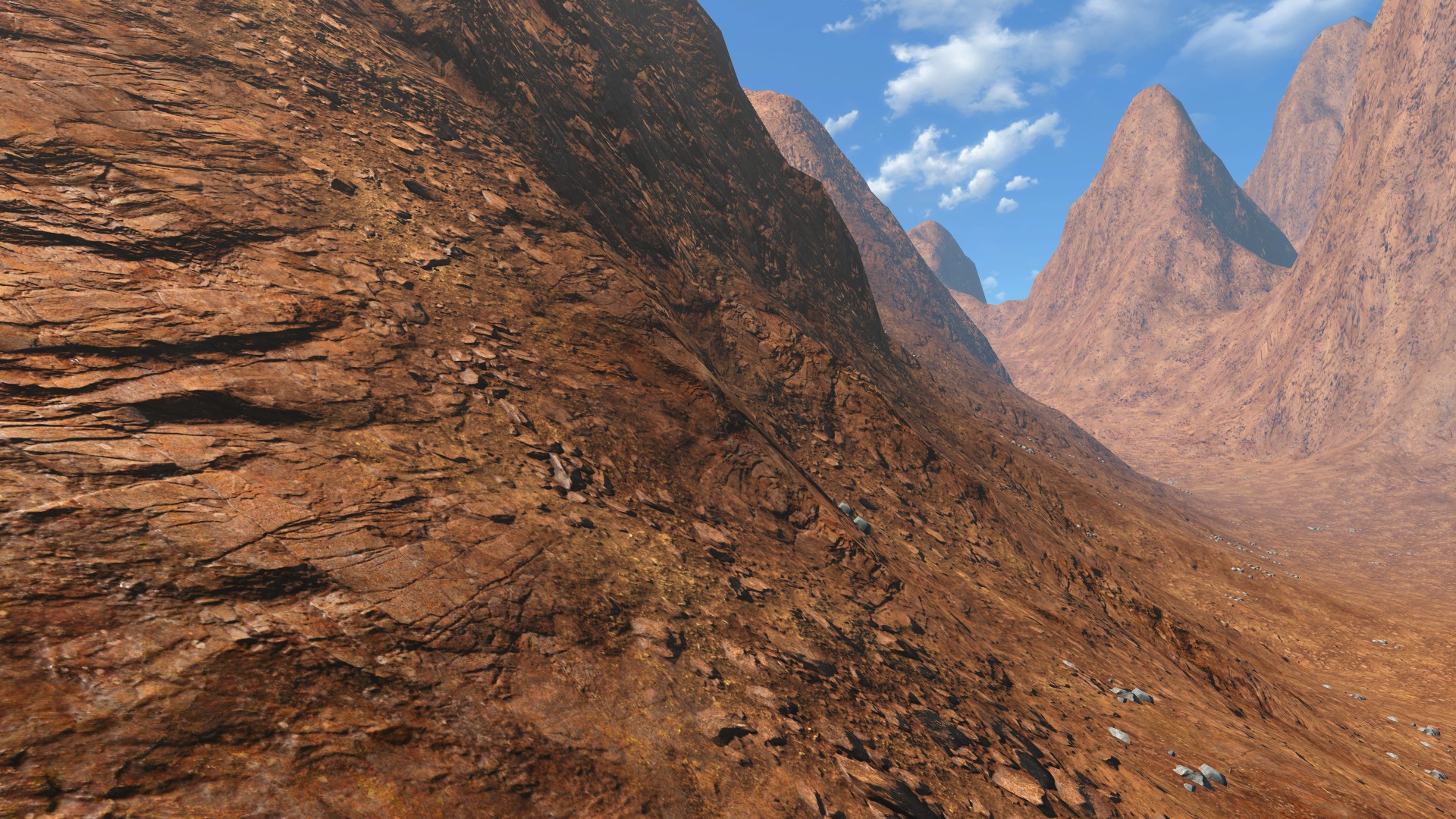 You've probably noticed all the new textures. Well none of these are really new. I've been recoloring vanilla textures in order to retain visual parity and quality instead of making new ones. This is a slow process and it's taking some time to find the right pieces, if you have some experience in this field of modding, we could definitely use your help!
Finally, a little disclaimer is that these areas are still not finished. What you see is definitely heavy work in progress, everything is subject to change and many things like environmental objects (trees, rocks etc) as well as structures (roads, buildings etc) are missing entirely.
Exterior & Interior Level Design:
Besides, world building I've also messed a bit with level design. In the screenshots below you can see some of my work on the town of Rock Springs and a settlement called Junk Town.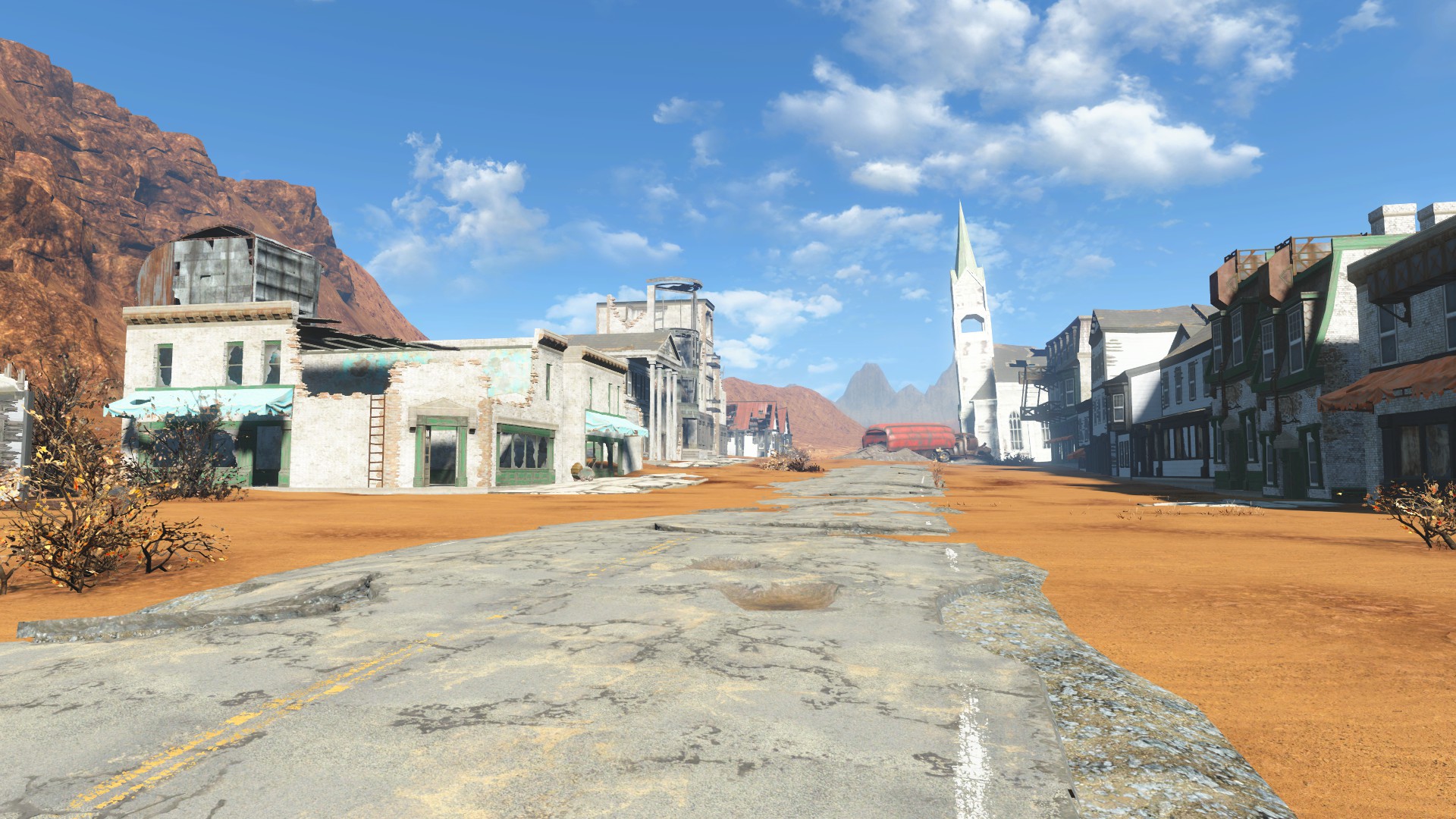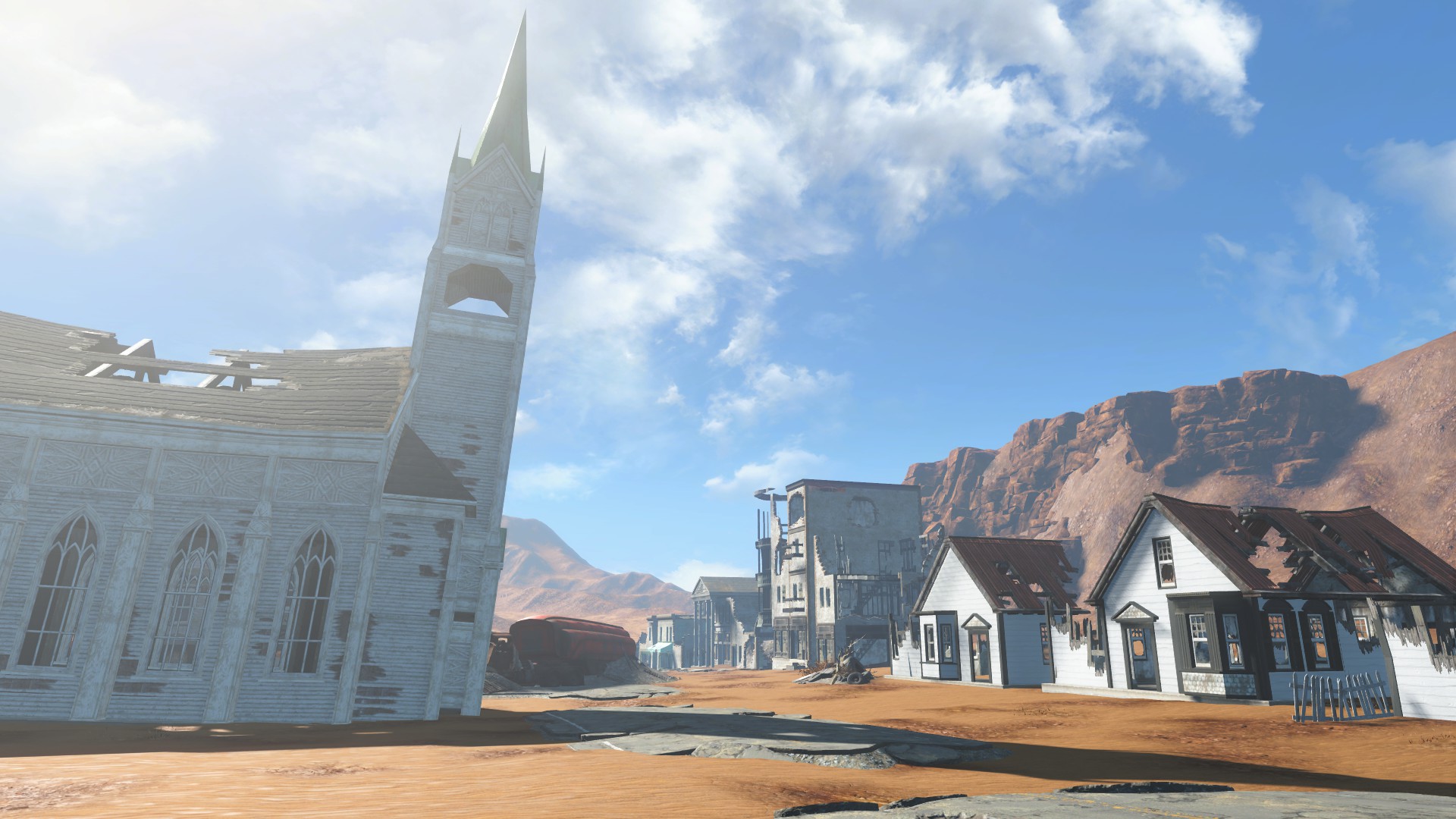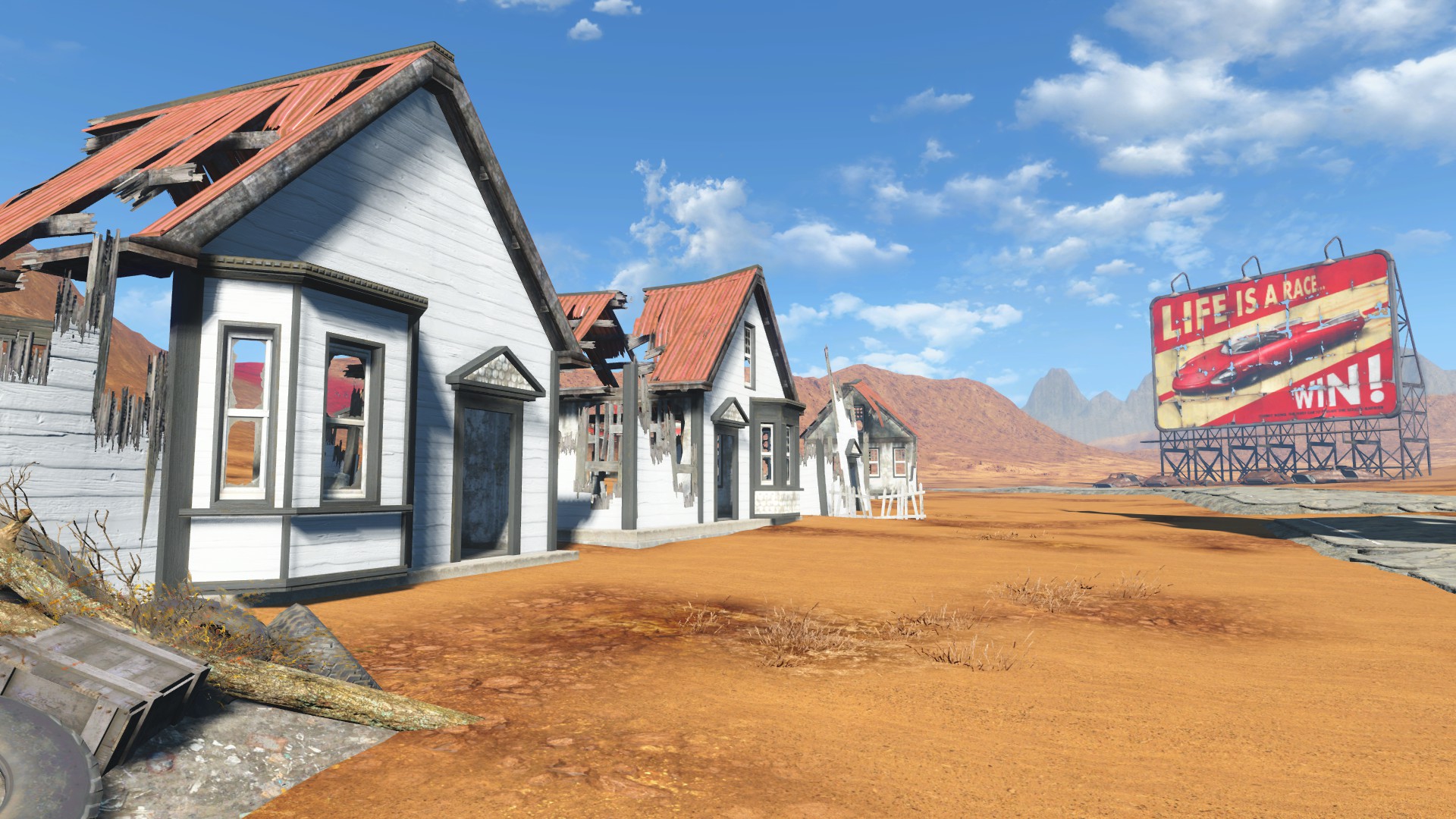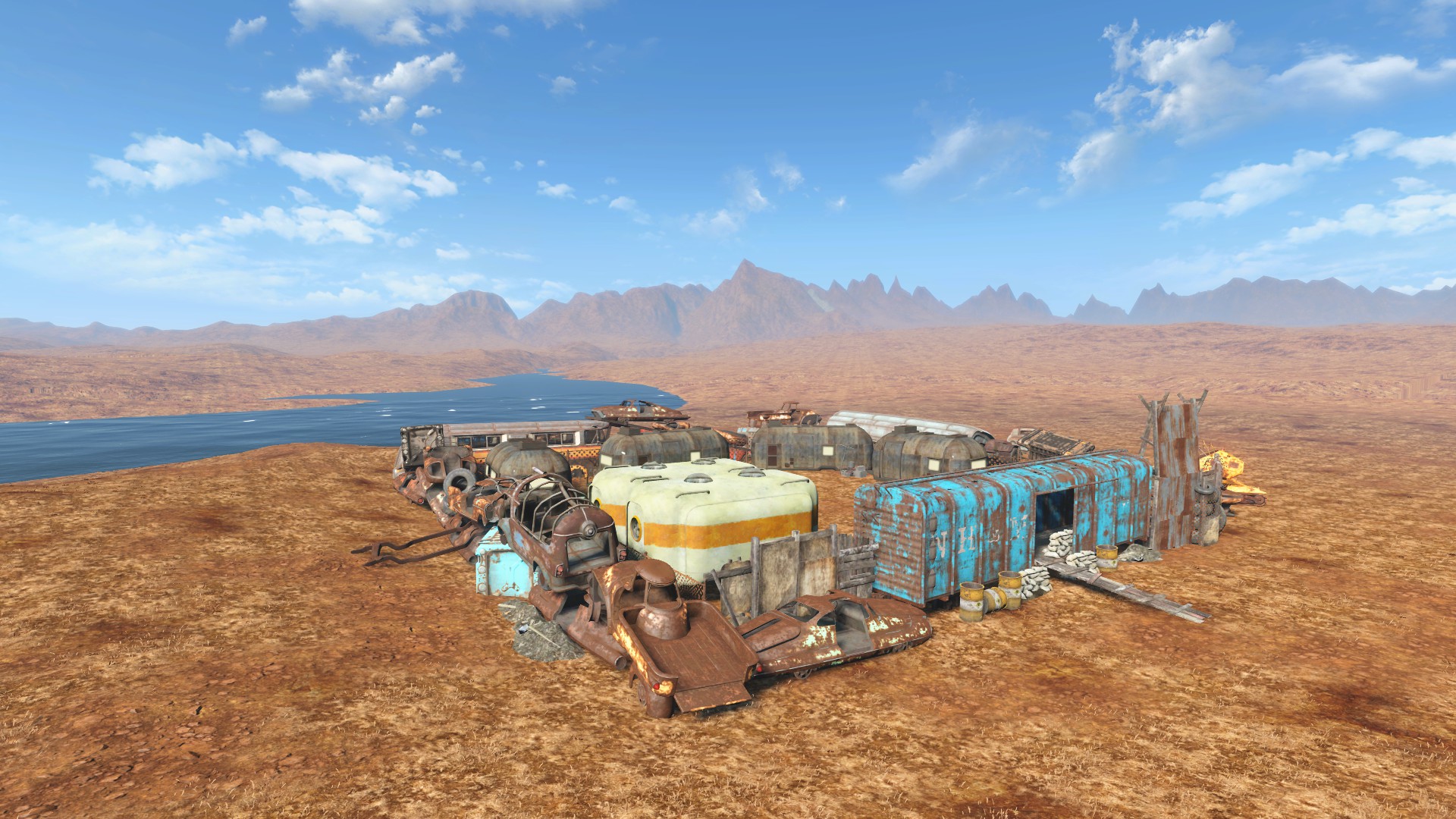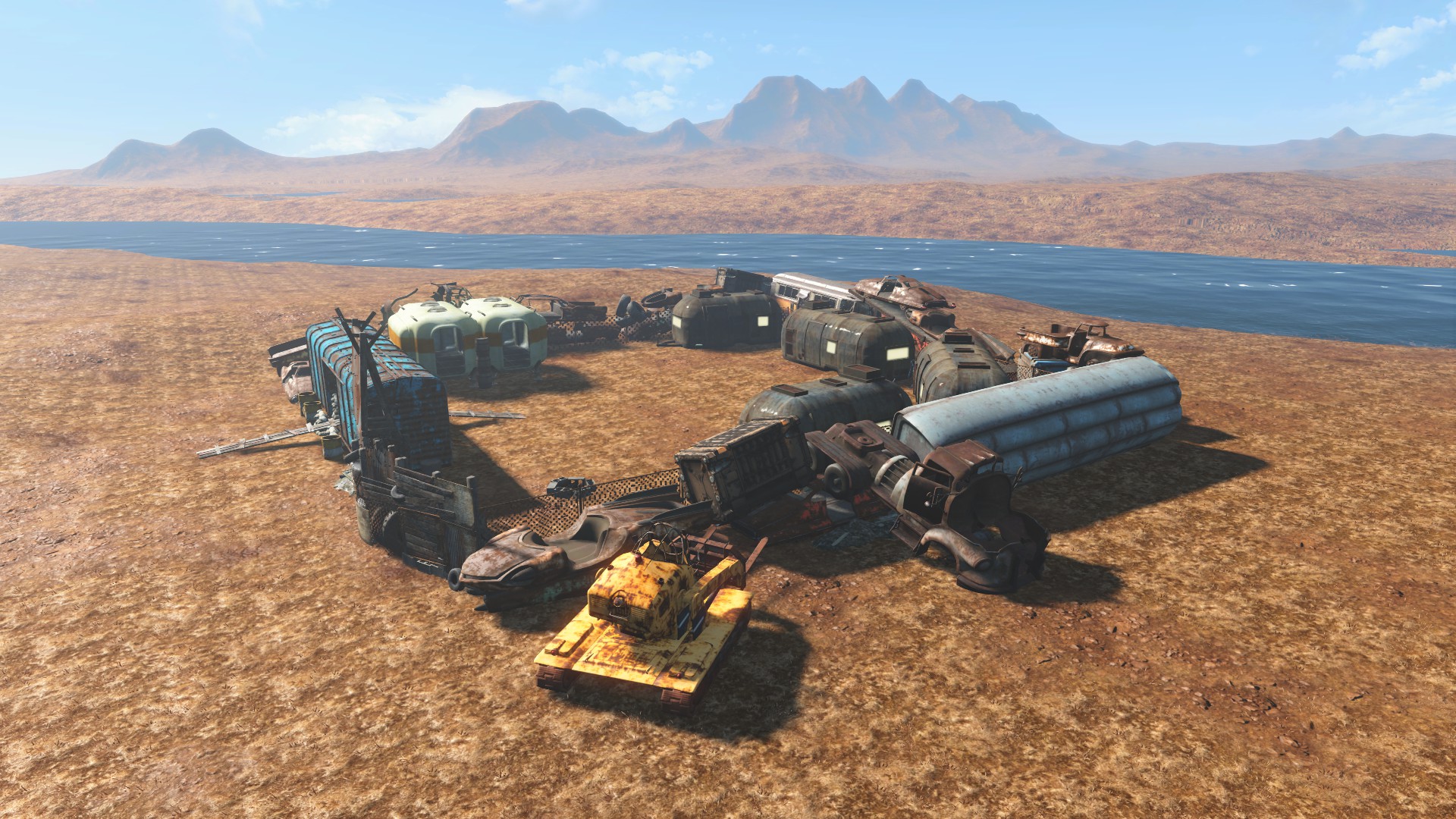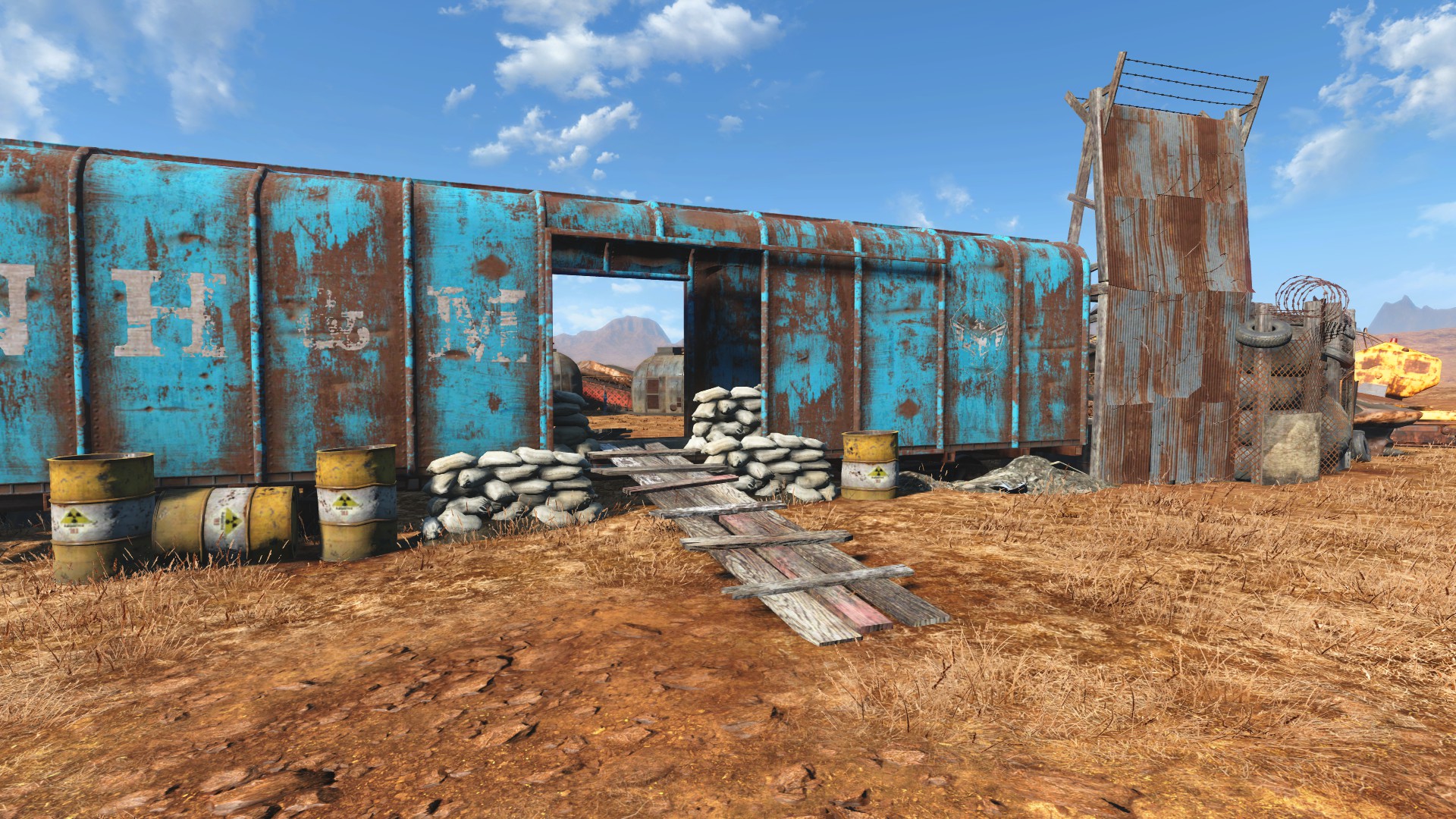 Yimos, one of our talented team members has also been working on some interior spaces, you can see some of his amazing work in the following screenshots: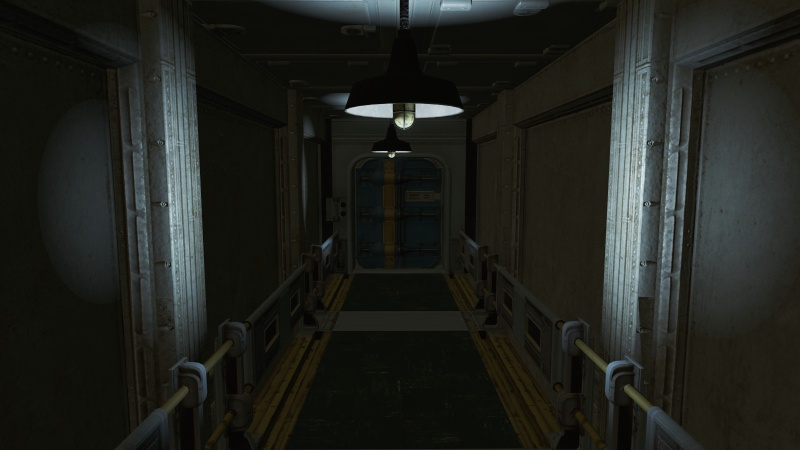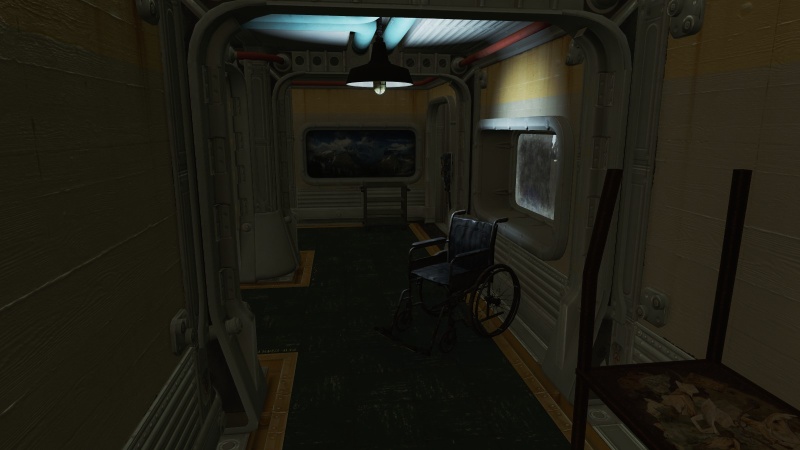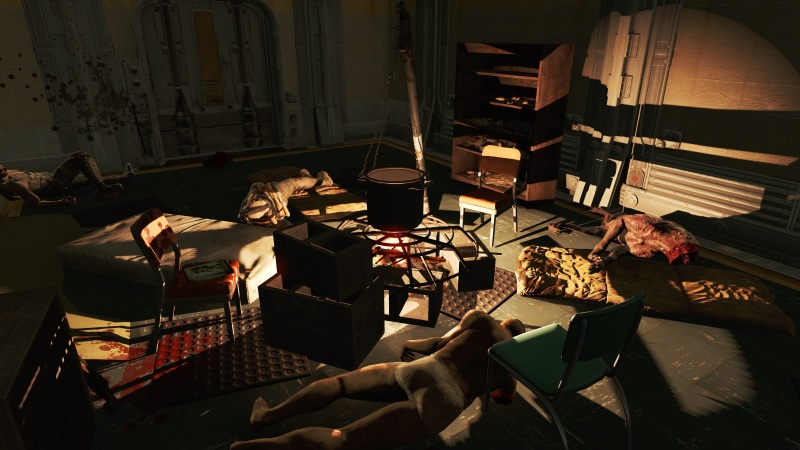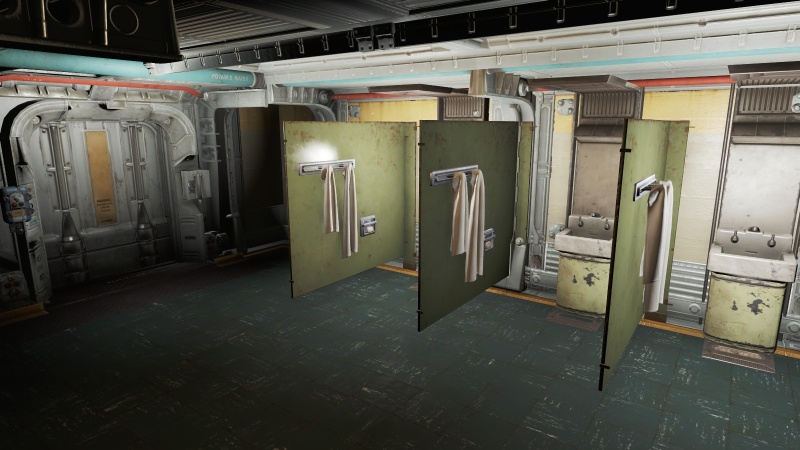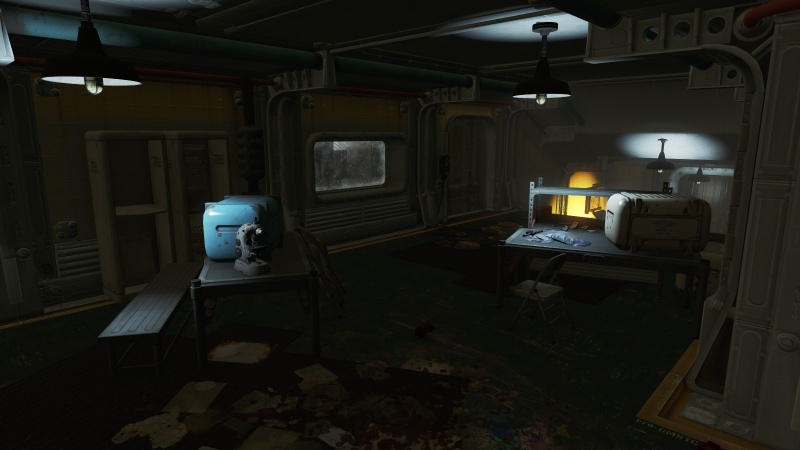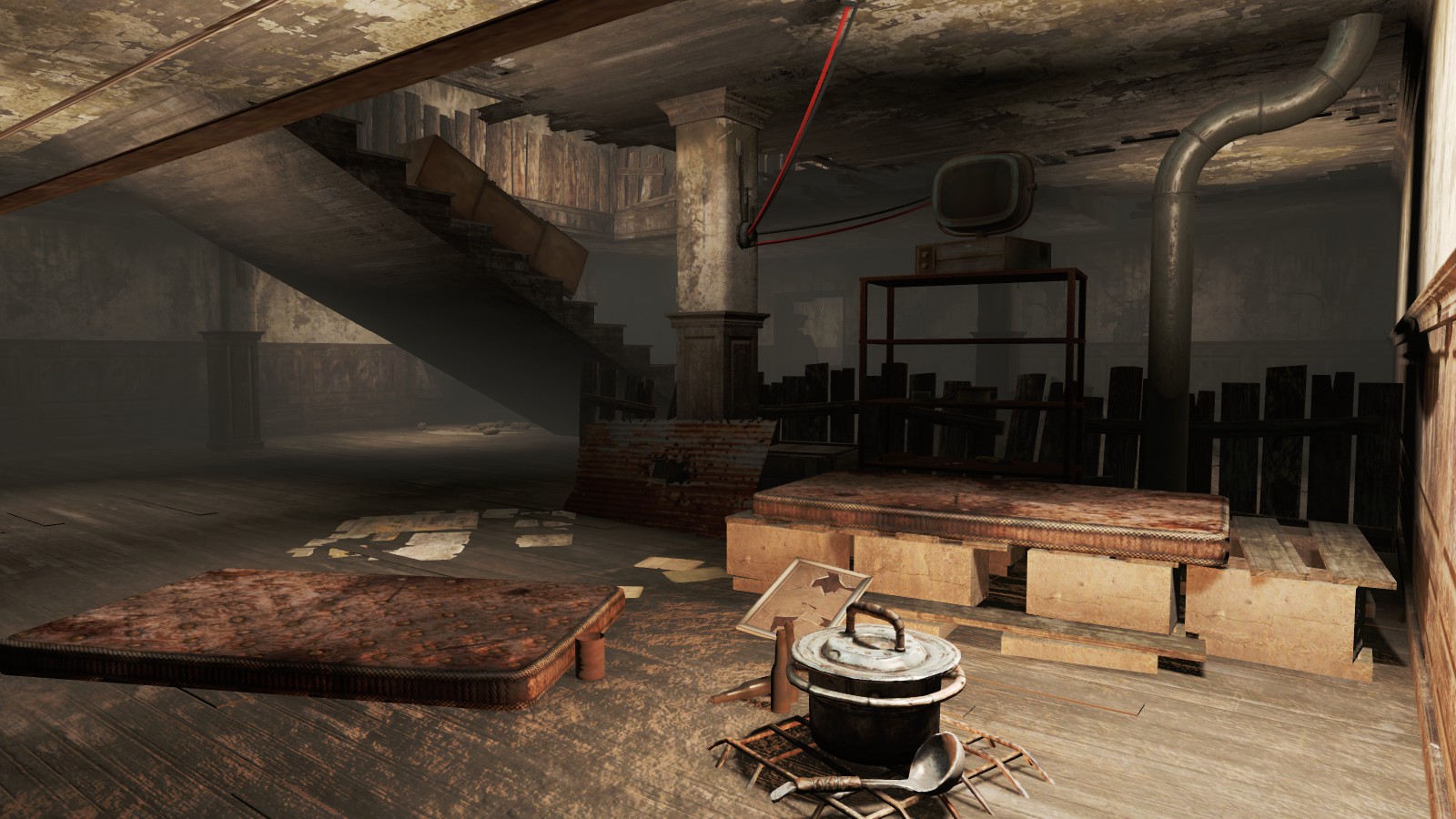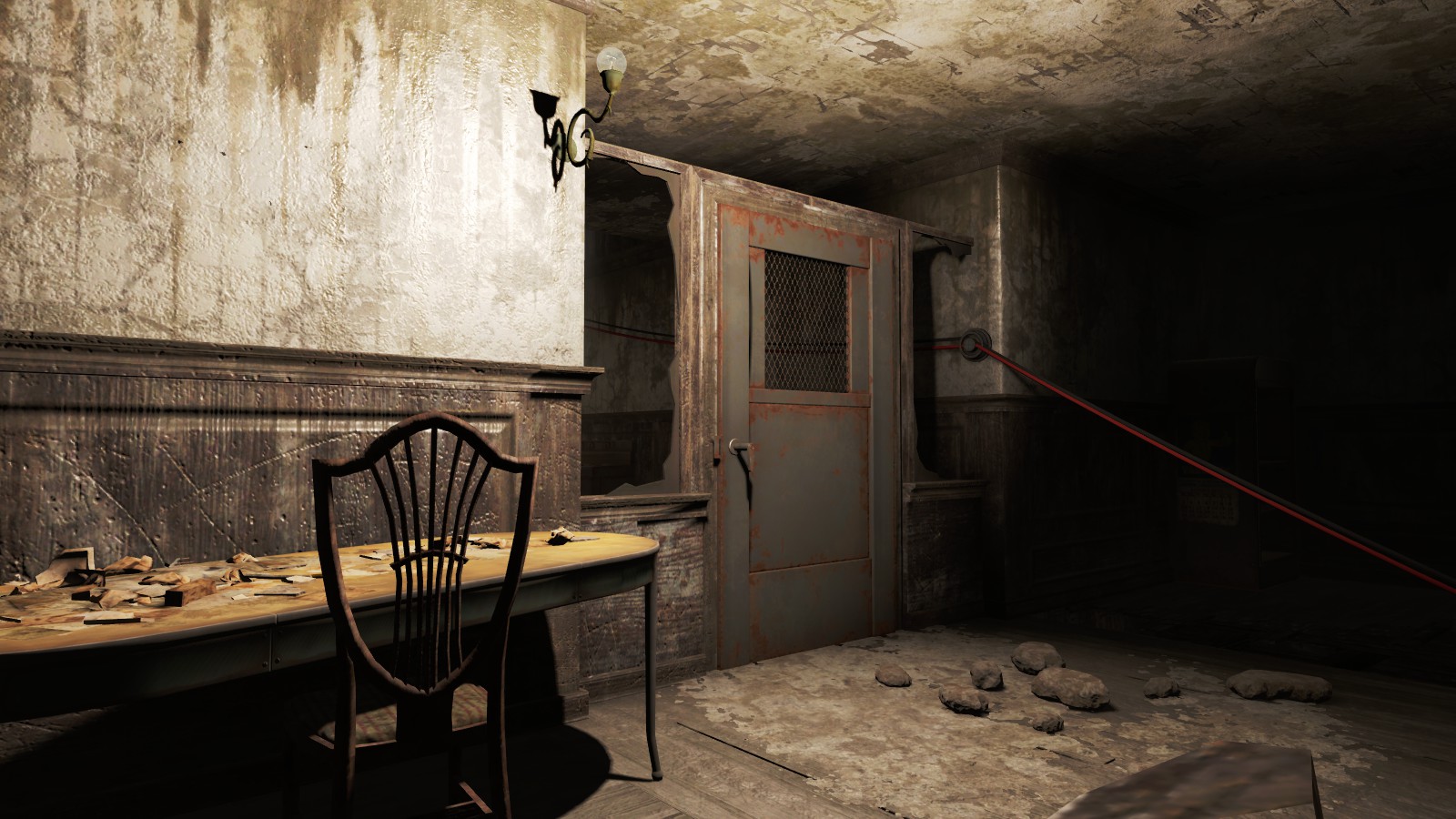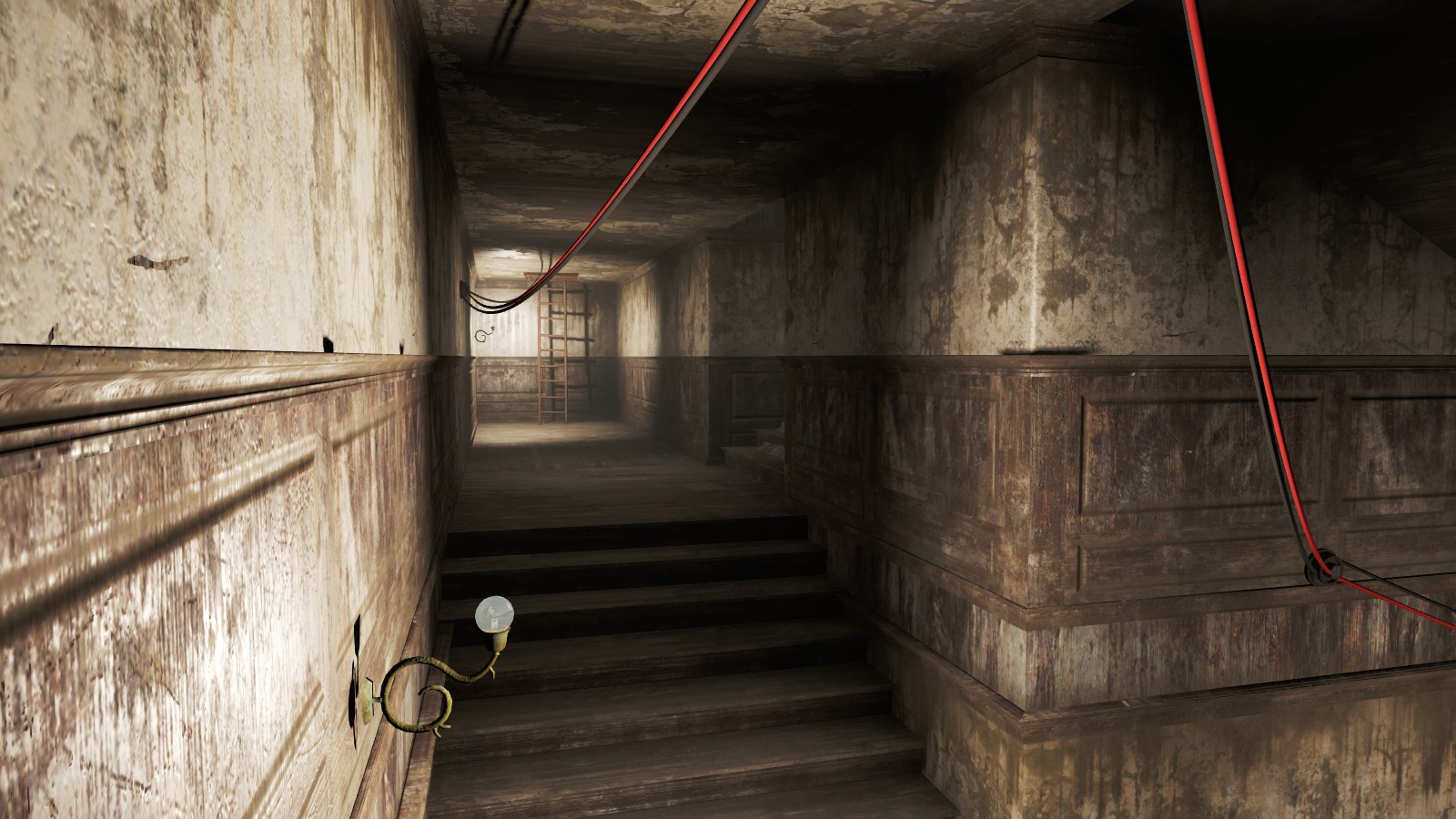 3D Model Design/New Assets:
Did I mention Yimos was talented? I should repeat that, because he has also been designing some beautiful custom 3D model Weapons for our project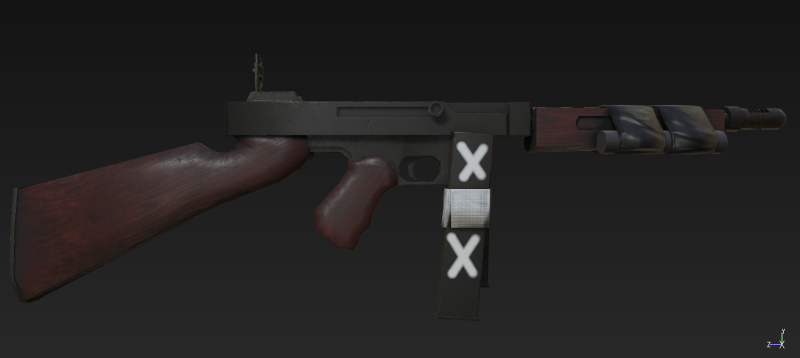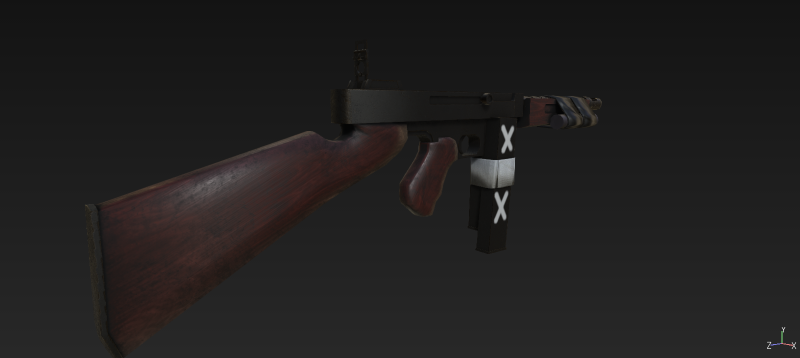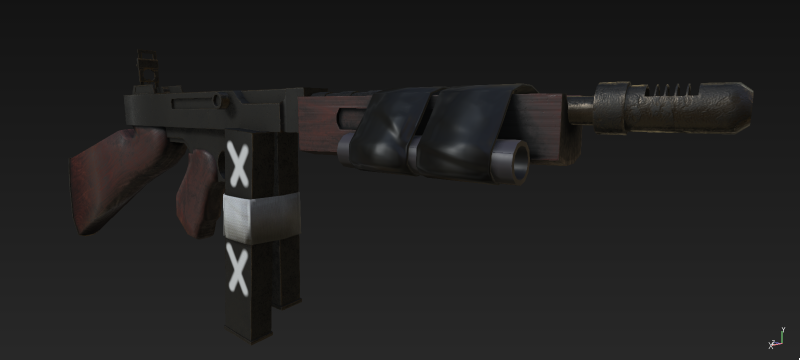 Speaking of beautiful custom 3D models, Falkbeard has been busy designing a series of unique and stunning models for our project. I won't speak for the quality of his work since I believe that the screenshots speak for themselves!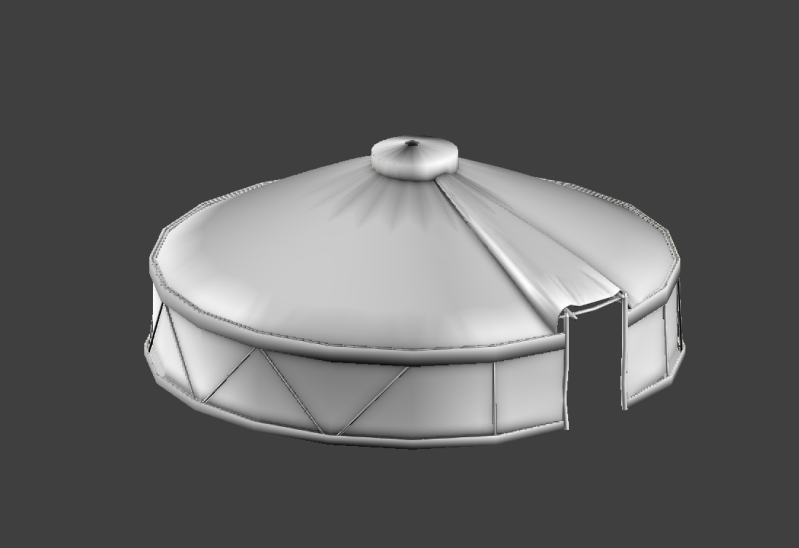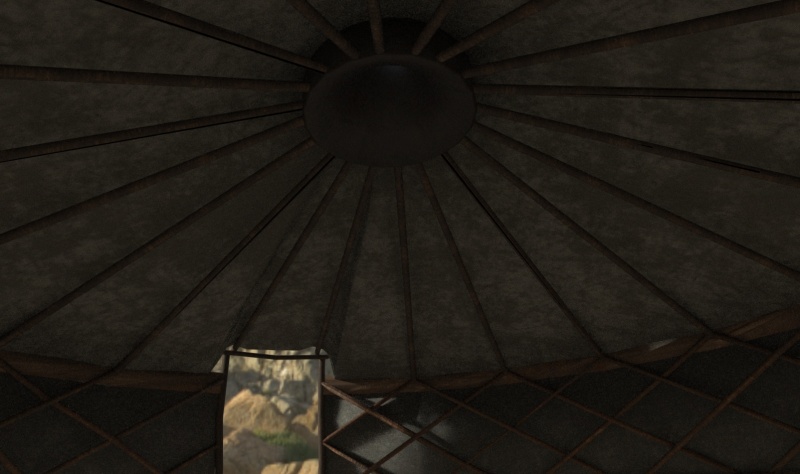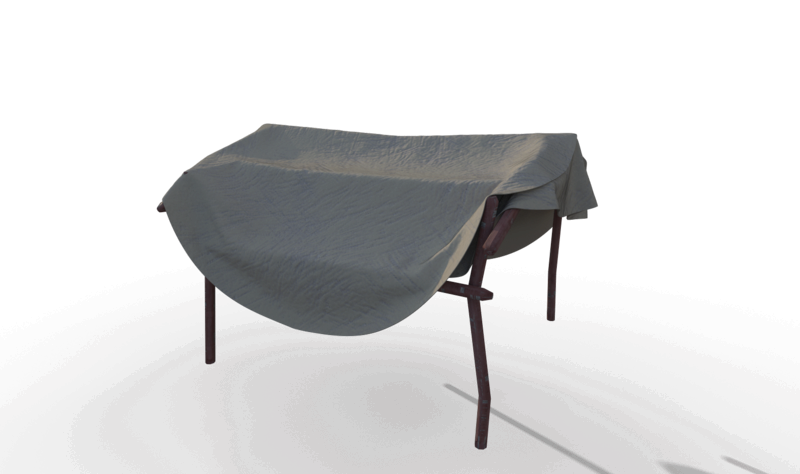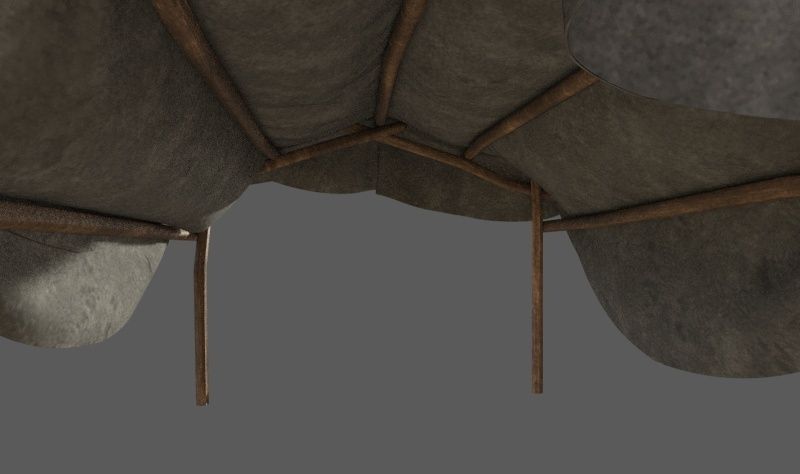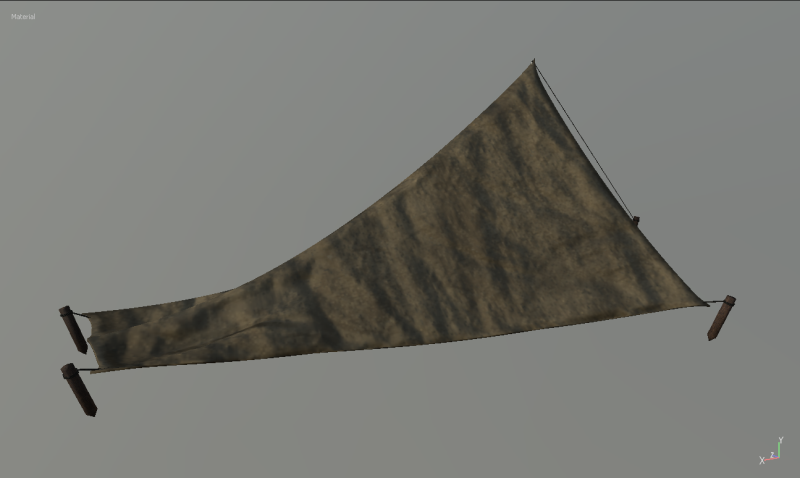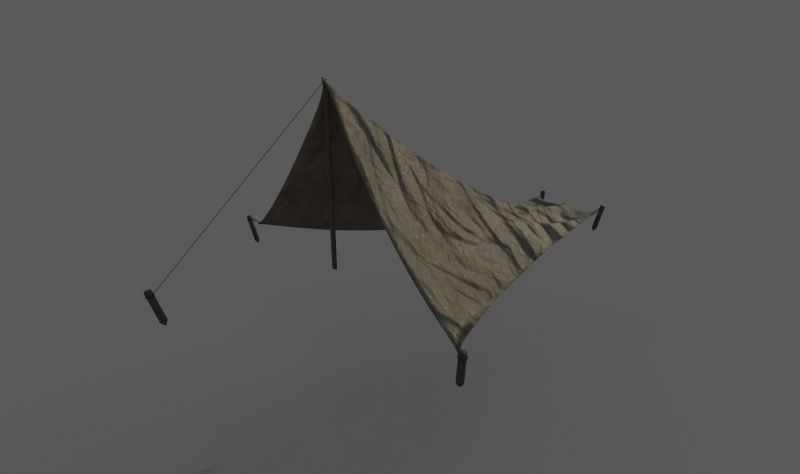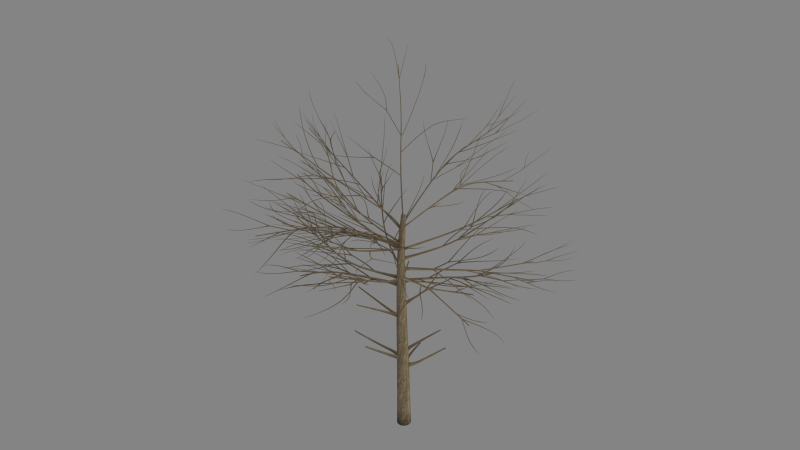 The very talented Flipdark95 has also joined our team working on new armors and clothing, below you can see a screenshot depicting his work on the Great Khan outfits (similar to those from New Vegas).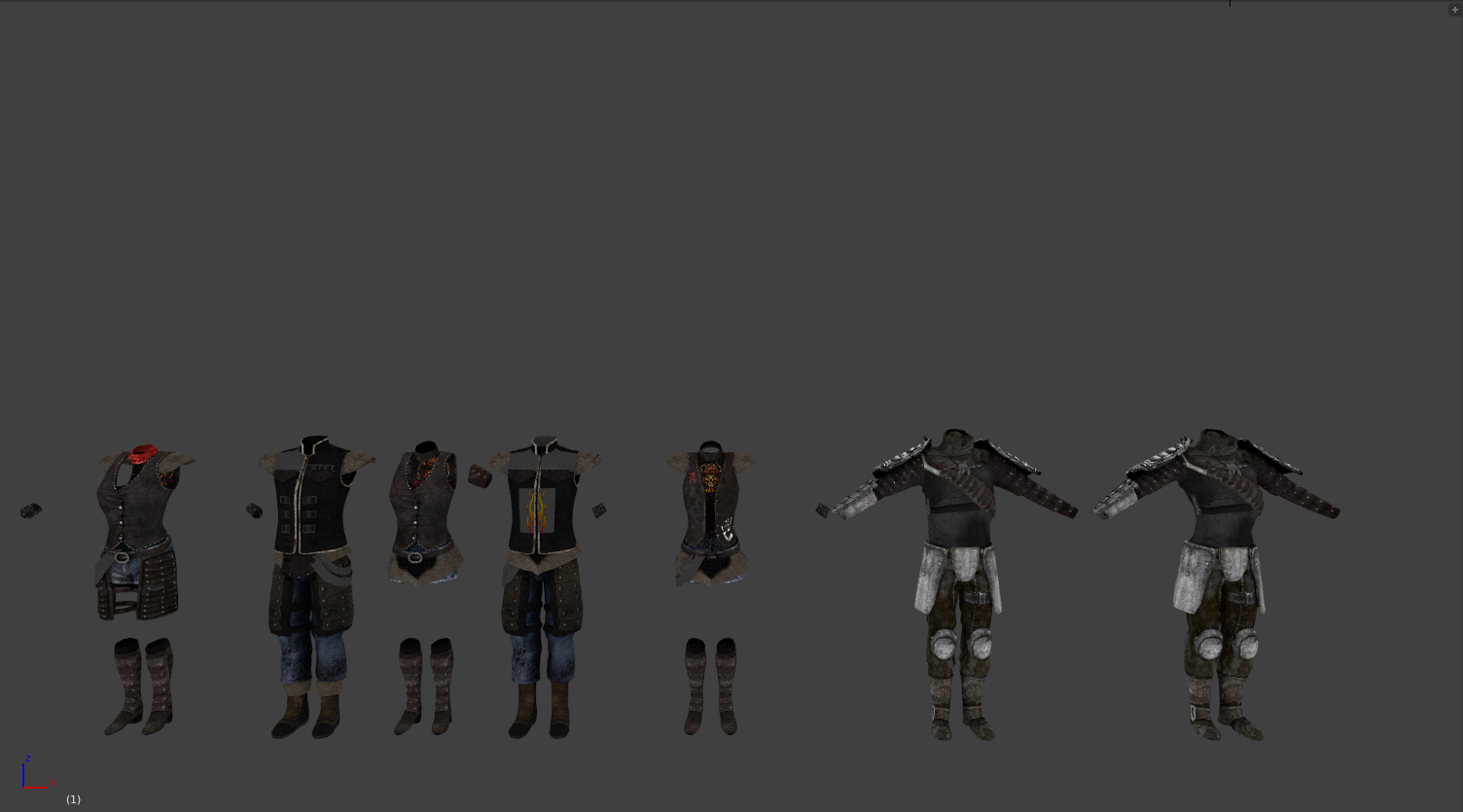 These will be significantly altered, improved and expanded in order to fit our vision of the mod. Flipdark95 is aiming to make several versions for the different ranks of the Great Khans.
Finally, i should also mention that Mkdo40 has given us permission to include within our mod his own personal mod, Wasteland Imports which adds a plethora of objects and clutter from previous games.
You should also see what the talented Calderiaan has been up to! Here's some screenshots of his beautiful concept art drawings: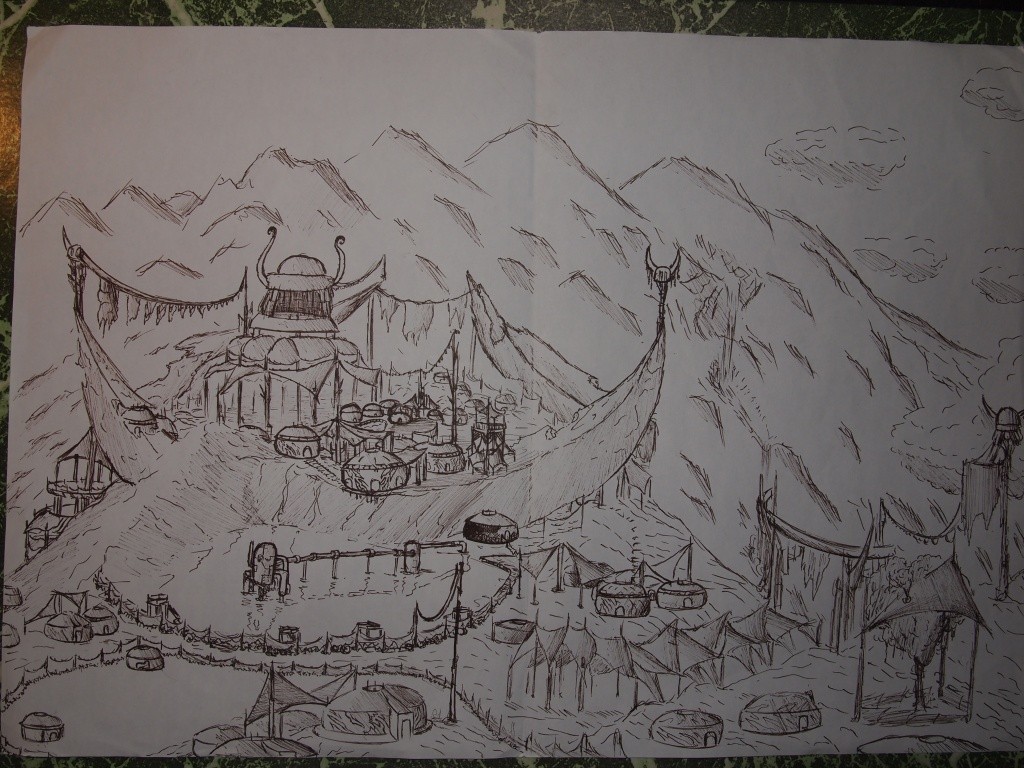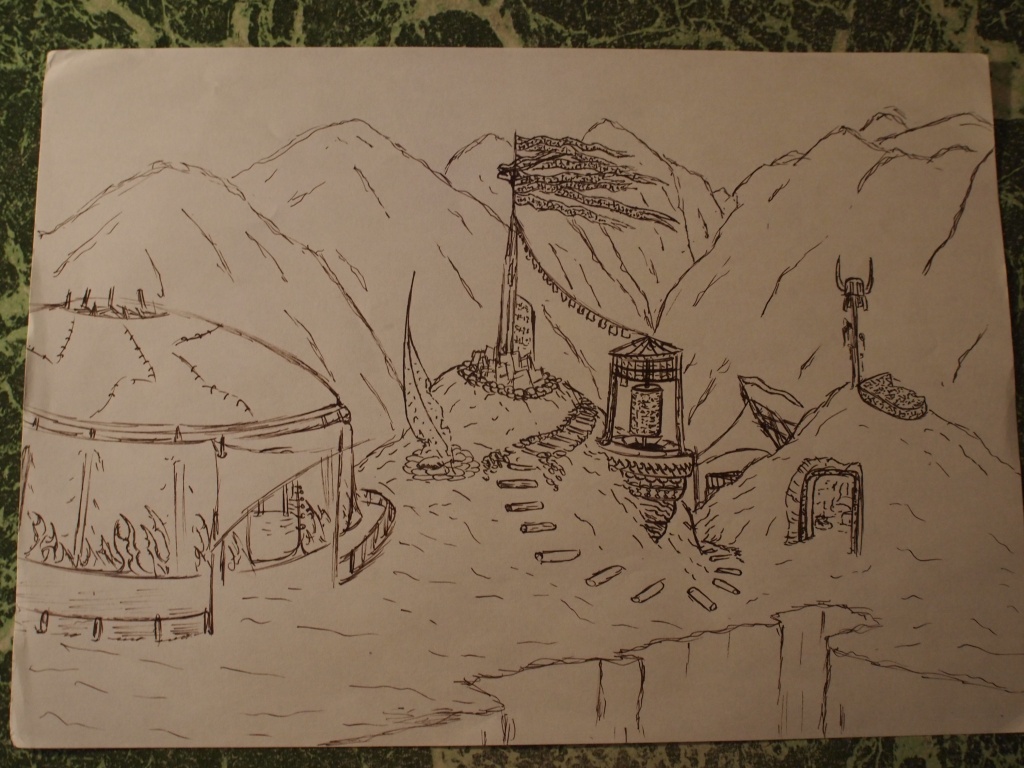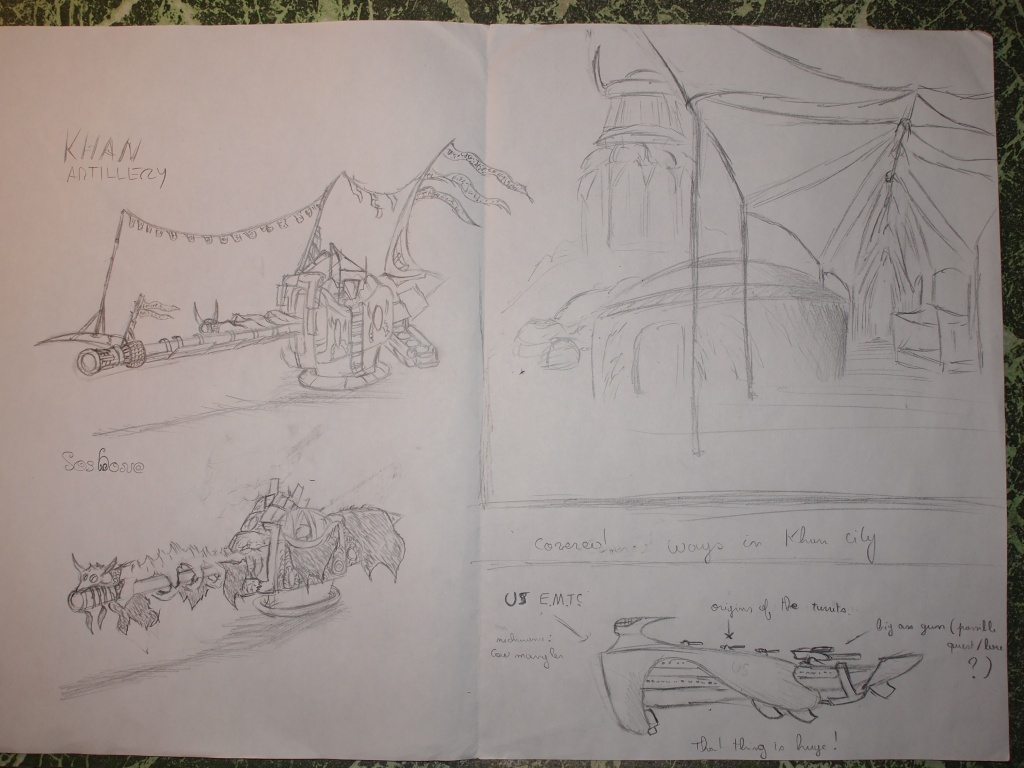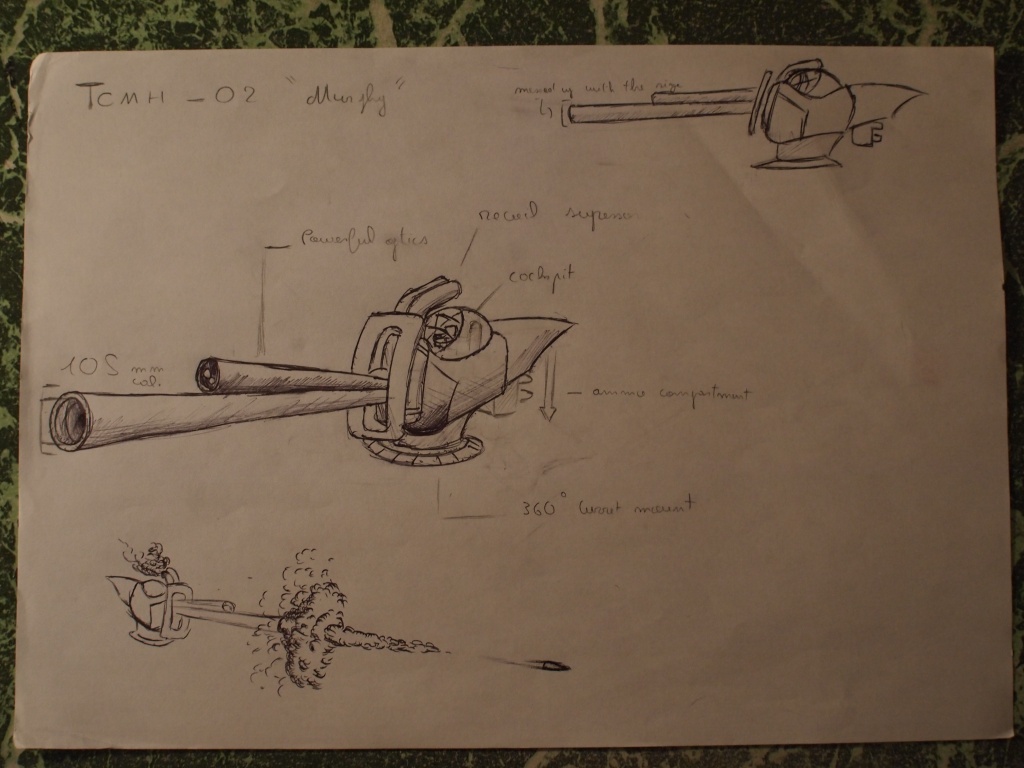 Last but definitely not least, a very talented fella by the name of TheWastebasket has joined our team as a musician/sound designer. In the videos below you can get a taste of his work on the exploration music (plus a little sneak peak of the desert quarter) and also him playing an early version of the main theme in the piano.
We're very happy with everything we achieved over the last month, however as mentioned before there are several things that are stalling the progress of this mod.
Namely, the lack of experienced people with the Creation Kit in quest design/implementation as well as the lack of people who are capable to import custom 3D assets into the Creation Kit. If you would like to help us with the aforementioned tasks or you can contribute in some other way to this project, feel free to contact me at atlas1080p@gmail.com
We sincerely hope that you enjoyed this preview!
The Atlantic Corp Team :D